Inside the remarkable turnaround of Georgia baseball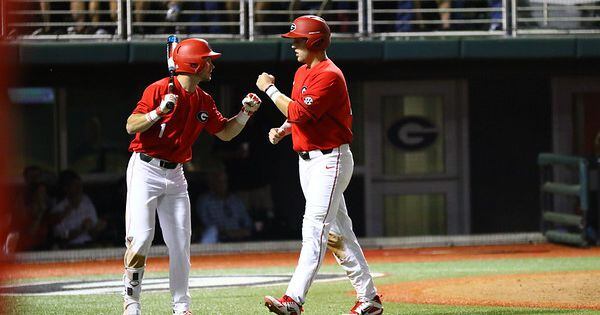 As Georgia first baseman Adam Sasser approaches the batter's box at Foley Field, something starts to take over his teammates and the near-sellout crowd. Along with the booming bass and snare beat of Sasser's walk-up song — "The Stroke" by Billy Squier — every Bulldogs player at the top step of the dugout and all the fans in their seats clap their hands over their heads, louder each time.
It's a routine inspired by this amazing scene from Will Ferrell's character Chazz Michael Michaels in the movie Blades of Glory.
In just a couple of steps from the on-deck circle to home plate, that sequence repeats itself each time Sasser hits, and it demonstrates what had been lost from the Georgia baseball program but is now found. From the entire team to every supporter, there is energy, enthusiasm and electricity all around the diamond.
In coach Scott Stricklin's fifth season in Athens, No. 20 Georgia, fresh off a weekend series win over Tennessee, is playing its best baseball of his tenure and of this decade.
The Bulldogs are tied for third in the SEC and are on pace to qualify for the NCAA Tournament for the first time since 2011. Their 30 wins are the most for the program since 31 in 2012, with the mark of 38 from 2009 within reach.
In the SEC Country baseball power poll this week, Georgia ranks ninth.
After Georgia finished below .500 in each of his first four seasons, Stricklin likely entered 2018 on his final strike. But he has rewarded athletic director Greg McGarity for his patience. A roster that needed an extensive overhaul has come together, filled with veteran power and production on offense and a starting pitching rotation anchored by two freshmen and a redshirt senior.
But the biggest key to Georgia's impressive turnaround may be the man Stricklin brought on to the coaching staff in the offseason to help him lead the program. Pitching coach Sean Kenny came to Athens after five successful seasons at Michigan, where his pitchers routinely led the Big Ten in multiple categories.
"He's the best pitching coach I've ever had," said freshman starter Emerson Hancock after pitching 7 innings and striking out 8 batters against Tennessee on Saturday afternoon to bump his season record to 5-3. "When he talks, you know you listen … The mental side [biggest thing he's learned], go out there, really keep focus each inning."
Kenny's help has produced excellent results: The Bulldogs' ERA has dropped by more than a full run, and its .229 opponents batting average against would be the best in program history.
"My favorite phrase of his that I've kind of adopted a little bit is he's got a 'kind dictatorship,' meaning that he's the boss, but they've got some leeway," Stricklin said. "They can communicate, and they can have some input on what they're doing and the pitches that they're throwing out there … They trust him, and you've seen that trust grow as we've gone and the success that we've had, and I don't think it's a coincidence. He's done a great job."
Hancock's first collegiate season provides a perfect snapshot of Kenny's approach.
"Whenever I'm not pitching, me and Ryan [Webb, another freshman] are messing with him, pitch calling and stuff like that," he said. "But during the game it's all business, and that's what I love about him."
Georgia baseball turnaround by the numbers
While those stats tell a significant part of the story, it's how the Bulldogs have reached those numbers that really illustrates the long-awaited positive changes that have arrived in 2018.
In its 12-4 win over Tennessee on Saturday afternoon, Georgia fell behind 2-0, then went to work. Baserunners went first to third on single after single. In the same inning, one Bulldogs runner stole second, and on the bad throw from the catcher a runner scored from third.
Two innings later outfielder Keegan McGovern hit a mammoth, opposite-field 3-run home run into the parking lot behind the left-center field wall at Foley Field.
"One through nine we're a pretty tough lineup, there's no real breaks in it," Stricklin said. "It's fun for me as a coach to coach that offense because we can put some pressure on people by bunting and stealing."
Put simply: Georgia has gone from a team plagued by mistakes and compounding errors into a team that forces its opponent into those things. The Bulldogs are playing an aggressive, sound, consistent brand of baseball rarely seen in Athens since the 2008 team fell one win short of the College World Series title.
Stricklin points all the way back to opening weekend, when the Bulldogs claimed the series against Georgia Southern on a walk-off win in Game 3 as the moment when he could start to see that his players felt this season could be special.
"When we show up to the park we just feel like we're going to win," he said. "If we're losing, the game is never over. We can always come back … This team really fights and battles and they believe in each other. They pick each other up, and they play with a lot of confidence."
That attitude and newfound belief starts with two team leaders — junior designated hitter Michael Curry and senior McGovern, both of whom have shown flashes of great potential during their careers but are now playing at a high level every week.
McGovern, named to the Golden Spikes Award midseason national watch list, leads the team with 13 home runs, 40 RBI and a .662 slugging percentage. Hitting directly behind him, Curry has 40 RBI to go with 7 homers.
"It's huge," McGovern said of helping lead the team's turnaround. "Me and him try to go out there every day and give 100 percent and pick everybody up. And I think it's worked out so far, so hopefully it'll keep working out for us."
With a full month of baseball remaining before the regular season ends and the SEC Tournament begins, Georgia has already surpassed last season's win total and has its eyes on winning each remaining series. The Bulldogs travel to Missouri and No. 1 Florida the next two weekends, each game another test to find out how far this team has come.
And that 2008 College World Series runner-up team? It was honored prior to the game on Saturday afternoon. Those players represent what McGovern called arguably Georgia's best team ever, something this group knows it can strive to replicate.
"It adds a little bit more energy," McGovern said. "Obviously we don't want to look at any of that right now … We're  just trying to go out there and just play how we can play every single day and then hopefully we end up kinda like they were."
Stricklin acknowledged that it's OK for his players to think about attaining those 2008 Omaha heights, but the Bulldogs have plenty of work to do before that time comes.
"We're allowed to dream on it a little bit and start thinking about what can be," he said. "But you can't get caught up in that."