After a big scrimmage, some big decisions coming for Georgia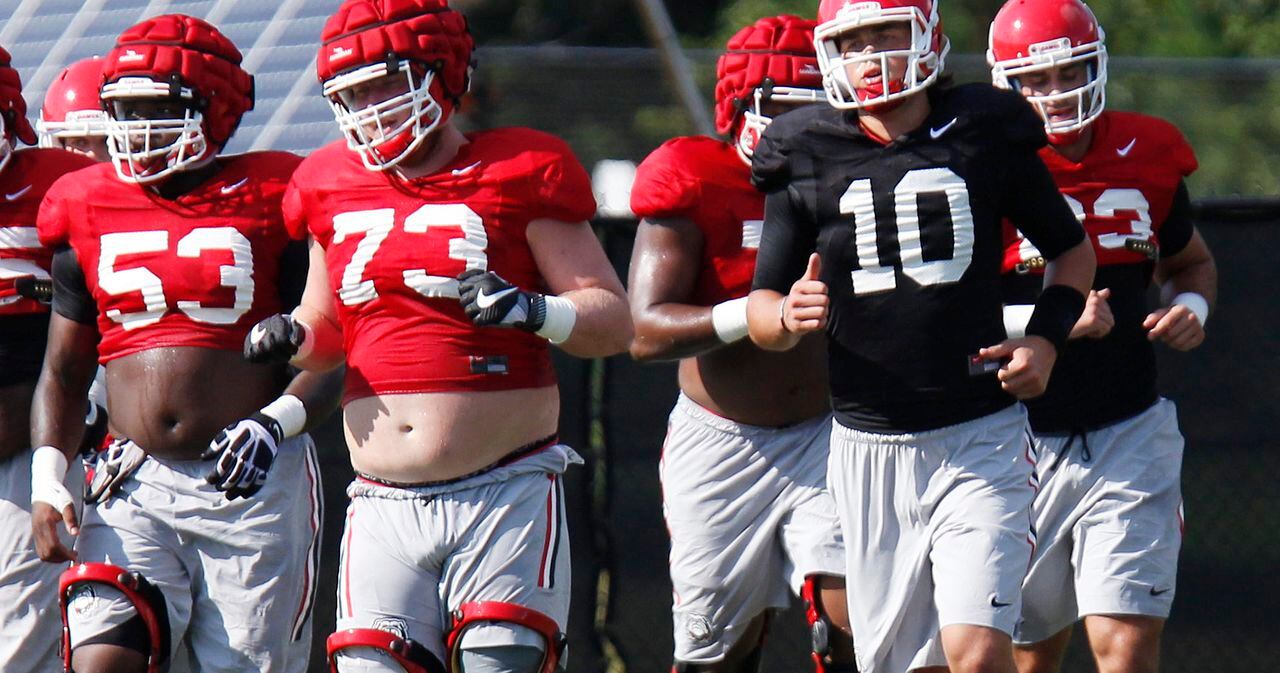 ATHENS – A nosy reporter was trying to plug someone at Georgia for information on the quarterback competition this week when that someone cut them off.
"This scrimmage," he or she said, "will tell a lot."
That was good enough to force the nosy reporter to shut up, because it was true. But not just at quarterback.
There are a number of issues to be resolved before Georgia's season opener, and Saturday's second scrimmage looms large. Afterwards, there will be just two weeks left of practice, as well as another scrimmage, but that's referred to as a "practice game" for North Carolina.
In other words, if coaches can possibly decide any starting jobs this weekend, they will. Here are a few of interest:
Quarterback
Well, yeah. Jacob Eason has been given a main audition for the role this week, and could get most of the snaps in Saturday's scrimmage. The team then has Sunday and Monday off, and returns to practice on Tuesday, at which point there may be more clarity.
At minimum, the competition will likely be pared down to two, and it would be a shock if Eason isn't one of the two. If he did well this week and on Saturday he could even be given the job.
But if not, Greyson Lambert (or maybe Brice Ramsey) will be given a chance to keep competing to start. (In a practice hype video posted by the team Thursday, Ramsey is seen throwing a pass that was picked off by sophomore cornerback Deandre Baker. Eason isn't shown passing, while Lambert is seen completing a pass to Javon Wims.)
It could go all the way until kickoff on Sept. 3 before the world finds out who's starting. Or the coaching staff may see enough to make a decision this weekend. That's why Saturday will be huge.
Offensive line
The latest indications have been good for Tyler Catalina, who's been getting first-team work at left tackle. That shifts Isaiah Wynn to left guard, and leaves Lamont Gaillard and Dyshon Sims competing at right guard.
Either way, it's clear the team feels confident it has a top six, and the rotating could continue into the season.
Kicker and punter
There hasn't been much buzz, good or bad, about the place-kicker competition. But it looks like it will be either redshirt freshman Rodrigo Blankenship or redshirt sophomore William Ham. Both are walk-ons. It's unlikely they would share kicks against North Carolina, so one is likely to be chosen.
The more intriguing decision may be at punter, where the two candidates are on scholarship – and one of them is Ramsey, still involved in the quarterback derby. Smart did say last week that Long has been more consistent, while indicating that Ramsey still has that booming leg we saw last year.
Inside linebacker
An interesting development this week was sophomore Roquan Smith appearing to get a lot of first-team snaps, with Reggie Carter – expected to be a starter at the critical Mike linebacker spot – instead on second team. Was that just to get Smith ready for a bigger role off the bench, or indicative of something else?
Secondary
Maurice Smith was eased in after his transfer from Alabama was finally granted. But given his experience, both with Georgia's system and as a player, he was immediately a candidate for playing time. So far he's been working second-team nickel back.
Senior safety Quincy Mauger was out for some practices this week with an ankle injury, and junior Aaron Davis replaced him at safety, with Rico McGraw remaining at nickel back. Juwuan Briscoe and Malkom Parrish remained at cornerback.
The only certainty is Dominick Sanders at one of the safety spots. Assuming Mauger is healthy again, it'll be interesting to see how the other spots are handled.
Freshman redshirts
Kirby Smart has been clear about two things publicly: He really likes this freshman class, and he doesn't like his team's depth. That adds up to most of the class playing.
For instance, defensive lineman Julian Rochester is getting prepared to play, even off the bench, and is apparently not facing suspension for the BB gun incident.
"Julian's a guy that's going to provide great depth for us. He's lost a lot of weight, worked really hard, made a 3.0 last semester," Smart said this week. "Julian's been a guy that's done anything we've asked of him since his incident. I'm really proud of what he's doing out there."
Michail Carter is another defensive lineman who has been getting good reviews and is almost certain to play. Defensive back Tyrique McGhee has also had a strong camp and unlikely to redshirt, despite the depth in the secondary.
It's murkier for others, including offensive lineman Ben Cleveland, one of the most heralded recruits. Cleveland was working second team left guard most of camp, but was third team later this week.
"Ben's got to get better. I expect more out of Ben," Smart said. "Ben's a guy that's here in the spring, so he got practicing in the spring, and now he's here in the fall. I expect Ben to play with more consistency and play with more effort. So my expectations for Ben are to play with toughness and play really hard. And we don't always get that out of Ben, he's got to improve that."
Other freshmen who might be on the redshirt bubble: Defensive lineman Tyler Clark, offensive linemen Chris Barnes and Solomon Kindley, inside linebacker Jaleel Laguins, tight end Charlie Woerner, tailback Brian Herrien and quarterback Jacob Eason.
Oh, just kidding about that last one.
Next
Sentell's Intel: The things nobody writes about Georgia commit Jake …