Alabama indifferent to 'underdog' chatter vs. Georgia, focused on winning SEC title game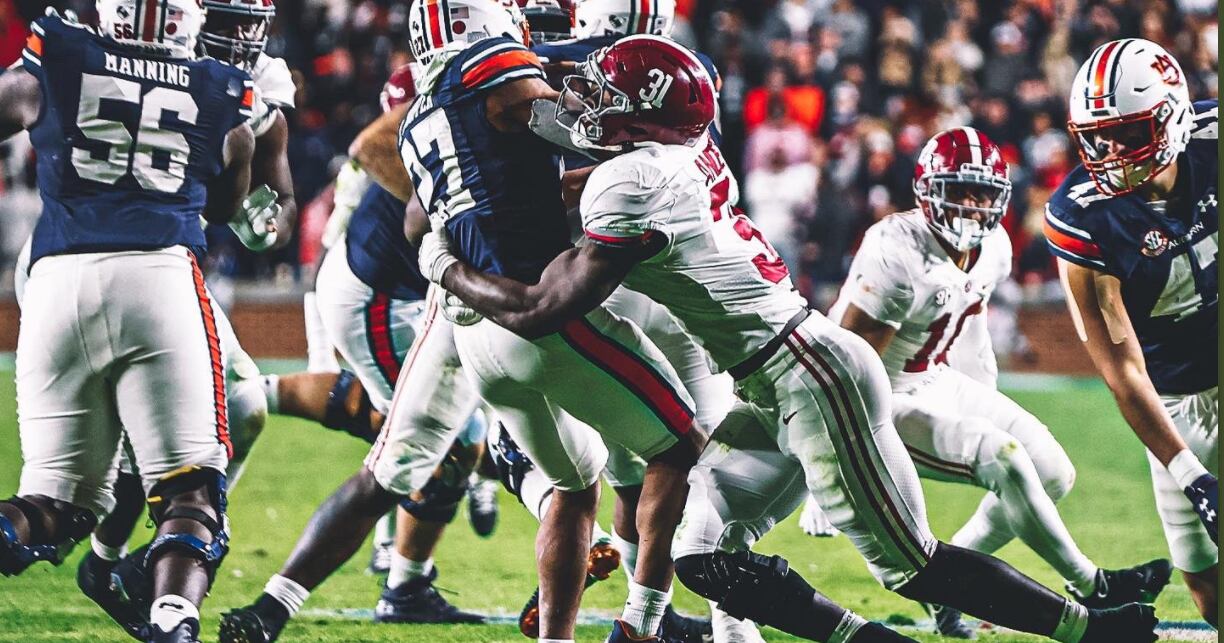 If you think "underdog Alabama" just doesn't seem to have the right ring to it, you are not alone.
Alabama juniors Jordan Battle and Evan Neal were somewhat perplexed when asked how they would handle the underdog role against Georgia in the SEC Championship Game at 4 p.m. on Saturday at Mercedes-Benz Stadium in Atlanta.
Georgia ranks second in the SEC in scoring offense (40.7 points per game), trailing only the Tide (42.7), but a deeper dive reveals the Bulldogs are only sixth in the SEC in total offense, and only eighth in passing offense.
Linebacker Henry To'oTo'o, who leads Alabama with 94 tackles, pays no attention to underdog talk.
"We're here to play a full 60 minutes and however much longer we need to if necessary," To'oTo'o said. "We don't really look at that."
If To'oTo'o and Alabama can indeed make the Bulldogs one-dimensional, by stopping the run, they could force the Georgia offense out of its comfort zone.
Quarterback Stetson Bennett, who ranks ninth in the SEC with a 65-percent completion percentage, has not completed more than 17 passes in a game this season and averaged less than 20 attempts in the six SEC games he started.
The Bulldogs rely heavily on the play-action pass game, needing an effective run game to set up high percentage passes and "shot" plays downfield Bennett, who can also pull the ball down and run, has 10 passing touchdowns and 4 interceptions in eight appearances against SEC teams.
"Stetson Bennett is very elusive in the pocket, he's creative in the pocket, and he keeps his eyes downfield," Battle said. "But that should be nothing new to us. We see Bryce Young every day in practice. He's elusive, and he makes us scrambles and stay locked on to our men when he's scrambling."
Battle and the Alabama defense, coming off a performance that saw them allow Auburn quarterback TJ Finley just 137 yards passing on 17 of 26 attempts with two touchdowns and an interception, ranks fourth in the nation in run defense.
Things aren't, however, quite as much business as usual for the Tide's offense.
Neal made it clear the Alabama offense is not nearly as concerned with the points spread as the game plan against a historically dominant Georgia defense that's allowing just 6.9 points per game.
"It's not often that Alabama is on the other side of that (as underdogs)," Neal said. "We are approaching this game like any other game. We're approaching this game with intentions to win."
The Tide is coming off a 24-22 quadruple overtime win that saw it surrender seven sacks to the Auburn defense.
Neal, a projected Top-5 pick in the 2022 NFL Draft, per ESPN analysts Mel Kiper Jr. and Todd McShay, debunked the notion that Alabama might feed off not being favored.
"I don't feel like us being an underdog is motivating to us," Neal said. "I just feel like us being competitors, and us wanting to go out and win and be who we are, I feel like that's what motivates us."
Alabama, it's worth noting, beat Georgia 38-10 in Sanford Stadium the last time it was an underdog in a game in 2015 en route to a College Football Playoff Championship.
UGA News
Next
Jordan Davis downplays Nick Saban's praise ahead of 2021 SEC …