Alabama relents: Maurice Smith receives release to Georgia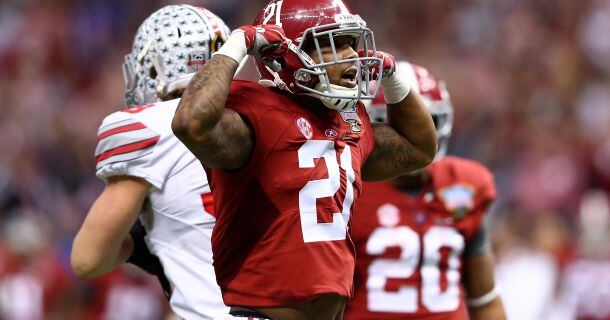 ATHENS — Maurice Smith has been given a release by Alabama and will finally be able to join Georgia's football team if the SEC signs off on a waiver.
Samyra Smith, the player's mother, confirmed Wednesday night that Alabama provided a release, and that the decision is in the hands of the SEC.
"It's not over," she said.
A decision from the SEC is expected within 24 hours or less, she said. The Tuscaloosa News first reported on Wednesday night that Alabama had decided to release Smith.
According to SEC rules, any in-conference transfer must be signed off by the school the player is leaving, then the SEC must approve a waiver.
In a statement Wednesday night, the SEC said the conference "does not provide waivers of SEC rules absent circumstances that demonstrate a clear reason for granting an exception to those rules." It also said it would not comment on the request by Smith.
"As part of the SEC waiver process, a due diligence procedure ensures that pertinent information from the involved parties is gathered," the SEC said. "This information is gathered for the purpose of a thoughtful and appropriate consideration of the particular facts associated with each case. The intent is for the waiver process to be handled in an efficient but deliberate manner, so the timeline for resolution of a waiver request varies with each unique situation."
Smith graduated from Alabama on Saturday, and is thus eligible to play at Georgia right away. He finished spring practice at Alabama as the first team nickel back.
Alabama head coach Nick Saban had been declining to release Smith, who informed Saban in late June that he wanted to go to Georgia. That led to a fight behind the scenes that finally became public last week.
But Saban indicated Wednesday evening that something had changed, without saying what.
"We have done everything that we can do institutionally to allow the conference to make the decision about whatever they decide is in the best interest of the conference and the SEC rules relative to Maurice Smith," Saban told reporters in Tuscaloosa, according to Al.com. "So that is past us now. It is beyond us. We don't really need to talk about that anymore and I don't have any other comments to make about it."
Georgia head coach Kirby Smart and defensive coordinator/secondary coach Mel Tucker both coached Smith last year at Alabama, so with that familiarity, and Smith's knowledge of the system, he could be in line for immediate playing time.
The saga has led to a public disagreement between Smart and Saban, who worked together the past nine years at Alabama. It has also led to a debate over transfer rules, with Smart saying Saturday that anybody who graduates from UGA would be allowed to transfer anywhere they want, including in the SEC.
Earlier on Wednesday, LSU athletics director said the SEC's rule on graduate transfers "probably" should be examined.
"Personally, I think kids should have the right to go to kind of where they want to go, for the most part. Particularly if they graduate. If they've graduated, and they want to move on somewhere else, so be it," Alleva said during an interview with SiriusXM's College Sports Nation channel. "But I also understand that we have rules in our league, and until those rules are changed, we need to abide by those rules in our league."
More information soon. 
Next
Tim Kimbrough intends to leave Georgia