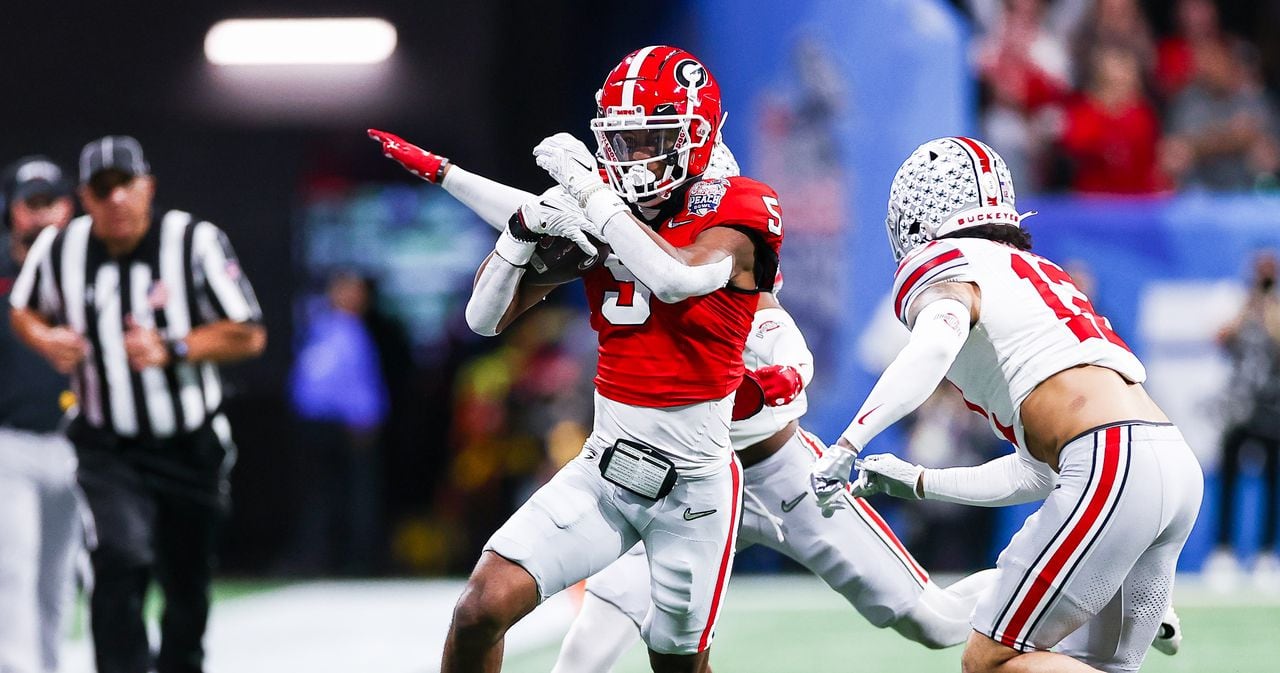 Georgia football world reacts to AD Mitchell transfer decision
ATHENS — AD Mitchell made some of the biggest plays of the season for Georgia in both of its championship runs. He caught the go-ahead touchdown in the 2022 National Championship Game win over Alabama and then did it again against Ohio State in this season's Peach Bowl.
"It's the games that everyone is watching," Mitchell said on his ability to make big plays before Georgia's game against Ohio State. "It's the games that mean the most."
Related: AD Mitchell enters transfer portal after two seasons with Georgia football
Now he will be looking to finish his career elsewhere. Mitchell entered the transfer portal on Wednesday, the final day to do so for this window. The Bulldogs now have seen 10 players from this past season enter the transfer portal.
Mitchell was limited this season due to an ankle injury but he once again made big plays for Georgia down the stretch. He caught touchdowns in both of Georgia's playoff wins. He finished the season with nine receptions for 134 yards and three touchdowns.
The news sent shockwaves not just through the Georgia football fan base but the college football world as a whole. Texas is the rumored favorite to land Mitchell, as the wide receiver is originally from Missouri City, Texas. Mitchell will have three years of eligibility wherever he next ends up as he signed as a member of the 2021 recruiting class.
Georgia did get some good news on the wide receiver front when Ladd McConkey announced he was returning to Georgia for another season. He led Georgia wide receivers in receptions, receiving yards and touchdowns last season. Georgia also returns Marcus Rosemy-Jacksaint, Dillon Bell and Arian Smith at the position.
"We've got some good wideouts too, and they have a chip on their shoulder, and they want to make plays," Georgia coach Kirby Smart said after Georgia's win in the Peach Bowl. "They have a quarterback that can get them the ball. A lot of those guys have been able to come back. It's really been my committee when you look at it."
The Bulldogs signed Tyler Williams, Yazeed Haynes and Anthony Evans as members of the 2023 signing class. Like Lovett and Thomas, those three are already on campus.
This is not the first time Georgia has seen a talented contributor leave via the transfer portal, as Jermaine Burton left Georgia last offseason to transfer to Alabama. He caught 40 passes for 677 yards this season for the Crimson Tide.
Georgia has won back-to-back national championships, with Mitchell playing a key role helping Georgia do so. Mitchell won't be the first talented player Georgia has to replace, as the Bulldogs heard all season about losing 15 players to the NFL draft and another 13 to the transfer portal.
Mitchell just becomes the latest to do so. It's the state of modern college football, one that from an on-field standpoint Georgia is excelling at right now.
What AD Mitchell transfer decision means for Georgia football
More Georgia football stories from around DawgNation
Next
How Georgia football will replace its 2023 NFL Draft entrants