At Second Glance: What went wrong for Georgia, and what can be fixed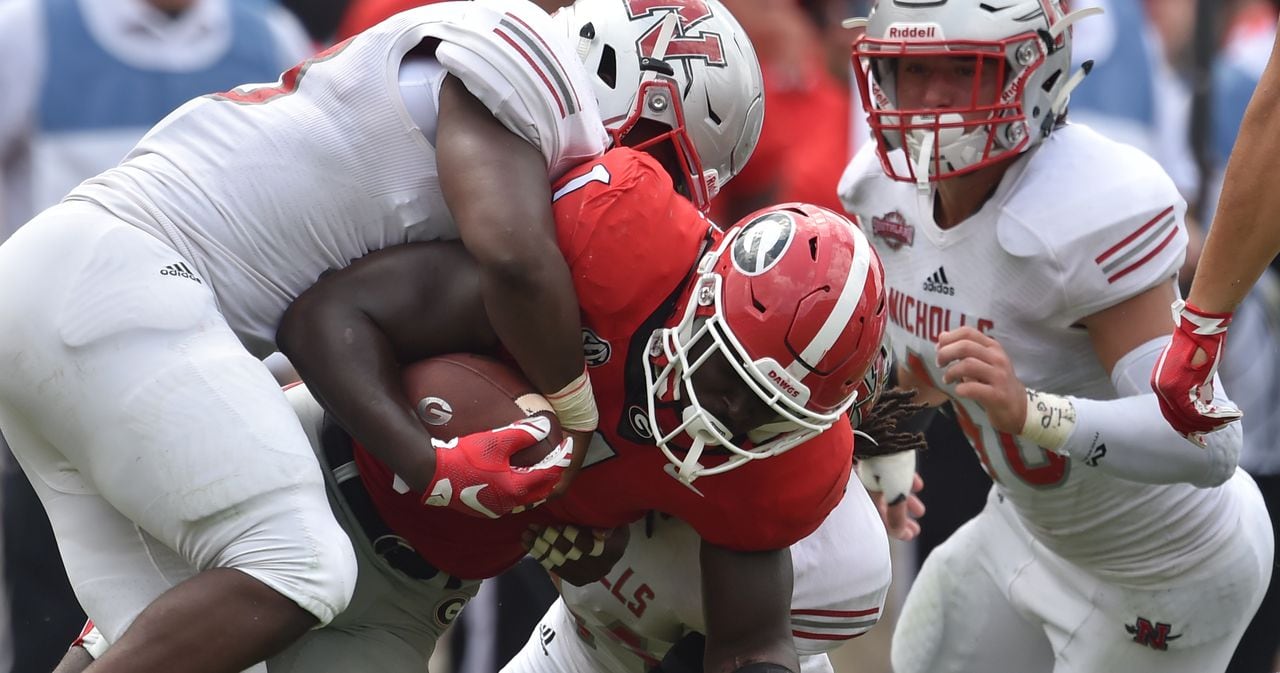 ATHENS – Perhaps the most discouraging thing for Georgia fans isn't that it came out flat against Nicholls State. It's that it actually didn't come out flat.
It's what happened afterwards – after Georgia scored on its opening drive, and after its defense started out doing what it was supposed to do – that should be a giant, glaring red flag.
After re-watching Georgia's lackluster (to say the least) 26-24 win over Nicholls State, here are some more thoughts, starting with the area that no doubt is causing the most consternation in the Butts-Mehre:
GEORGIA'S BLOCKING
Color analyst Matt Stinchcomb, who knows what he's talking about when it comes to Georgia offensive line play, had a good point: As well as Georgia ran the ball against North Carolina, there were some short-yardage problems. That obviously didn't improve against Nicholls State. That's a red flag: Georgia's offensive line isn't overpowering the defense when everybody knows what's coming.
There wasn't push on the very first play: Nick Chubb went over the left side of the line and was stopped for one yard. That set the tone.
Two plays later in the half summed things up: On the final play of the first quarter, it was a single-I, eight men along the line, against eight men in the box – and Chubb was stopped for a 2-yard gain. Then on the very next play it happened again: An eight-man front against a nine-man box and Chubb was blown up for a 2-yard loss. If you're a top 10 team, going against an FCS team, you should win an eight-on-eight blocking battle.
The outside blocking was just as abysmal as the interior: On one play, Sony Michel had running room but was dropped for a 1-yard gain because receiver Jayson Stanley appeared to be beat by a defender. Michel was stopped for another 1-yard gain when Terry Godwin was beaten on a block. And on a jet sweet, Isaiah McKenzie lost five yards when he was swarmed, Stanley, Jeb Blazevich and Brian Herrien among those called on to block outside, and Catalina called on to pull outside.
Another change from the North Carolina game: Georgia didn't use the fullback as much. Christian Payne wasn't the lead blocker much until the drive early in the fourth quarter, when Georgia reached the Nicholls State, Payne springing Nick Chubb on some good runs.
The start of the game, believe it or not, was a model of play-calling and blocking: Chubb scored a six-yard touchdown on a run to the outside, where Stanley, Isaac Nauta, Payne and right tackle Greg Pyke all picked up men on the outside. It was a well-designed play, and coming out of the timeout Stinchcomb showed Chubb's game-sealing touchdown run against North Carolina, which followed the same outside blocking scheme.
It was a great start. Where did things go wrong? The very start of the next drive: Georgia rotated Nauta into a fullback spot, put Blazevich in motion, pitched it to Chubb – and he was swarmed on the left side, where the blocking just broke down. Who has their blocks? Kublanow, Pyke and right guard Lamont Gaillard are past the line of scrimmage. In fact Kublanow and Pyke are looking back. But the outside blockers are beat. And left tackle Tyler Catalina is on the ground, his man lunging at Chubb well behind the line. Catalina was expected to pull outside on the play but never got going. But it wasn't just Catalina; Nauta, Stanley and Blazevich were swarmed up as well.
The pass blocking was actually okay: When something bad happened it tended to just be one guy. Catalina was beat on the only sack of the game; it was also a bit of a coverage sack, but if Catalina had kept his block outside Eason might have been able to scramble for more time. Dyshon Sims was beat by Ronald Ollie on the third drive, leading to a holding penalty that ultimately pushed the Bulldogs out of field goal range.
The verdict: The blame goes all around. The interior linemen, the tackles, the receivers … everyone except perhaps Payne, who wasn't used as much. Which brings us to …
GEORGIA'S OFFENSE
It was a conservative gameplan, evidently holding stuff back for Missouri and assuming a limited playbook would be enough this week. Oops.
Apparently the idea that starting Eason would mean airing it out was also wrong. Georgia started the game with 18 runs, 8 passes.
Georgia seemed to pass very well when they spread it out, yet didn't keep going back to it, preferring to bunch back up and try runs or short passes. It was almost like Jim Chaney was holding the spread-the-field look for Missouri and beyond. So when Nicholls State took the lead in the third quarter, what did Georgia do? It spread the field, and on third down Eason hit McKenzie in the middle of the field, and McKenzie did his thing.
As good a game as Jim Chaney called against North Carolina, he didn't call a good one this time. The risky pass calls inside the 10 were one thing. Here was another: First play of the second quarter, second-and-8 from Georgia's own 7, after a single-back, eight-man front had resulted in Chubb only gaining 2 yards, Chaney ran essentially the same front again – and the play was blown up for a 2-yard loss.
In fact, at times the run problems didn't seem so much a blocking problem as Nicholls State knew the play was coming and where to go.
When Chaney was hired, it was pointed out that he had some very good offenses and some very mediocre ones. The latter category was often chalked up to injuries, like last year at Pitt. What Georgia fans have to hope is that this one-game-up and one-game-down wasn't indicative of what's to come.
One more thought: The receivers, other than McKenzie, still aren't getting separation. That was my impression watching live from the press box, and was confirmed by most of the plays shown on the TV copy.
JACOB EASON
Kirby Smart, interviewed on the field before the game, was asked what he wanted to see from Jacob Eason.
"I want him to communicate better, I want him to get us in and out of the huddle faster, if somebody's not lined up right, line him up right. Do those things."
So how'd he do?
Well, Chubb told me after the game that Eason did well, and "wasn't as nervous" as he was against North Carolina. There are also weren't any noticeable problems, like a delay of game or burned timeout.
What you do wonder about, though, is this: Georgia's outside run blocking was so bad, and Nicholls State around the ball so much, how much of that had to do with Georgia's organization on offense? Was it communication, did Eason do as good a job before the snap in putting men in the right place, or pointing out the Mike linebacker – all the seemingly little stuff that Greyson Lambert is known to be able to do?
Re-watching the game, Eason didn't change many plays, or make many checks at all at the line. He wasn't as demonstrative before the snap. And his body language isn't as confident. All that isn't an indictment: It's just what you get with a true freshman starting his first game who probably thought this would be a cake walk, and got caught up in something else.
Eason's interception – his final pass of the day, returned 90 yards – was just a silly decision, throwing over the middle of the field. It's not even clear whether Jeb Blazevich or Javon Wims was the intended receiver. The two were running into each other as Eason threw.
Another play Chaney will be going over with Eason in the film room: On Georgia's second drive, facing third-and-15, Eason had time in the pocket but rushed a throw downfield, overthrowing Reggie Davis. If Eason waits a couple moments, he may be able to find an open receiver or be able to hit Davis coming back. When he went to the sideline you could see Jim Chaney telling him something; maybe that was it. I'm not a great lip reader.
Stinchcomb pointed out when Eason missed an open receiver in the end zone: Early in the third quarter, Blazevich sprung free into the right side, but Eason was locked onto Christian Payne, who had two men around him. Eason threw it anyway, and Payne dropped it. Also, if Eason had waited for the play to develop McKenzie would have been wide open and alone on the left side. Afterwards TV showed Chaney and Smart both talking to Smart, and again I'm not a lip reader, but Stinchcomb guessed they were talking about that play.
Eason was the victim of three drops: Michael Chigbu should have hauled in one in the first half that would have put Georgia inside the 5. (Eason did underthrow it a bit, but a safety was coming and Chigbu should've had it.) Fullback Christian Payne also dropped a short pass inside the 10 early in the third quarter. Chubb had a short pass go in and out of his hands, though he was being covered well. But when Chigbu couldn't haul in the next pass, it was thrown behind him, so I wouldn't call it a drop as much as it was a pass Chigbu could have caught but didn't.
The Eason takeaway: He's not there yet, but the mistakes still seem to be products of inexperience. There are no red flags for him, not yet.
The question is whether Smart and Chaney are okay with him still getting that experience in back-to-back road games, when there's a capable alternative.
GEORGIA'S DEFENSE
While there were concerns all over for Georgia's offense, for the defense this was more of an … eh.
Nicholls State did put together one long scoring drive, going 75 yards to take the lead in the third quarter. The pass defense was the problem there.  There was a long second-down pass to the middle of the field in which communication was a problem: The nickel back let the man by but inside linebacker Roquan Smith didn't pick up and safety Aaron Davis got there too late. Then Maurice Smith was beat on a 15-yard pass to the sideline. Then came the touchdown pass, a receiver screen in which too many defenders bought a quarterback play fake, leaving the right side wide open.
There were also run contain problems. The underrated big play of the game: Chase Fourcade's 18-yard keeper to convert a third-down, after Chubb's fumble, leading to Nicholls State scoring and making it 10-7 at halftime. Georgia's defense was playing pretty stout up to that point, but Fourcade's run seemed to infuse some confidence and stretch the field. Georgia secondary really struggled later in the game in run defense. There were some straight-up misses, but also sometime a lack of being near the ball: Only Dom Sanders was near the ball on Nicholls State first touchdown, a 4-yard run to the right edge.
The bigger takeaway that should worry Smart and Mel Tucker going forward: Nicholls State started figuring out they could use the pass to set up the run. While its third drive ended in a punt, that's when it started moving the ball, getting three first downs. The next few teams Georgia plays can spread the field and use the pass to set up the run.
More notes:
 Trent Thompson's standout game was confirmed on further viewing, as he kept bursting through the line and getting stops. But one nitpick: His one sack, in the first quarter, could have been shared by Lorenzo Carter (who was almost there a few seconds earlier), or David Marshall and Chuks Amaechi, who were  just a step behind Thompson. It was basically a sack by the defensive line, with Thompson getting there a step ahead – and in so doing showing the great athleticism he has to go along with his big body.
 Freshman David Marshall sort of quietly had another good game. He batted away a third-down pass, but was also around the ball a lot on plays he didn't get credited with a tackle.
 Boy, did Georgia's secondary dodge one late in the second quarter, when Chase Fourcade barely overthrew a wide-open receiver. It happened when Malkom Parrish went on a corner blitz – giving away the blitz too early – and Dominick Sanders came over to pick up the receiver a step late. (It didn't matter in the final result, because Nicholls State eventually punted, then Chubb fumbled and Nicholls State scored to make it 10-7. But no doubt Tucker is showing the replay to Parrish and warning him about his blitz timing.)
OTHER STUFF
 Greyson Lambert, on the third-down conversion pass to Chigbu, did a great job digging up a low snap from Brandon Kublanow before firing the pass quickly to the left.
Brian Herrien had the tackle of the game, bringing down Nicholls State's Jeff Hall on the interception run back. It took Herrien awhile – he had him by the shoulder pads for about 10 yards – but with a finishing assist from Jeb Blazevich, Herrien brought him down. And when the defense held, that ended up being a difference of four points. Four big points.
One of the trends early in the season – a reverse from what was expected – is Terry Godwin being used more as a slot receiver and Isaiah McKenzie in a wideout role.
Amaechi is quietly playing pretty well in somewhat limited snaps this season. As an outside linebacker he's stuck behind Lorenzo Carter and Davin Bellamy, but the staff is getting him snaps at both OLB and defensive end. Amaechi isn't racking up stats but he's around the ball a lot.
Juwuan Briscoe's interception was a really nice play. And Dom Sanders was about half a shoe away from a great one-handed interception later in the quarter.
Chubb was hit from behind on the fumble, but he was also carrying it too loosely.
William Ham's first field goal try, from 52 yards, was a lot more wide left than I could tell from the press box. He did make the other two, at least.
Still kinda surreal to see Todd Gurley doing commercials with Jay Mohr. It was just a few years ago Gurley was having to be coached up by Claude Felton about getting comfortable with the media.
Matt Stinchcomb is a very good analyst. Maybe he's helped by doing Georgia games, as he knows the team. But he also isn't a sunshine-pumper, and makes very good points, and quickly.
FINAL THOUGHT
You could argue that Georgia wins this game easily if Chubb and McKenzie don't fumble, and Eason's interception doesn't flip the field from one end to another. That's true. But Georgia also got the Carter defensive touchdown, one big play by McKenzie, and two first-half interceptions – and didn't do anything with either.
Smart wondered after the game whether this was a "wake-up call," but twice during the game his team should have been stunned into action, imposed its will, and run away with it. When Georgia went into halftime suddenly clinging to a 10-7 lead, it could have come out of the locker room ready to restore order. Nicholls State instead took the lead. Then Georgia did seem to restore order with two quick touchdowns, with plenty of time to make this the laugher many had expected. Instead it finished a two-point game.
That points to problems that are potentially more long-lasting than just a lack of energy. The offensive line is the most obvious, but it's not just the front five: The perimeter blocking has to improve too. Eason, if he's going to continue to start, needs to get more comfortable. Chaney needs to call a good game every week. The defense needs to communicate better and have energy on every play.
That's a long list. But everything is fixable – even the blocking. But that's going to require a whole lot more fixing than everything else.
Next
Sentell's Intel: Why Georgia commit Luke Griffin's concussion was a …