Clemson QB Trevor Lawrence dices up Alabama in CFP Championship Game, 44-16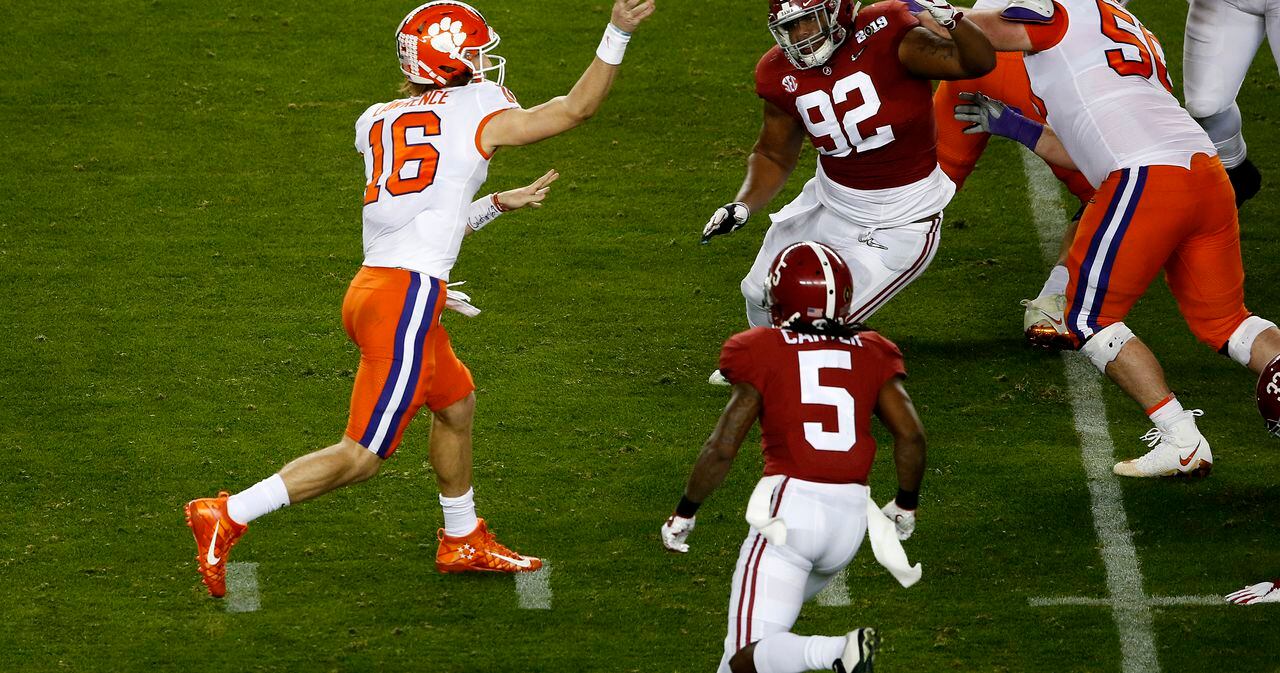 SANTA CLARA, Calif. — Clemson spread out the Alabama defense, winded up Trevor Lawrence, and let the freshman quarterback throw the football on Monday night.
Over, and over and over, Lawrence delivered back-breaking third down conversion throws until the mighty Crimson Tide finally was finally dropped, 44-16 at Levi's Stadium with 74,814 in attendance.
Lawrence was 20-of-32 passing for 347 yards and 3 touchdowns, showing once and for all a drop back quarterback CAN defeat a Nick Saban Alabama defense, after all.
Georgia quarterback Jake Fromm came close each of the past two seasons, either tied or leading Alabama 281 of 290 plays in the past two postseason meetings in 2017 and 2018.
Fromm was robbed of a CFP title as a true freshman in 2017 by Tua Tagovailoa's second-and-26 overtime TD throw.
And, again this season, Fromm was a hard-luck loser when Jalen Hurts came off the bench and orchestrated a 35-28 comeback despite Fromm's 25-of-39 passing, 301-yard, 3-TD performance.
But the 6-foot-6, 210-pound Lawrence, striking an uncanny resemblance to a tall SEC legend who wore orange and the No. 16 — Peyton Manning, anyone? —  had Alabama put away by the end of the third quarter.
Lawrence converted on three consecutive third-down throws on the pivotal drive, including a 5-yard bullet to Tee Higgins in the end zone that made it 44-16 with 21 seconds left in the quarter.
Lawrence sparked the 12-play, 89-yard drive when he converted a third-and-12 with a spiral to Justyn Ross, who reeled it in for a 37-yard gain to the Alabama 38.
Three plays later, facing third-and-9, Lawrence released the ball an instant before taking a shot from Isaiah Buggs, and Ross (6 catches, 153 yards) reached back and pulled it in for another conversion.
It was clear early on Clemson's second half game plan was to put the game on Lawrence's shoulders, leading to his memorable Offensive Player of the Game performance.
Lawrence carried the ball on the Tigers' first play of the second half, passed to Amari Rodgers for 4 yards on the second play, and on the next play — third-and-8 at the Clemson 26 — threw off his back foot with two defenders in his face and delivered a 74-yard TD strike to Ross.
It seemed an unlikely outcome after the true freshman from Cartersville, Ga. opened the game 2-of-7 passing for 16 yards in the first quarter.
It was obvious by intermission, however, that Lawrence had settled in, throwing for a CFP Championship Game first-half record 197 yards in staking Clemson out to a 31-16 lead.
Lawrence was 4-of-7 for 107 yards on third downs at that point.
It proved a trend in the making.
The Tigers converted a staggering 10 of 15 times on third down against Saban's defense on the night, with Lawrence 8-of-12 passing for 240 yards and two touchdowns on third-down throws.
No throw was bigger than Lawrence's third-and-14 conversion throw with the game knotted at 7-7 in the first quarter.
Lawrence hit Higgins in stride for a 62-yard gain to the Alabama 17-yard line, and one play later, Travis Etienne sliced through the Tide defense and into the end zone.
It was the Tigers' first offensive score, and it provided a visible boost on the Clemson sideline and Lawrence's posture.
Clemson opened the game's scoring on A.J. Terrell's Pick 6, the first sign the Tigers' defense was zeroed in on Tua Tagovailoa (22-of-34, 295 yards, 2 TDs, 2 interceptions).
Lawrence missed onopening passes, leading some to wonder if the true freshman could overcome early nerves and settle in against Alabama's defense.
Lawrence not only settled in against the Tide's defense, he shredded it, turning in one of the most impressive performances by a true freshman quarterback in a championship game setting in history.
Lawrence was named the first-ever FWAA Shaun Alexander Freshman Player of the Year earlier in the day.
UGA News
Next
WATCH Trevor Lawrence, Tua Tagovailoa on QB competitions: 'don't put …