DawgNation Pregame: Georgia Bulldogs should have plenty of motivation for Texas Longhorns in Sugar Bowl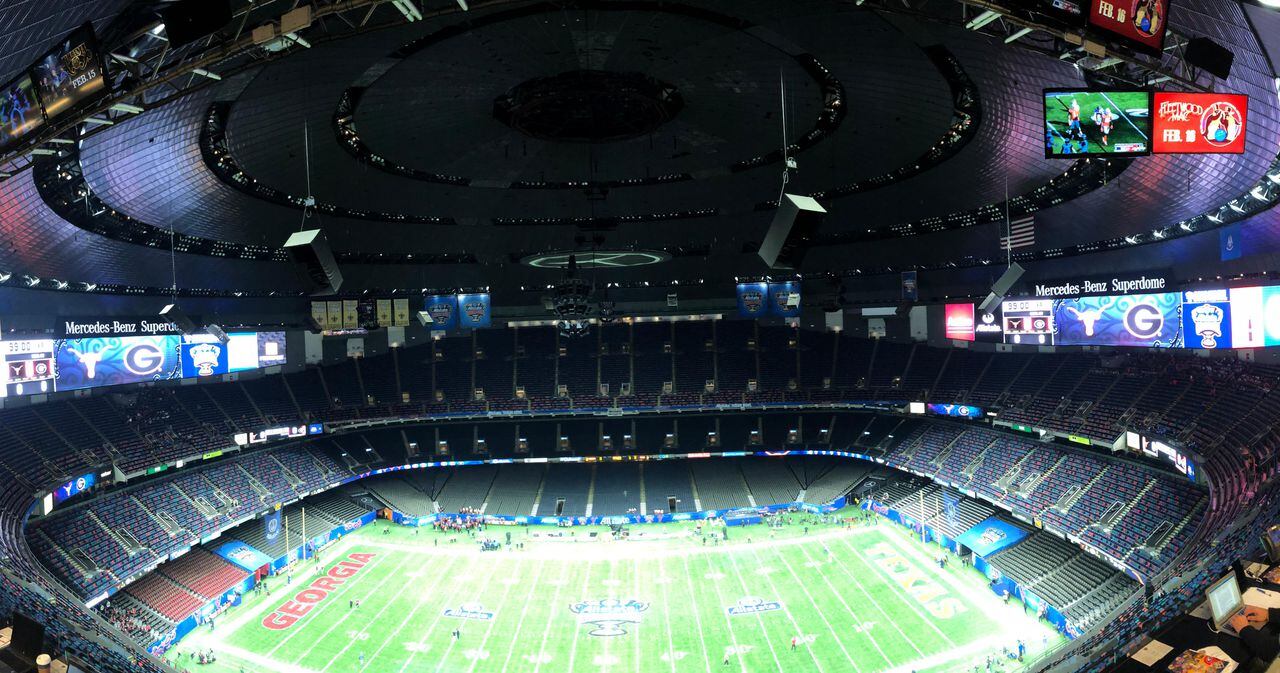 NEW ORLEANS — Greetings from the Mercedes-Benz Superdome, where I sit among frigid man-made winds from literally the highest perch inside this historic, massive structure.
I was warned of this and have on a jacket, so I'm sure our fair readers are pleased to know I'm reasonably comfortable for the task of delivering you the details of tonight's Allstate Sugar Bowl matchup between your No. 5 Georgia Bulldogs and the 15th-ranked Texas Longhorns. But my vantage point is considerably more elevated than when I last covered a game here on Jan. 1, 2008, so please forgive me if I miss something. Fortunately I brought my binoculars with me and there are televisions mounted on a beam in front of me that I can consult for review.
What do I expect to see? I'm glad you asked.
I am not among the camp that believes that this game being the Sugar Bowl and not the College Football Playoff makes this a dangerous game for the Bulldogs. It certainly hurts them that All-American cornerback Deandre Baker made the selfish decision to pull himself out of this game for fear of injury before the NFL Draft. Though we haven't had an opportunity to talk to young Mr. Baker, I feel certain he wouldn't have made such a choice if this was a playoff game and a championship remained in the offing. But his absence itself doesn't suddenly tilt the field in favor of the Longhorns.
Now, Baker's absence coupled with those of outside linebacker D'Andre Walker and nose guard Jordan Davis are more problematic. Walker and Baker are arguably Georgia's top two players on that side of the ball, and the presence of the freshman Davis in the middle did more to right the Bulldogs' defensive ship than any other development this season. But I believe there is enough talent in Georgia's cupboard to withstand the voids. And this is, after all, the first game of 2019, when you're going to have to learn to thrive without those two guys.
What makes all that even more tolerable is the Bulldogs' offensive players are all present and accounted for. This is a group that averaged 39.2 points against mostly SEC defenses. On Tuesday night, they'll be facing a defense that wasn't even first among the teams in that balky defensive league known as the Big 12. Granted, they are one of the better ones in that conference. But that's kind of like saying you're one of the best fast-food restaurants. You're still eating junk food, right?
So I like Georgia and its multifaceted offense and usually solid special teams in a scoring battle versus Texas. But the unknown is all those intangible things, like who wants it more, crowd support, and all that. The word on the street is that the Longhorns are going to outdraw the Bulldogs 2-to-1 in attendance. I've seen evidence around the French Quarter that there may be a little more Burnt Orange than Red & Black. But I'm skeptical about it being twice as much.
Now, if I can find some gloves somewhere I might be able to type out my thoughts for you postgame. I trust you'll all be awake and eagerly awaiting them.
UGA News
Next
3 things on Georgia Sugar Bowl: Legacy at stake, potential Justin …