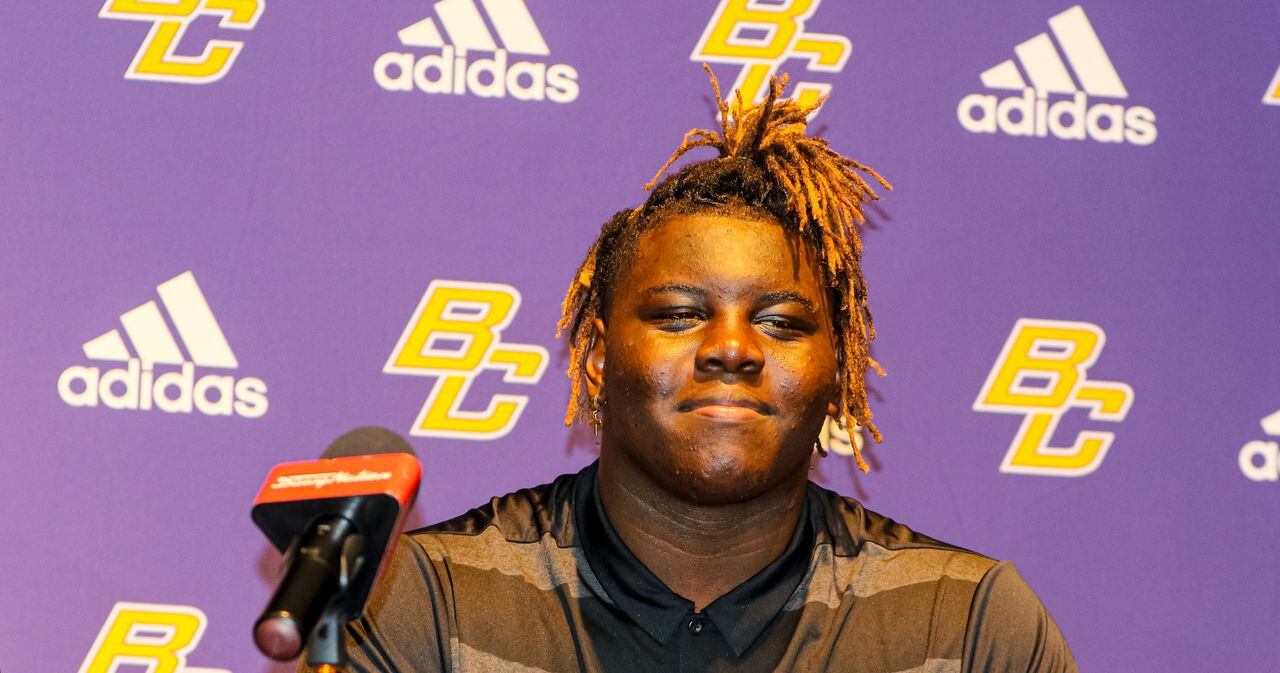 Amarius Mims: The 2021 class weighs in on how big that 5-star commitment was for Georgia
Want to attack every day with the latest UGA football recruiting info? That's what the Intel brings. This entry will convey the thoughts of the 2021 recruiting class in Athens and their thoughts on Amarius Mims committing to the G on his 18th birthday yesterday from Bleckley County High School. 
There's a reporting world where the thing is to react to everything. How did the Bulldogs play against Auburn? Rinse wash and repeat those same headlines for Tennessee.
How 'bout something new? How 'bout a recruiting decision big enough to check-in and see how the rest of the class feels about it?
The one yesterday Amarius was that big. DawgNation checked in with several members of the 2021 recruiting class. The group right there is coming up as sure and strong as that new weight room and team headquarters expansion.
How big was Mims? Seismic.
Georgia coach Kirby Smart has had unprecedented success on the recruiting trail during his time in Athens. Yet the Mims news was big. If this decision holds (and it should) then Mims will become the first No. 1 prospect from the state of Georgia that will have signed with UGA during Smart's tenure.
Vandagriff has completed a lot of passes as a prep QB. He will complete hundreds more for Georgia, but he'll get a big hand here in completing Mims and his commitment to Georgia.
Those two talk pretty much every day. When they decide to go fishing, the 6-foot-3 Vandagriff will act like the father trying to make sure Mims knows where the line is supposed to go. Then he'll wind up fixing that line and trying to get it back in the water, too.
Vandagriff never really sold Georgia to Mims. They were just continuing to act as friends. Even when he was committed to Oklahoma and Mims was trending to UGA last fall.
But when this Mims decision came to the fourth quarter, he let his boy know he wanted to play with him. The Prince Avenue Christian QB sent a text or two late that may or may not have said he'd kill him if he didn't pick Georgia. Mims shared that little nugget on his commitment day.
The 5-star QB had hoped to be at the commitment ceremony for Mims on his birthday. Just to support him in whatever he chose to do.
He couldn't make it. Vandagriff's Prince Avenue Christian team had football practice at 1 p.m. yesterday afternoon. Not even the Kirby Copter could have made it from Athens to Middle Georgia that fast for a 3:30 p.m. commitment date.
So Vandagriff sent Mims a text on the morning of his decision. Then he probably felt his future back and rib cage both thank him for how good they will feel in 2024 thanks to having Mims protecting them in the pocket in Athens.
What was his reaction to the news?
The avid outdoorsman thought of that #GreatWallofGeorgia and how he can't wait to squad up in Athens next year.
"It just put my mind at rest," Vandagriff told DawgNation. "He's been telling me forever that 'he's in.' My safety in the pocket increased a lot. We have some O-linemen committed now that are some ballers and great guys. Looking forward to it."
When Mims finally made it public, he sent his buddy another text.
Next
Odds of Georgia victory over Alabama increase with Nick Saban absence …