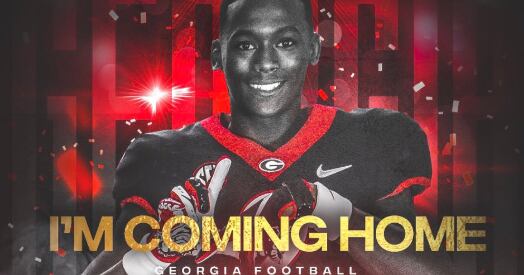 Major Burns: A father's son and a story to read today about a new Bulldog
Burns went from LSU commit on Dec. 10 to de-commit on Dec. 11 to Georgia signee on Dec. 17. He was enrolled at UGA on Jan. 6. A crucial official visit to UGA should be wedged in there as well. It came on the last weekend prior to the early period.
Quite the whirlwind. But that's not the story to share about Burns today. Not on the day of a very special birthday in his family.
The book on Burns can come easy in a few clicks. His junior film is a good place to start. But Burns didn't make a senior reel.
That's typical of an elite prospect who already had all the offers and college interest he could ever dream for.
The final 247Sports Composite rankings for Burns read like this: Nation's No. 13 safety. No. 180 overall prospect. No. 7 player in Louisiana. 
Did LSU have room for Burns in its class? Signs do point to that, but that is of little concern to this narrative.
His prospect status took a slight dip. Likely because he skipped the Under Armour All-American Game. Other prospects had more chances to impress on a national stage.
Burns chose to soak up more time with family. That made sense. Especially his situation. Family is his priority. It will always likely be.
The story to read about Burns today is about family, a father's love, being a son and wanting to make Dad proud.
We all want that, right? The new Georgia Bulldogs burns for that.
Literally.
That's the thing Georgia fans need to associate with this new Bulldog. Not the famous name that invokes memories for older Bulldog fans of that famous 1980s "M.A.S.H." sitcom.
Burns will grind to make his father Tony Burns proud. Always. Even after his father tragically passed away at the age of 51.
Check out the words from his initial commitment video to LSU. That video was produced by TigerDetails.com and it will perfectly capture why this young man will succeed in life.
That's the real clip to watch in regard to Burns.