UGA post-spring depth chart: Deangelo Gibbs, Tyrique McGhee competing to start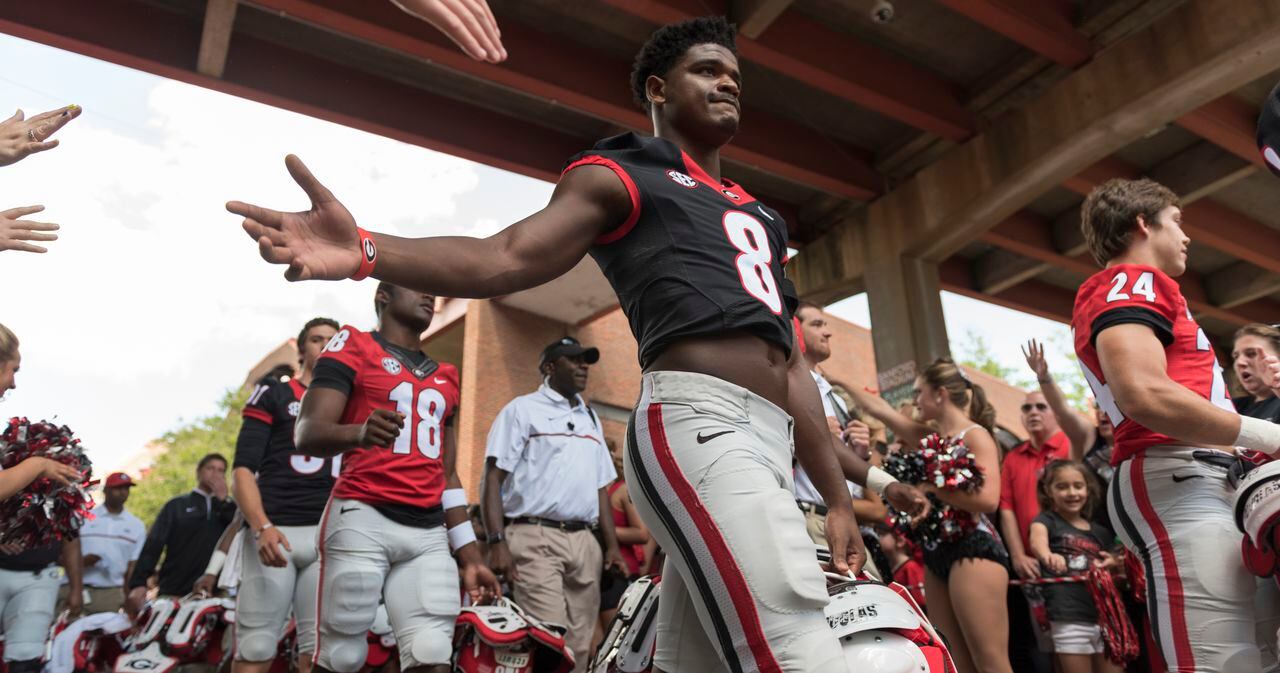 ATHENS — The most compelling position on the 2017 Georgia defense practically didn't exist until recently.
The star position, or nickelback, is basically a creation, or rather a reaction, to the high-octane offenses that now dominate (detractors would say pollute) college football. It used to be that the nickelback was just an add-on spot, especially in a 3-4 defense. But now the nickel defense is practically the base defense for many teams, including Georgia, and thus it's a starting spot.
Maurice Smith, who was Georgia's nickelback last year, played more than 70 percent of Georgia's snaps last year. He was also named one of the team's captains, and is the only every-game starter who has left the defense. Thus the importance of replacing him.
True freshman Deangelo Gibbs and rising junior Tyrique McGhee split the reps there for Georgia on G-Day, while an experienced senior — Aaron Davis — had "a really good spring" at nickelback, according to Kirby Smart. And what Smart decides to do at the star will have a ripple effect on the entire secondary.
Davis almost certainly will start somewhere. If it's the star, that opens up a spot at safety. If Davis stays at safety, then McGhee or Gibbs will duke it out for the star.
"I think anytime you've got a guy like Mo Smith who's played the position for so long, you're going to have some kind of experience drop-off. But those three kids, between those three makes me feel like we can replace that position and get some production," Smart said. "I think we can get what we need out of that position with those three guys. It'll be a great battle in fall camp."
As Georgia heads into the offseason — just three short months until the first day of camp — we begin our post-spring depth chart analysis with the entire secondary:
STAR
Returning starter: None.
Main contenders: Aaron Davis, Sr.; Tyrique McGhee, Jr.; Deangelo Gibbs, Fr.
On the way: William Poole, Fr.
Analysis: This looks like a three-way battle, as Smart said, with the choice coming down to an experienced player at another position (Davis), some experience (McGhee), and a tantalizing but inexperienced player (Gibbs). The easy solution would be to let McGhee do it, and thus keep Davis at safety, rather than put a rookie back there. But Gibbs is good enough that he could push the issue. Davis probably can do his job capably at either safety or nickelback, so it also could come down to who looks good at safety.
Bottom line: If someone emerges at safety, then Davis becomes the favorite at star. If Davis ends up at safety, then the feeling here is it's a coin-flip between McGhee and Gibbs, at least as far as who starts the opener.
CORNERBACK
Returning starter: Malkom Parrish, Sr.
Notable reserves: McGhee, Gibbs.
On the way: William Poole, Fr.; Eric Stokes, Fr.; Latavius Brini, Fr.; Ameer Speed, Fr.
Analysis: Yes, all four incoming freshmen cornerbacks — plus Gibbs — have a chance to play this year. The starting cornerbacks may be back, but many of the backups have departed (Rico McGraw, Juwuan Briscoe, Reggie Wilkerson), leaving a gaping void on the depth chart. (We're also not counting Mecole Hardman, as we've not seen anything recently to put him at anything but wide receiver.) McGhee will work at both cornerback spots, in addition to the star, and probably would be first in line if anything goes amiss with the starters. But after that it's wide open for the five new guys.
Bottom line: Parrish has started 25 games over the past two years, and while he's not perfect, and he's not tall, he gets the job done most of the time. But coaches won't be afraid to send a message if one of the younger guys steps up.
CORNERBACK
Returning starter: Deandre Baker, Jr.
Notable reserves: McGhee, Gibbs.
On the way: Poole, Stokes, Brini, Speed.
Analysis: Baker stepped into the starting role at Ole Miss after Briscoe was benched. (Briscoe is transferring to Rutgers.) Baker never relinquished the role, starting the next seven games and having a solid season, finishing with 2 interceptions and a sack.
Bottom line: Everything said about Parrish applies to Baker. He will be the starter when the season begins, barring injury, but as the young guys continue to develop, Baker had better perform.
FREE SAFETY
Returning starter: Dominick Sanders, Sr.
Notable reserves: Rashad Roundtree, Jr.; Richard LeCounte, Fr.; Gibbs.
On the way: Tray Bishop, Fr.
Analysis: Sanders, who missed G-Day after hurting a knee during spring practice, has started all but one game over the past three seasons. Roundtree, who has shuttled between inside linebacker and safety over the past year, was mostly at safety this spring. LeCounte, the highly-touted freshman, might have been a candidate to compete at the star, but it looks like he's being prepared as an heir apparent for Sanders. Unless Gibbs or someone else has something to do with it.
Bottom line: Sanders will chase after the school's career interception record this year, while LeCounte could emerge as the next man up.
STRONG SAFETY
Returning starter: Davis.
Notable reserves: J.R. Reed, Soph.; Jarvis Wilson, Jr.; Gibbs; LeCounte.
On the way: Bishop.
Analysis: This becomes a very compelling story if Davis looks ticketed for the star. And that makes Reed, the transfer from Tulsa, a very intriguing story himself. Reed, who sat out last year, is Gibbs' cousin and it was assumed that he was being brought in last year as an inducement to get Gibbs. But Reed spent the spring showing he's good in his own right, and very well could start. Wilson is a solid veteran backup who received praise from Sanders in the past. Don't count him out if there's a vacancy here.
Bottom line: First we have to see what happens at the star. If Davis goes there, Reed would be the slight favorite right now, but there's plenty of time between now and the opener for that to change. 
Next: Inside linebackers
Next
Details of Georgia tailback Elijah Holyield's arrest