Georgia Bulldogs know they have a 'special player' in versatile offensive linemen Trey Hill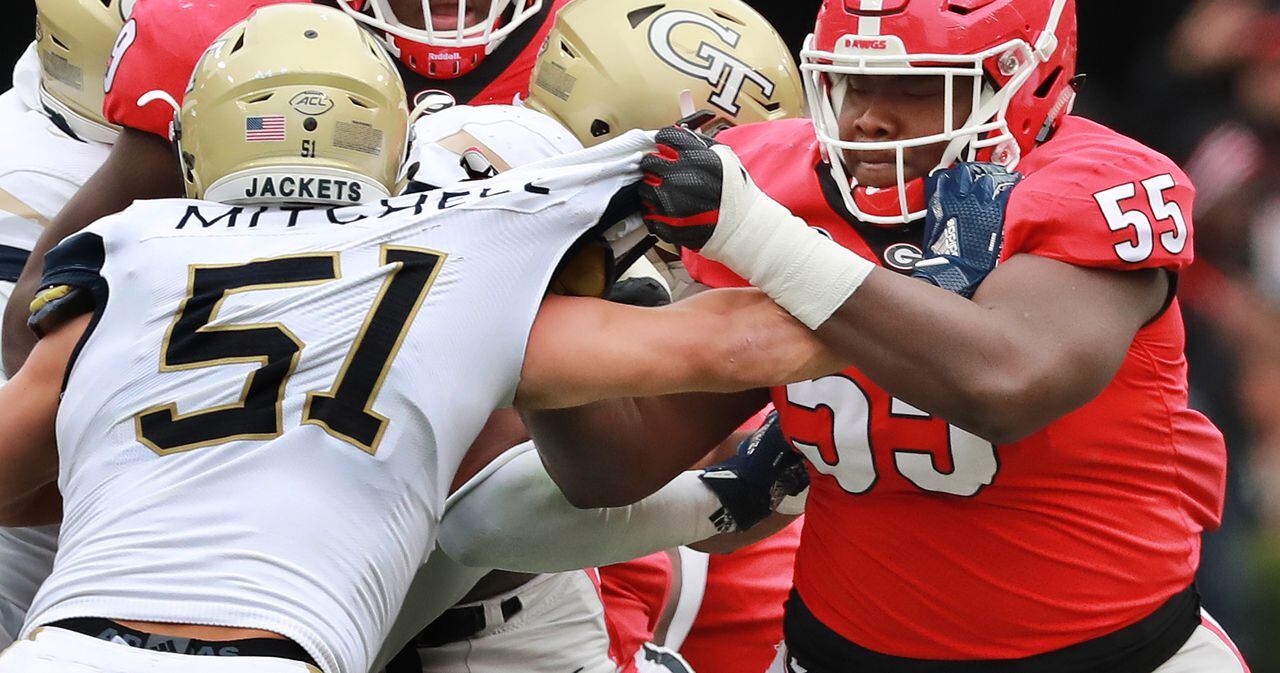 ATHENS –There was little doubt that Trey Hill would be exceptional offensive lineman in college. Few expected that to be as a center.
Hill starred for three seasons as Jake Fromm's left tackle at Houston County High School, then played some guard the year after Fromm left for Georgia.
Not only were Hill and Fromm reunited when Hill signed with the Bulldogs in the 2018, but they're now central figures in Georgia's offense, Fromm as the quarterback and Hill as the center. Coach Kirby Smart has stopped short of anointing Hill the starting center, since there are others competing at the position.
But, he allowed, "Trey is the guy that's taking the most reps, and he's got some experience already, which is valuable."
It's understandable that it'd be Hill's job to lose considering what we saw from Hill the one time he played center extensively last season. That came on the road against Kentucky in must-win game. Senior Lamont Gaillard — who started all 29 games at center the last two seasons for Georgia — went down in the first quarter with a knee injury.
Hill came in on the fly and the Bulldogs went on to rush for 331 of 444 total yards on the way to a 34-17 victory.
Von Lassiter, who coached both Fromm and Hill at Houston County, saw the Kentucky game as well. And he wasn't all that surprised by what Hill did.
That's because he had a similar experience with Hill when he was a junior at Houston County and Fromm was a senior.
As Lassiter tells it, in October of 2016, on the Saturday before No. 1 Houston County was to meet No. 2 Lee County in matchup of undefeated region powers, Hill came to him with the suggestion he move to center that week. Never mind that Hill hadn't played center before.
The reason? It was because all-state defensive lineman Aubrey Solomon played noseguard for Lee County.
"Our center couldn't block him and Trey knew that," said Lassiter, who now coaches at Bleckley County. "So when we started to watch the video for the next week, he says, 'Coach, I can snap. I want to play center Friday night. I can block that kid.' So we tried it, worked on it all week."
It bears pointing out that Houston County was a 100 percent shotgun offense and that was won of the highest-profile games of the 2016 high school season.
It's no secret that the Trojans won big (55-29). But Lassiter said that had nothing to do with the job Hill did on Solomon. In fact, Solomon, who would eventually sign with Michigan, made some huge plays in the game. But not while lining up over Hill at center.
"He did a fine job of blocking Aubrey," Lassiter said. "They beat us, but Trey really well. I can't remember exactly what he graded out, but it was good."
Among the hundreds attending that game that Friday night in Leesburg was Georgia coach Kirby Smart. And while he was there primarily to recruit Fromm and Solomon, he saw what Hill did as well.
Still, the Bulldogs weren't recruiting Hill as a center. But Smart did ask Hill about the possibility of playing center after witnessing that game.
"Trey said, 'Coach, I'll play wherever you need me to,'" Lassiter recalled.
Indeed, Hill ended up playing "wherever" for the Bulldogs last season. They envisioned him as a guard, which is where Hill ended up starting the last four games as a true freshman last season. But he played in all 14 either as a starter or backup, even getting a few reps at tackle.
Now it looks like Hill is entrenched at center, at least for this coming season. And it's not as though the Bulldogs don't have other options there. Five-star talents Jamaree Salyer and Clay Webb are getting work there, as well as redshirt freshman Warren Ericson.
But Smart intimated he likes what he's seeing at center from Hill, who opened the spring there with the No. 1 offense and doesn't appear keen to relinquish the position.
"I mean, the first thing that comes to mind is here's a guy who played in a go-win-the-SEC-East type game, against a really tough defense," Smart said of the 6-foot-4, 330-pound Hill. "He was thrown in and thrust right into the limelight."
Turns out, that wasn't the first time for Hill. And it won't likely be the last time he moves around on the line. He has older brothers who also played football at a high level, including former Valdosta State player Derrick Hill, and they taught Trey the ins and outs of the game.
"Trey's a good of a player as I've ever had up front," Lassiter said. "He's smart, has a lot of football sense. He knows what he's looking at and what he's looking for and how to make calls. He's special."
We're all starting to figure that out.
UGA News