Georgia depth chart analysis: Defensive line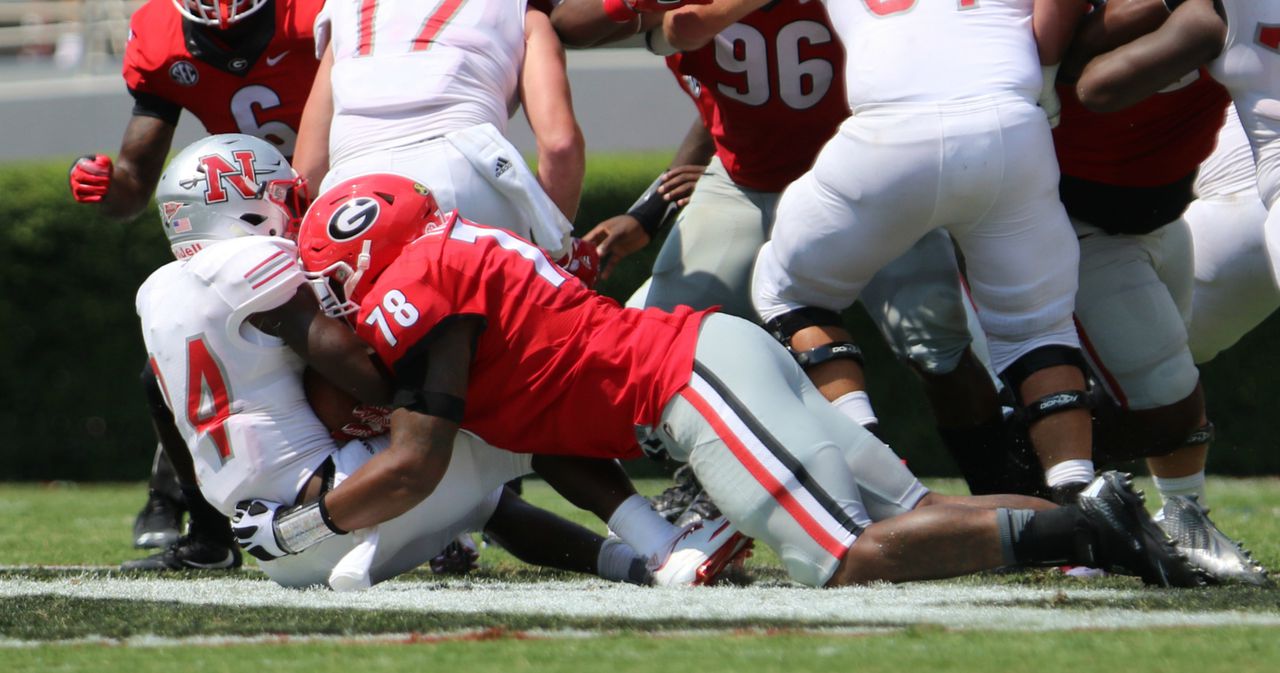 ATHENS – The circumstances of Tracy Rocker's departure are still a mystery to the public. Whether he was pushed out or left on his own has never been confirmed. As for his replacement, a question about Tray Scott was politely deflected on Tuesday by Kirby Smart, who said he only wanted on that to discuss the dedication of the indoor facility.
Here's what we do know: Scott would appear to be a very lucky man, walking into a great situation. He inherits a loaded defensive line, both in star talent and depth.
Loaded, I'll repeat. Tray Scott may be relatively young and experienced, but if this unit stays healthy, it would probably do well if it was being coached by Michael Scott.
So, on a defense that returns almost everybody, we wrap up the preview of this side of the ball with yet another fairly optimistic analysis.
It began with the safeties.
Then we had the cornerbacks.
We moved on to the outside linebackers.
And then of course the inside linebackers.
That brings us to …
DEFENSIVE END
Returning starters: Jonathan Ledbetter, Jr.; David Marshall, Soph.
Others returning: Michael Barnett, Jr. (maybe); Alex Essex, Jr. (walk-on).
Early enrollees: None.
On the way: Robert Beal, Fr.; Malik Herring, Fr.
Analysis: Ledbetter can be a difference-maker, as he showed at times after returning from his six-game suspension. But Marshall, not quite a ballyhooed recruit, was very good in Ledbetter's absence, and his 2.5 sacks ranked fourth on the team last year. Beal and Herring could also play outside linebacker, but have the size right now to be linemen. The question is how often they'll be needed, considering all the talent already there. Barnett, meanwhile, shifted to offensive line last year in search of a chance to play more. He didn't stick there, then tried it again during the bowl. It's not announced yet where he'll be for spring practice.
Bottom line: Ledbetter and Marshall will both play a lot. There's not much need to decide between the two; both can get plenty of snaps, either as part of a four-man line, or one sliding inside, or just rotating a lot. (That was something Rocker did well the last few years. Remember the consternation around 2012-13 over not subbing enough on the defensive line? It wasn't a problem under Rocker.)
DEFENSIVE TACKLE
Returning starters: Trent Thompson, Jr.; Julian Rochester, Soph.; DaQuan Hawkins-Muckle, Jr.
Others returning: Justin Young, Soph.; Michail Carter, Soph.
Early enrollees: None.
On the way: Devonte Wyatt, Fr.
Analysis: Yes, we listed three starters. Thompson started seven games, Rochester started six, and Hawkins-Muckle started five. But again, thanks to the liberal substitution pattern it didn't end up mattering much who started, everyone tended to get a lot of snaps. Thompson was actually benched halfway through the year but few noticed because he still played so much off the bench. Young and Carter even got some snaps off the bench, both at tackle and end. In a continuing theme, there's a lot here for Georgia to feel good about in 2017.
Bottom line: Thompson will aim to emerge as the star that many predicted, and that he looked like often last year: He had five sacks, tying with Lorenzo Carter and Davin Bellamy for the most on the team. But Rochester will get his snaps too.
NOSE TACKLE
Returning starters: John Atkins, Sr.; DaQuan Hawkins-Muckle.
Others returning: Tyler Clark, Soph.
Early enrollees: None.
On the way: Devonte Wyatt, Fr.
Analysis: Atkins now prepares for what seems like his third decade on the team. He was recruited by Rodney Garner and has played for Chris Wilson, Rocker and now Scott. Last year Atkins saw his most extensive playing time, and he had a solid season, starting nine games and helping clog the middle, though he didn't stuff the stat sheet very much. When Georgia uses a classic nose tackle, Atkins (listed at 315 pounds last year) will usually be the guy, but Hawkins-Muckle (320 pounds) could also see time there, as well as Clark (305). Wyatt, who checks in at 300 pounds but could gain weight in the weight room, could be eyed there in the future.
Bottom line: Georgia will return six defensive lineman who started at least four games last year, and that doesn't include up-and-comers like Carter and Clark, and freshmen such as Herring, Beal and Wyatt. Enjoy, coach Scott.
Next: Kickers.
Next
Former UGA DE Quentin Moses remembered as 'inspiration to us all'