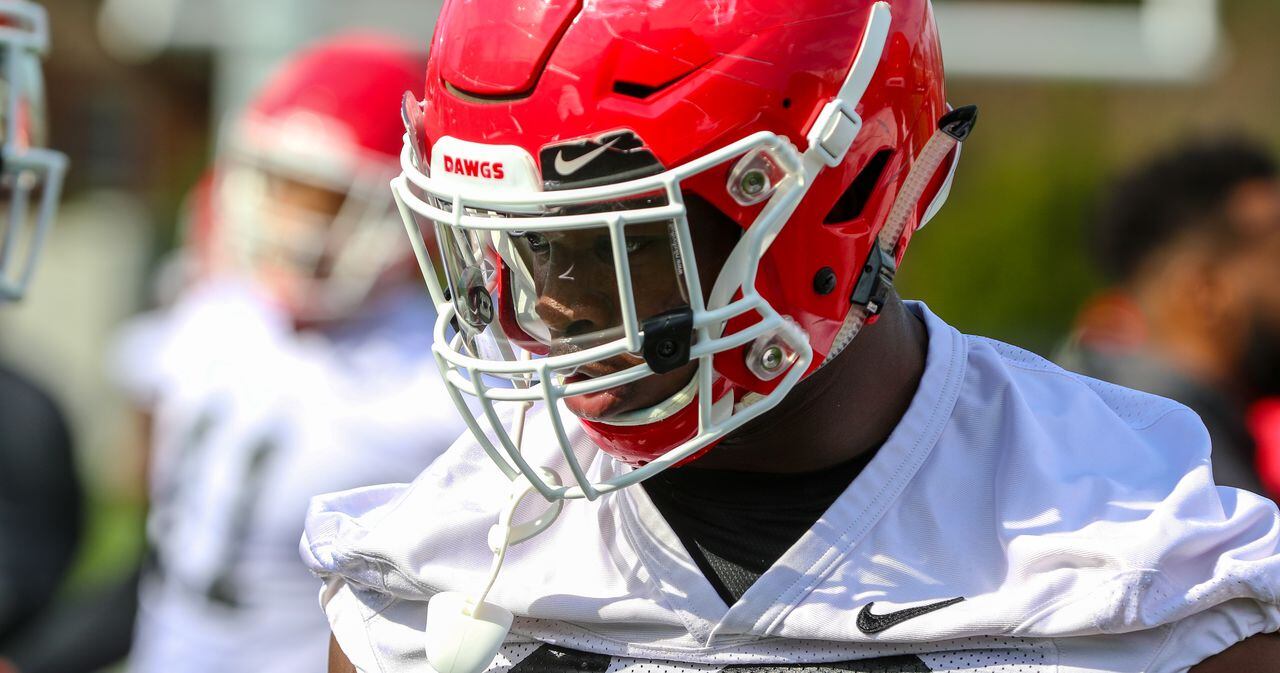 Azeez Ojulari continues to standout in loaded outside linebacker group
A lot has changed for Georgia football outside linebacker Azeez Ojulari in the course of a year.
For starters, he's actually healthy this spring. This time last year, Ojulari was still recovering from his torn ACL, which happened in his senior season at Marietta High School. He spent much of the spring and summer months rehabbing in hopes of being ready for the start of the season.
Ojulari now also plays at perhaps Georgia's most-hyped position group, outside linebacker. There's Nolan Smith, the nation's No. 1 overall player in the 2019 recruiting class. And Jermaine Johnson — the No. 1 JUCO player in the 2019 class. And you can't forget about 2018 5-star prospects Brenton Cox and Adam Anderson either.
He's also sporting a new number, as he's switched from No. 38 to No. 13 this spring. That number was previously worn by Jonathan Ledbetter, a key piece of the Georgia defense for years. If Ojulari continues to play like he did to end the 2018 season and start this spring, he could end up being another impactful No. 13 for the Georgia defense.
By the Sugar Bowl, Ojulari had done enough to merit serious playing time for Georgia. He finished the game with 3 tackles and nearly had a sack of Texas Quarterback Sam Ehlinger. But the Texas quarterback was able to slip out of his grasp. You could probably chalk that up to the Sugar Bowl being just Ojulari's third game in a Georgia uniform.
He got onto the field for the Middle Tennessee State game on Sept. 15 and picked up a tackle for loss. But he didn't play again until the Georgia Tech game in November.
But Ojulari didn't give up on what looked like a lost year. The outside linebacker took advantage of Georgia's bowl practices, and made enough of an impact to earn more playing time.
And his work in December has helped his game this spring.
"I think he's transitioned really smooth," Georgia football coach Kirby Smart said. "I think the bowl practices for he and Divaad (Wilson) and some of those younger players has almost made them like an experienced vet because they got all that work and they were able to go play the whole game like a starter. That helped his confidence now."
Another nugget worth knowing about Ojulari is that he has a younger brother, BJ. Like his brother, BJ is a major Georgia recruiting target and projects to the next level as an outside linebacker. Azeez's game is more predicated on power, while BJ is more of pure speed rusher. As far as who is the better player, BJ rates as the nation's No. 143 player in the 2020 class. Azeez finished as the No. 144 player in the 2018 cycle. 
In speaking with DawgNation at The Opening Regional in Atlanta last month, the younger Ojulari mentioned that he jokes with his brother about the missed sack in the Texas game. But he also said that he was "proud" of his brother's progress freshman year. BJ also said his brother is only going to continue to get better at Georgia.
Related: Keeping his brother's path? Or his own way? 4-star junior BJ Ojulari is even better than most think
BJ also added that Azeez is recruiting him pretty hard to come to Georgia, though Tennessee is also vying for the younger Ojulari's services. BJ is also teammates with 5-star tight end prospect Arik Gilbert, another major Georgia recruiting target.
As for where the older Ojulari stands this spring, Smart has noted improvements in Ojulari's game as he gets further and further removed from his knee injury. And he's  seen an increase in reps simply from the now sudden lack of depth at the outside linebacker position. Johnson has been dealing with an injury, while Cox and Robert Beal have been dealing with discipline issues stemming from their arrest. Another outside linebacker, Walter Grant, has been working at running back.
Related: Kirby Smart provides update on missing outside linebackers
Georgia must replace its leading pass rusher from 2018 in D'Andre Walker. Ojulari was maybe one of the few people who benefited from Walker missing the Sugar Bowl with an injury. Walker's absence helped clear up Ojulari's path to the field.
And while Ojulari still has room to grow, it's also becoming more clear he's becoming a viable option to replace Walker on a full-time basis.
"He's playing better," Smart said. "Not where he needs to be, he's got to get more physical, he's got to go play on Andrew (Thomas) and Isaiah (Wilson). But, he's playing a lot better because of what he did for the bowl game as opposed to just starting now."
Best Georgia football stories from around DawgNation