Should Georgia consider moving Deangelo Gibbs from DB to WR?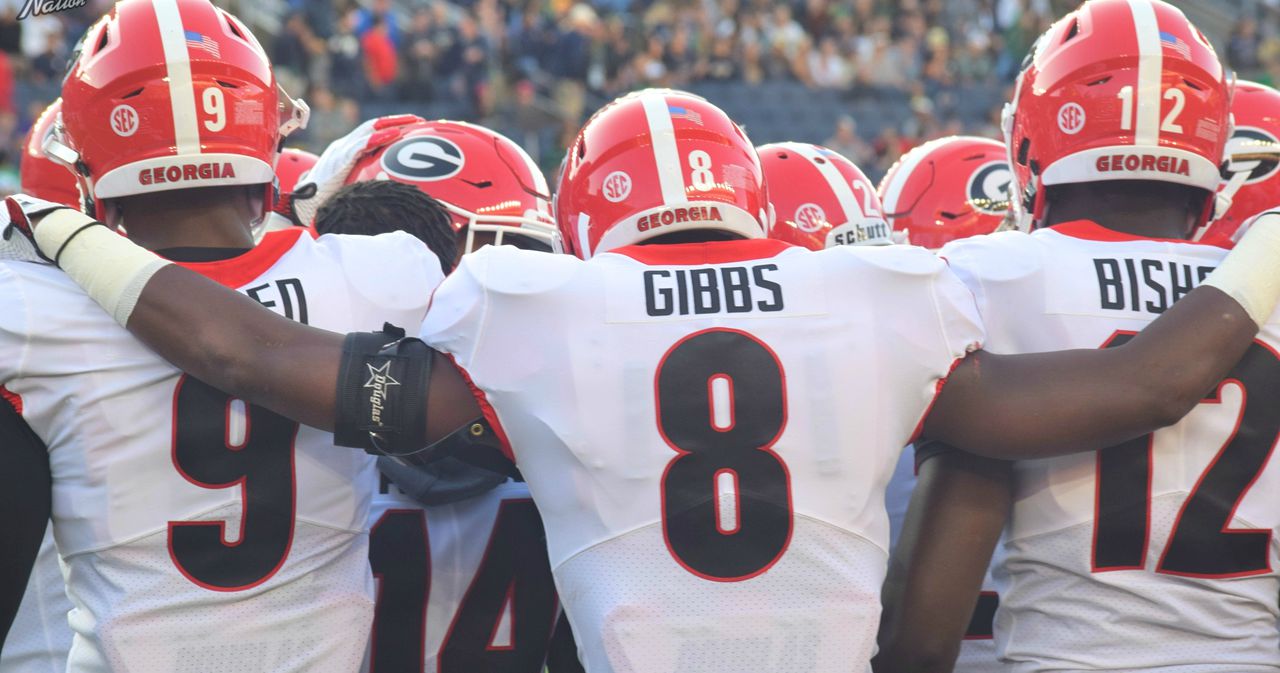 Welcome to the Question of the Day, where our writers answer (or try to answer) the best questions submitted by Georgia fans. If you'd like to submit a question, please email us at ugaquestionoftheday@gmail.com. Or you can tweet us here and here. Look for the Question of the Day every Monday through Friday.
If and hopefully when Deangelo Gibbs comes back to the team, is there a chance he could completely hit the reset button and switch positions to WR? He was very good at Grayson and I remember Jeff Sentell saying he could potentially be a top WR in college if he wanted to be.
― Lee Fite, Lexington, GA
Thanks for your question, Lee. As you might expect, I get a lot of questions about Deangelo Gibbs. But I like yours because it's different from what I usually get. You're actually asking about Gibbs' potential on-field contributions.
We can't ignore the disappearance of this former 5-star recruit from Grayson High School in Loganville, Ga. Currently he is not enrolled in school, and until he is again, he is effectively not on the team anymore, or at he's least ineligible to play. He will return. At least that's the information I'm getting. I would imagine his eligibility situation is being handled internally similarly to the way Trent Thompson was last year. That is, while Thompson withdrew from school for spring semester, he remained in Athens and actually worked out with trainer Ron Courson on the side while spring practice was being conducted. Meanwhile, he was able to maintain his academic eligibility by taking class loads during the May mini-semester and summer semester. I can only guess that we'll see the same thing with Gibbs, though coach Kirby Smart has declined to discuss specifics about it. And I happen to know that Gibbs, too, is in the midst of some offseason injury rehab (shoulder, I think), so that will have to be handled.
When Gibbs comes back ― and I expect him to ― I anticipate that will be as a defensive back only. Specifically, nickelback. Possibly safety and/or corner. But Georgia most definitely is going to need help from somebody at nickel, or "Star" as they like to call the position. The Bulldogs lost both Aaron Davis and Dominick Sanders to graduation, and those two played in virtually every game UGA played the last four years. Cornerback Malkom Parrish, too.
You're right about his abilities as a wide receiver, though. If you go back and look at his high school highlights from Grayson, there are as many or more of him doing great things at wide receiver. But that's high school, and his specific skill set and physical traits translate better to defense in major college ball. He's listed on UGA's roster at 6-foot-1, 205 pounds, and he has good speed, but not world-class speed. That's good for a safety and average for a wideout.
Meanwhile, the Bulldogs are fairly well set at wide receiver. They lost only Javon Wims from the primary rotation last season but have numerous candidates to step up. In all, Georgia has 12 wideouts from which to choose and generally don't play more than six per game.
Conversely, Georgia has 17 defensive backs to compete for five starting positions and 10 spots in the 2-deep. And Gibbs has to be considered one of the best among those. Lest we forget, he showed great potential during the limited time he was on the field with the Bulldogs as a freshman. At one point during spring practice last year, he was working with the No. 1 defense at Star. He entered the 2017 season in Georgia's two-deep and actually played in 5 games. He totaled 3 tackles (he had 2 in the season opener against Appalachian State) but did not play in the final seven games of the season.
There are many conflicting reports why Gibbs didn't play after the Florida game. Some say discipline, some say injury, some say personal issues and some say coaches' prerogative. Indications are it may have been all of the above. His cousin, rising junior and starting safety J.R. Reed, assured me at the end of last season that Gibbs will be back. I have no reason to doubt that. If and when he does, I fully expect that to be as a defensive back.
Have a question for beat writers Chip Towers and Seth Emerson? E-mail us at ugaquestionoftheday@gmail.com
UGA News