Georgia football: Which early enrollees have the best chance to play next season?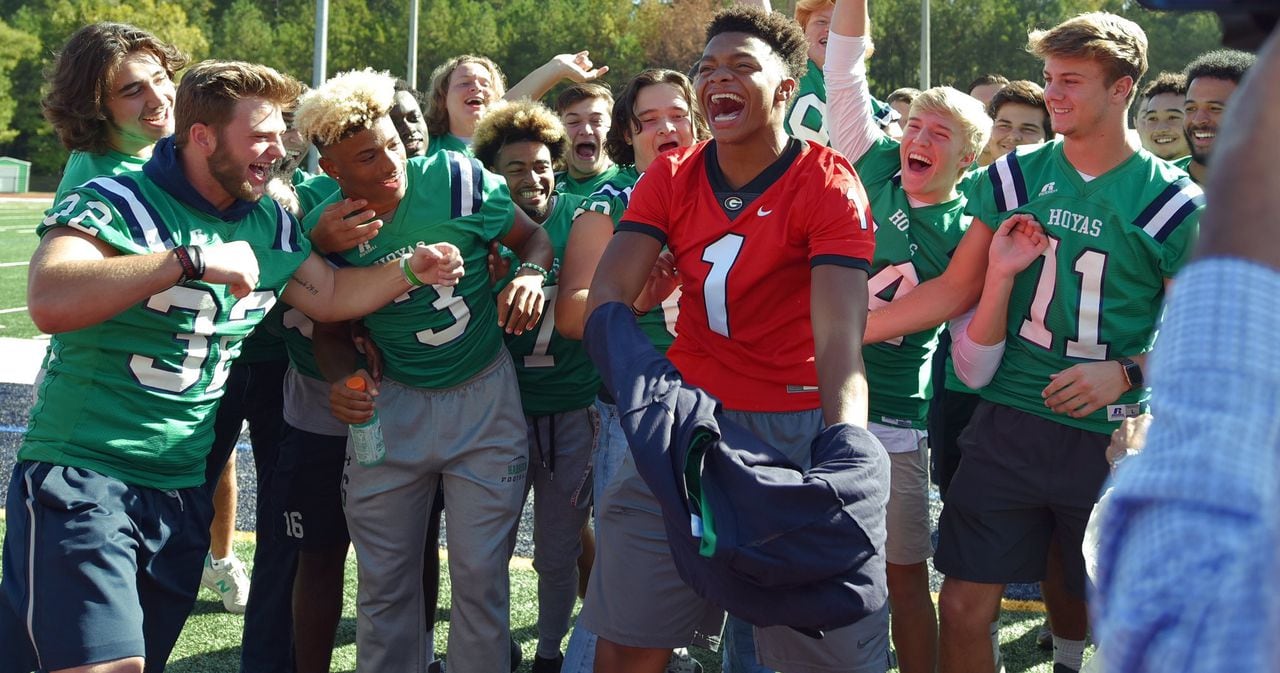 Welcome to Good Day, UGA, your one-stop shop for Georgia football news and takes. Check us out every weekday morning for everything you need to know about Georgia football, recruiting, basketball and more. 
Which early enrollees have the best chance to play in 2018?
We're going to spend the next few weeks taking stock of what Georgia has in the tank heading into 2018. That'll include, at one point or another, a game-by-game breakdown of the schedule; rankings of the best rising sophomores, juniors and seniors on the team; and the biggest questions of the offseason. But we're gonna get this train rolling by looking at early enrollees.
Getting on campus early gives a lot of players an important leg up on their fellow freshmen. They get a chance to participate in spring practice, hit the weight room with the team and start learning the playbook. (It should be noted that two out of Georgia's three biggest freshman contributors in 2017 — D'Andre Swift and Andrew Thomas — did not enroll early. Jake Fromm, however, did.) The Dawgs have nine members of the Class of 2018 on campus already. Below, I've ranked those players from most to least likely to earn playing time in 2018. Let's go.
1. Devonte Wyatt, DT — Devonte Wyatt has a season of junior college ball under his belt and got some work with the team during bowl practice. That alone should put him a step ahead of the rest of the early enrollees. And his chances of playing will go up if Trent Thompson decides to forgo his senior season, opening a spot on the depth chart.
2. Divaad Wilson, CB — Between Aaron Davis and Malkom Parrish leaving the program and a potential jump to the NFL by Deandre Baker, playing time at cornerback is up for grabs. Divaad Wilson has a shot.
3. Zamir White, RB — Zamir White continues to rehab from a torn ACL sustained during his senior season of high school, and it remains to be seen whether he'll be ready for the start of the 2018 campaign. But Georgia doesn't typically redshirt tailbacks, especially ones as talented as White. As soon as he's fit, he'll play.
4. Brenton Cox, DE — The Dawgs remain deep along the defensive line, but you just don't redshirt players as good as Brenton Cox. Between his size and his potential, there's enough there for Kirby Smart and Mel Tucker to find a spot for Cox.
5. Justin Fields, QB — Last season, I didn't think there was any chance Jake Fromm would earn minutes over Jacob Eason, and the football gods saw fit to prove me wrong. Once again, I don't think there's much of a chance Justin Fields earns minutes over Fromm — at least not yet — but I'm not making the same mistake twice. Fields will get on the, uh, field, especially if Eason transfers, leaving UGA with just two scholarship quarterbacks.
6. Cade Mays, T — The early enrollees on the offensive line might be the most talented members of this group, but their path to playing time is a bit more difficult. Cade Mays is the most likely to see minutes. With Isaiah Wynn gone, Andrew Thomas will shift to left tackle, leaving an opening on the right side. That job could get gobbled up by Isaiah Wilson or Ben Cleveland, but Mays will have his shot to earn it when Sam Pittman takes stock of his line in the spring and fall.
7. Warren Ericson, C — Warren Ericson might not be the most talented lineman in this class, but he has a specific skill set. Ericson is a center recruited to play center. He won't start next season, unless the coaches decide Lamont Gaillard is better suited for a different spot. But I wouldn't be surprised to see him work as Gaillard's understudy and earn some playing time in that role.
8. Trey Hill, G — Pretty much everything for Mays goes for Trey Hill, except at guard. Cleveland played well enough at the tail end of the season that I would be surprised if he doesn't start at guard or tackle. If he does shift to tackle, Solomon Kindley, Pat Allen, Netori Johnson and Justin Thomas will be fighting Hill for that right guard post. As things stand, there's more competition at guard than at any other position on the team. Imagine saying that two seasons ago.
9. Kearis Jackson, WR — Kearis Jackson committed in August and played a major role in building this class by recruiting other prospects to join him in Athens. He's a 4-star wideout and figures to be a good player in the long run, but unless he comes out better and badder than anyone thought, there are simply too many experienced players in front of him. Terry Godwin, Riley Ridley, Mecole Hardman and Tyler Simmons will be in front of him, as well as potentially J.J. Holloman, Trey Blount and Matt Landers. So if you see him on the field early against Austin Peay in September, it means we've probably got a good one on our hands.
MORE: Want this roundup in your inbox every morning? Sign up here!
By the numbers
Seth Emerson of DawgNation published his final By the Numbers post of the season Thursday. Make sure you read the whole post for a complete picture of where Georgia stands statistically at the end of the season. But, for your convenience, here's a snapshot of where the Dawgs finished nationally in a number of statistical categories.
20th  ― Scoring offense: 35.4 points per game.
32nd  ― Total offense: 453.3 yards per game.
12th  ― Offensive yards per play: 6.7. (That was No. 3 in the SEC, behind Missouri and Ole Miss.)
Ninth ― Rushing offense: 258.4 yards per game. (Four of the teams ahead of Georgia are option teams, and Georgia was first among SEC teams.)
106th  ― Passing offense: 176.9 yards per game. But …
11th  ― Yards per passing attempt: 8.7.
Sixth ― Total defense: 294.9 yards per game.
Sixth ― Scoring defense: 16.4 points per game.
20th ― Rushing defense: 126 yards per game.
Eighth ― Passing defense: 168.9 yards per game.
Yante Maten named to Wooden Award midseason watchlist
Miss a previous edition of Good Day, UGA? Get caught up here.
UGA News
Next
Bad calls or not, there's really no getting over Georgia's loss to...