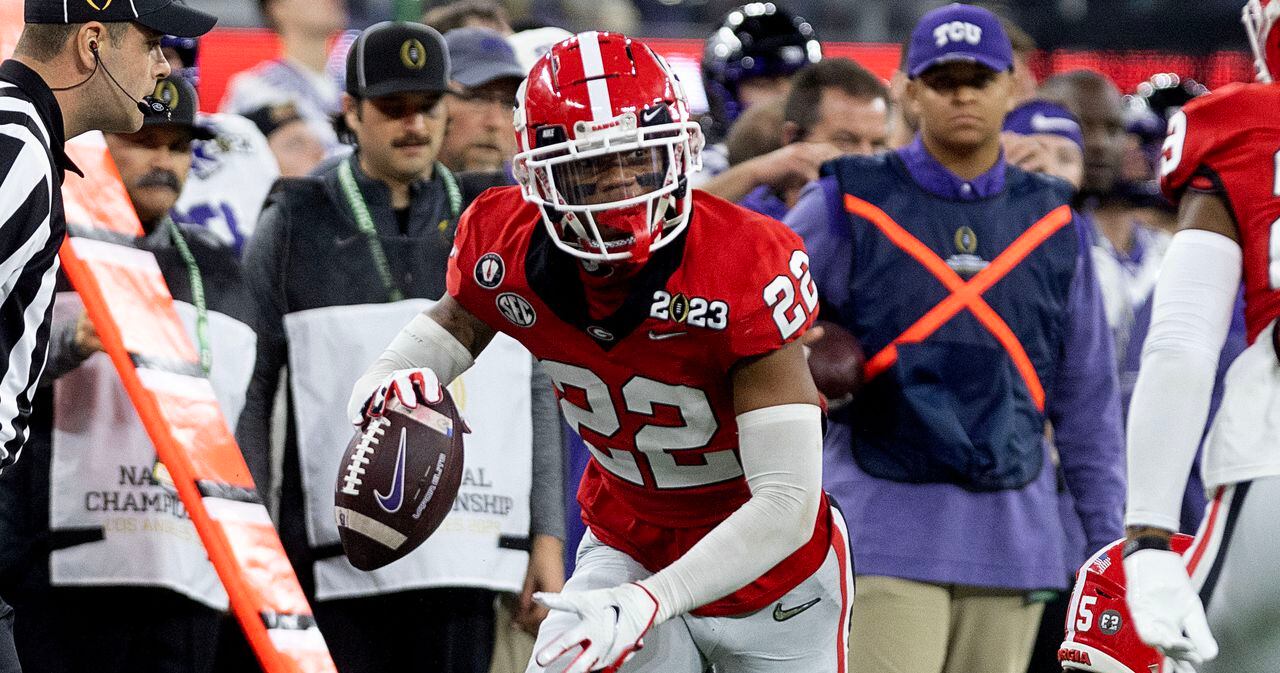 Javon Bullard demonstrates the importance of in-state recruiting for Georgia: 'I couldn't dream this big'
LOS ANGELES — Perhaps the most impressive stat from Monday's 65-7 Georgia win has to do with defensive back Javon Bullard.
The sophomore defensive back came down with two interceptions in the first half, along with a fumble recovery. Those plays were a big reason he won defensive MVP honors for the second-straight game.
That he did it all in less than a half makes it even more impressive, as Bullard didn't play in the second half after suffering a shoulder injury.
But Georgia knew something the rest of the college football seemed to miss about Bullard. Smart pointed to Bullard's military upbringing as a key reason he knew Bullard was good enough to make plays for the Bulldogs.
"This guy was sending in videos out in his backyard," Smart said of Bullard. "When you've got a military background, you've probably got some toughness and some makeup about you that makes you the right way.
"And we've been fortunate to make some good decisions on kids that maybe other programs didn't value their intangibles enough."
It also helps that Georgia has a backyard big enough to where it can reliably unearth gems like Bullard. Stetson Bennett, Ladd McConkey and Nazir Stackhouse are just some of the other players from the state of Georgia that were perhaps overlooked by others but elected to stay home and play for the in-state school.
Playing for the in-state program is one thing for those players. But winning a title is a whole different feeling. One Smart understands as he is from Bainbridge, Ga.
"I know it's a special feeling for me being a Georgia boy and growing up here, and I know this state means a lot to me," Bullard said. "It means a lot to my family. And me just having the opportunity to play here and step on the field and wear that G, it means the world to me. And I couldn't dream this big.
"The fact I'm living out my dream, I give a lot of glory to my God, and I couldn't be happier. It means the world to me. And I know it means the world to Coach Smart too."
Related: Controversial Javon Bullard-Marvin Harrison Jr. hit shows razor-thin margin in winning for Georgia football
Georgia has 41 scholarship players on the roster from the state of Georgia per DawgNation's unofficial count. That is by far the most represented state for the Bulldogs. This team is built by the state of Georgia, with players from all over the state contributing to the team.
From McConkey in Chatsworth, Ga., to Micah Morris out of Kingsland, Ga. The Bulldogs have pulled in 5-star talents in the state such as Mykel Williams and then obviously overlooked standouts like Bullard.
Bullard grew up dreaming of playing for Georgia. That he, along with so many other key players on this team, gets to live out this dream makes Monday all the more special.
"We'll always recruit our home base because it just means so much in our state and it's been a state starved for success and for something good to happen," Smart said. "You go through these cycles of times where you could be successful and right now we've got a good thing going and we want more kids in our state to join us because we have a special thing going."
Prior to Bullard's arrival on campus before the 2021 season, he did not know what it was like for Georgia to win a national championship. It had not happened in his lifetime, with rivals all too quick to point out that Georgia's last title came back in 1980.
As a Bulldog, all Bullard knows is winning titles. Georgia became the first team since Alabama in 2011 and 2012 to win back-to-back national championships and became just the fifth team since the end of World War 2 to become undisputed national champions in back-to-back seasons.
Now, Bullard and his fellow Georgia Bulldogs will look to raise Georgia to an even higher standard, as the talk of a dynasty is something the Bulldogs can actually discuss as they aim for a three-peat.
"Just growing up as a kid from the state of Georgia, playing for the University of Georgia, it's special," Bullard said. "So the word "dynasty," it's something we're building together. And that was built before us and it's going to continue to be built after us."
Javon Bullard shares why winning means so much to the state of Georgia
More Georgia football stories from around DawgNation
Next
The key stats, numbers that explain why Georgia football won …