UGA approves, provides details on $68.5 million Sanford Stadium project and $26.7 million tennis facilty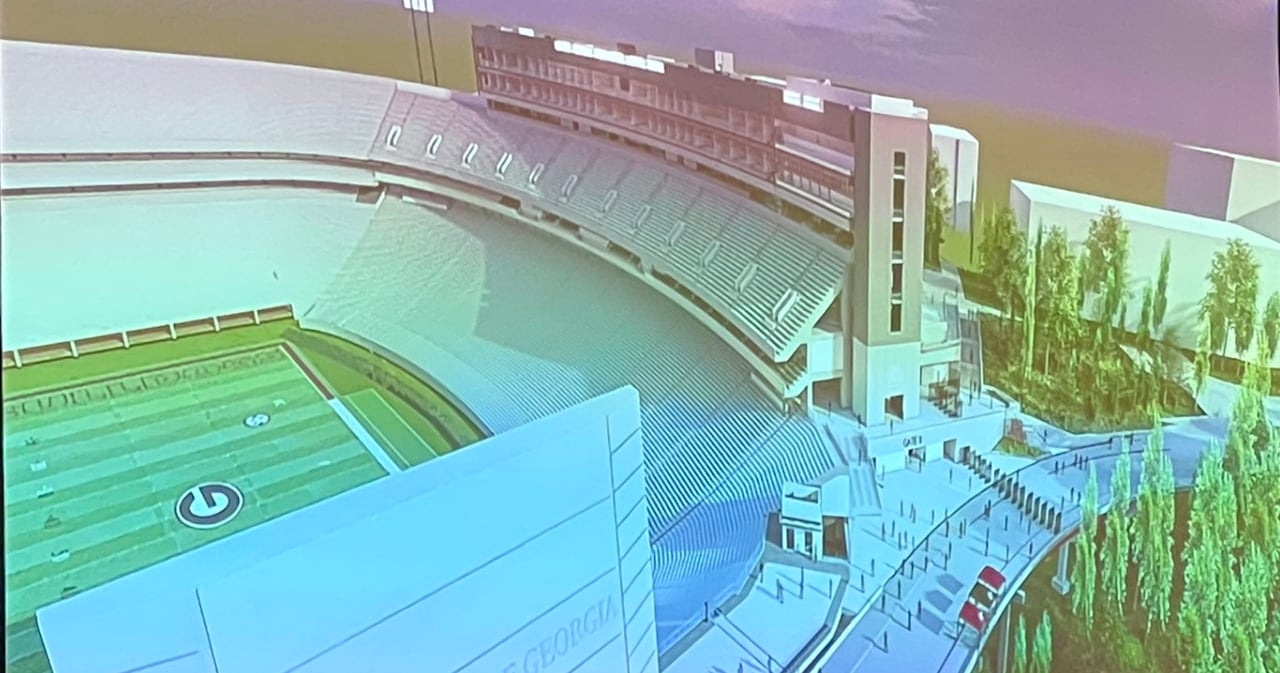 GREENSBORO — The University of Georgia Athletic Board approved a $68.5 million Sanford Stadium south side improvement project and a new $26.7 million indoor tennis facility on Thursday at its spring meeting at the Ritz-Carlton Lodge on Lake Oconee.
The Sanford Stadium south side improvement project will begin after the upcoming season and involve two phases.
The first phase will double the width of the South 100 Legel concourse, including Sanford Drive which will be blocked off from non-stadium pedestrian traffic on games days, and add more entry gates, restrooms and concession areas around an updated Gate 9. It will be finished by August of 2023.
The second phase construction will start after the 2023 season in December and add restrooms and suites to the 200- and 300-levels, in addition to a new press box in the southwest corner at the 400 and 500 levels.
The second phase of the south side project includes adding a new press box atop the southwest corner of the stadium.
New premium donor seating will replace the old press box between the 30-yard lines of Dooley Field, with cub seating as well as suites.
UGA executive associate athletic director Ford Williams introduced a 5-year plan for $300 million in fundraising, noting that through the McGill Society UGA has raised more than $200 million since 2015.
The latest Sanford Stadium project increases Georgia's spending on new football facilities and enhancements to approximately $243.5 million since Smart took over the program 6 1/2 years ago.
UGA President Jere Morehead also said a recommendation for a long-term extension to Smart's contract will be approved and announced in the coming weeks.
Smart, whose current contract runs through 2024, is believed to be on the verge of a contract that will pay him more than $10 million per year.
RELATED: UGA President hints at massive raise pending for Kirby Smart
Smart said last week Georgia football would continue to stay aggressive with its facilities improvement and enhancement planning.
"We will not be complacent, we will not sit idly and let others pass us by," Smart said during a dedication ceremony for the $80 million football building. "It's been a catch-up game for us for quite a long time. We feel like we have caught up, but now we have to maintain and continue to grow."
Georgia athletics director Josh Brooks said at a UGA video conference meeting leading up to the stadium project approval that the south concourse issues being addressed are "decades-old" and long overdue.
"I'm talking 30-, 40-year-old problems that we just haven't addressed yet," Brooks said. "It's always been difficult and it took a lot of planning to find the best way to do it."
RELATED: AJC takes closer look at Kirby Smart Era improvements to Sanford Stadium
• 15 of UGA's 21 sports earned a collective GPA of 3.0 in the Spring semester presentation to the board:a
• An SEC-best 97 Georgia student-athletes earned places on the most recent SEC Academic Honor Rol
• 15 of UGA's 21 sports earned a collective GPA of 3.0 in the Spring semester
• 342 student-athletes earned 3.0 GPAs or better in the Spring
• Athletically, nine of Georgia's teams earned Top 15 national rankings, and all eight Spring teams project to earn post-season berths.
Recent Sanford Stadium improvements
South-End Enhancement
Phase I Summer 2023 (completion)
Phase ll Summer 2024
$68.5 million
Football Operations Facilities
UGA News
Next
A look at the trajectories of Georgia football and Texas as Arch …