The top 5 tight ends Georgia will face this season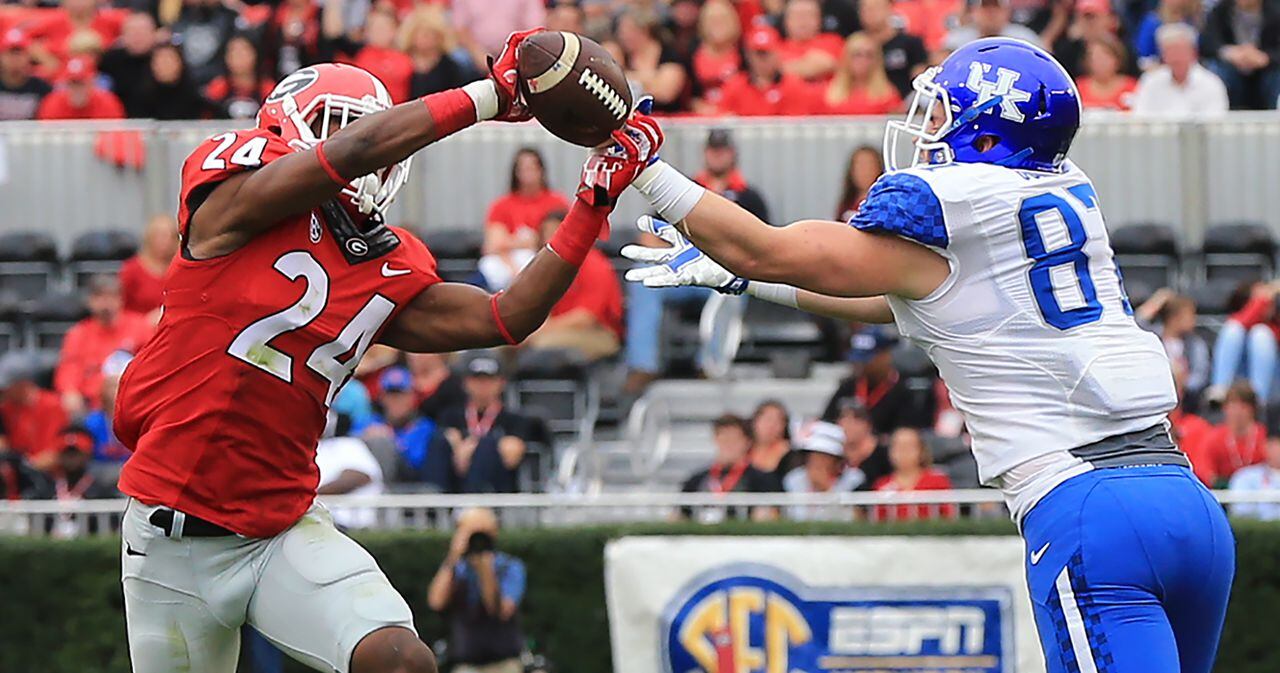 Welcome to your one-stop shop for Georgia football news and takes every Monday through Friday. Today, we look at UGA's most touted commitment so far in the Class of 2018 and rank the best tight ends the Bulldogs will tackle this season.
Two of top 5 TEs that Georgia faces are among best in country
Next up in our position-by-position breakdown of the best players Georgia will face this season are the tight ends. Check the bottom of the list for links to the first three parts of this series looking at the best quarterbacks, running backs and wide receivers. Let's get to it.
5. Kendall Blanton, Missouri — At 6-foot-6, Blanton is a huge target for QB Drew Lock to throw to in the red zone. He only had 161 yards receiving last season, but his 3 TDs led Missouri tight ends. Sean Culkin was the top tight end for the Tigers last season, but now that he's gone, that mantle goes to Blanton. This means you can expect to see a few more plays like this:
4. Jared Pinkney, Vanderbilt — Pinkney finished last season with 274 yards and 2 TDs on 22 receptions and had nine games with at least one catch. He came to Nashville as a wide receiver but moved to tight end last season as a freshman. With an entire season and offseason under his belt at the position, he could be ready for a breakout year as a major target for Kyle Shurmur.
3. C.J. Conrad, Kentucky — Jeff Badet transferred to Oklahoma and Ryan Timmons graduated, leaving Conrad as the second-leading receiver returning to Lexington in the fall. Last season, he had 262 yards receiving at 13.8 yards per reception and 4 TDs, tops in the SEC from a tight end. He'll be a top target for Stephen Johnson in what should be a strong attacking unit for the Wildcats.
2. DeAndre Goolsby, Florida — He may not be an elite blocker, but Goolsby is definitely one of the best pass-catching tight ends in college football. Last season, he had 38 receptions for 342 yards and 3 TDs, and that was with the Gators playing musical chairs at quarterback. With a more steady presence under center, whether that be Malik Zaire or someone else, Goolsby should make some nice strides and position himself among the best tight ends in college football.
1. Hayden Hurst, South Carolina — Hurst is the secret weapon in a really strong Gamecock receiving corps, something that's strange to say for the team's second-leading receiver and the most productive tight end returning in the SEC (48 receptions, 616 yards, 12.8 per catch, 1 TD). But with Deebo Samuel running from the slot and Bryan Edwards holding down the perimeter, Hurst can get lost in the mix and make defenses pay for it.
Baseball dogs are the best.
UGA News
Next
Georgia's most important players of 2017: Sony Michel as more than a...