The third man: Stetson Bennett gives Georgia another look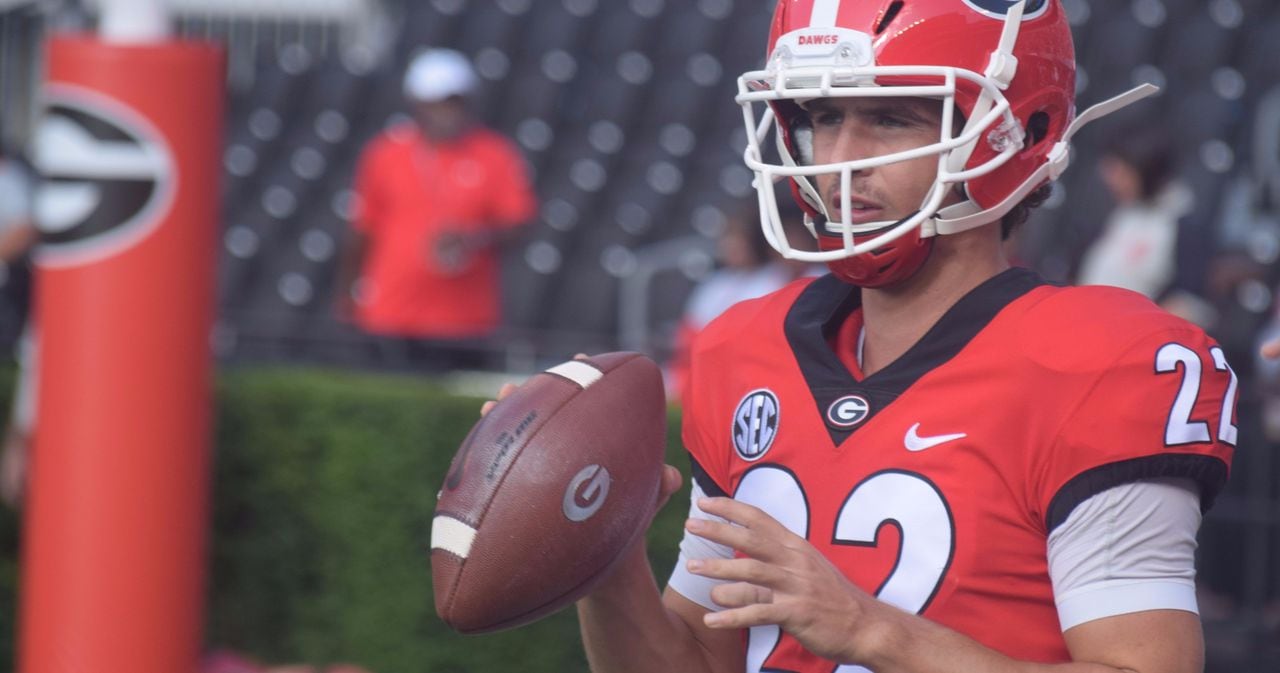 Mel Tucker paused a second, and his eyes got wide. The Georgia defensive coordinator, normally a stone wall of polite reserve around the media, dropped it when asked about a walk-on freshman quarterback.
"Stetson Bennett is a beast, man," Tucker said. "Stetson Bennett … Stetson Bennett puts a lot of pressure on our defense."
This was in the days leading up to the Rose Bowl, when Bennett was mimicking Baker Mayfield in practice. There was only so much anybody could do to prepare for Mayfield, who ripped apart Georgia's defense in the first half of the Rose Bowl before the Bulldogs recovered and eventually won in overtime.
It was a cute story at the time – small backup quarterback makes impression in defense – but would surely go away, right? Well, maybe not, considering Georgia still only has two scholarship quarterbacks on the roster. The program is two injuries away from potentially turning to Bennett.
In fact, coach Kirby Smart brought Bennett up last week when asked about the quarterback competition between incumbent Jake Fromm and rookie Justin Fields. Smart had been asked how it compared to last year, between then-incumbent Jacob Eason and then-rookie Fromm.
"Last year, with no Brice [Ramsey], we felt like there was not a No. 3 there evident," Smart said. "With Stetson and what he did through fall camp, the season being the scout team guy, and then the bowl practices, getting the work, I feel like we've got three guys there competing and doing a good job."
Ramsey had decided to transfer last spring, but eventually returned to become the No. 3 quarterback during the season. Bennett, a walk-on, enrolled over the summer and eventually was named one of the team's four offensive scout team players of the year.
Eason transferred to Washington and Ramsey is out of eligibility, leaving Georgia with Fromm, Fields – and a group of walk-ons, led by Bennett.
No one should get too carried away. Fromm and Fields are the definite top 2, as evidenced by Fields already jumping in beside Fromm for drills this spring when the team has two quarterbacks throwing at a time.
Bennett's biggest contribution to the team could still be on scout team. Georgia may face other dual-threat quarterbacks this year, depending on what happens with the QB competitions at Tennessee, Florida, Kentucky and LSU. And of course, there's the potential for a rematch with Alabama in the SEC Championship Game.
But Bennett made quite an impression last year on scout team.
"Yeah, that guy Stetson, he's phenomenal," Roquan Smith said in the lead-up to the Rose Bowl. "He's probably a 4.5 guy and can throw the ball really good, and he's quick as a cat. He definitely gives a great look."
Smith added that Bennett had prepared Georgia for dual threats and pocket passers alike. And Georgia faces plenty of good pocket passers this year, including Missouri's Drew Lock, South Carolina's Jake Bentley and Auburn's Jarrett Stidham.
"He's fast and he can throw," Tucker said of Bennett. "He can throw in the pocket and he can throw on the run, and he's very, very competitive. And so he does a great job of giving us a look, and it challenges our players. So I'm glad we have him."
So why is Bennett paying his own way and merely playing scout team at Georgia, rather than on scholarship and starting at a smaller program?
Part of it is he just wanted to go to Georgia, where both his parents attended. But the other part is his height. Bennett is generously listed at 6-foot in the media guide.
"He can play probably at any school he wants to right now and be up for starting if he was just a little taller," Georgia safety J.R. Reed said. "But the kid, he can play. I love him."
UGA News
Next
Former Georgia RB Nick Chubb to have vocal role in Atlanta Braves'...