Georgia, Auburn stuck with SEC home-and-away setup in football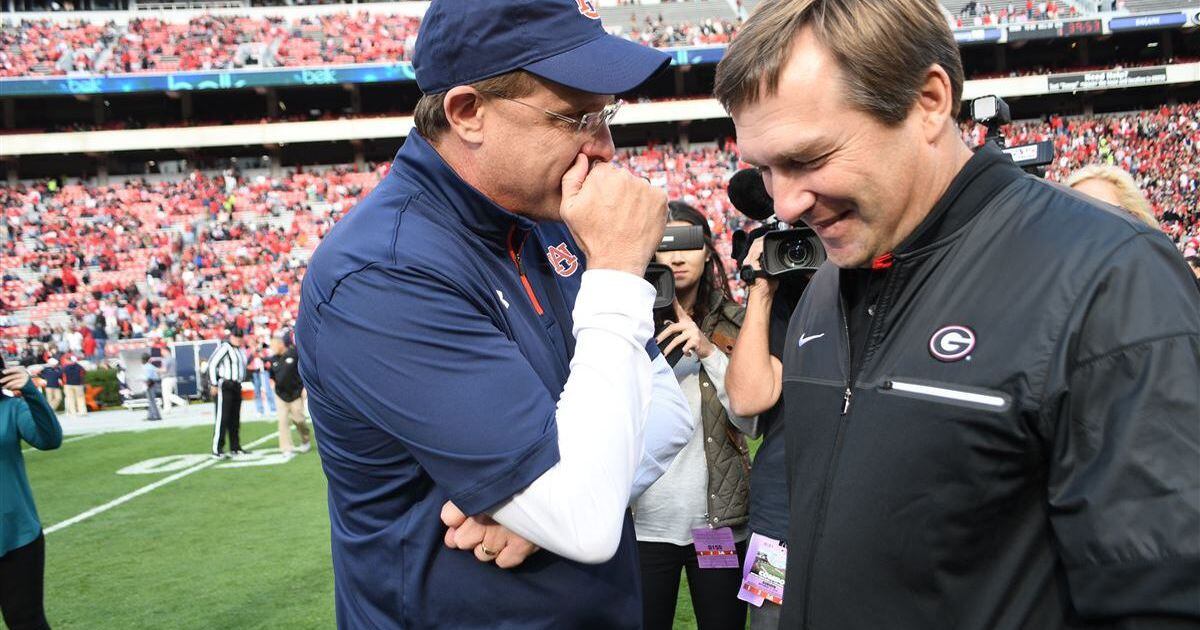 ATHENS — It was interesting to hear coach Kirby Smart's comments on wanting to see Georgia and Auburn get their football rivalry switched around to be scheduled where it traditionally always was. It's also interesting to note that's not going to happen.
Not anytime soon, anyway. Realistically, for it to happen, the SEC will need to either expand to 16 teams or contract back to 12. Otherwise, it's just not logistically feasible.
That's according to UGA athletic director Greg McGarity, who, like Smart is in Destin, Fla., at the SEC Spring Meetings. McGarity said Georgia and Auburn simply made a sacrifice in 2012 for the good of the league, and it's not one they can just take back.
"When Missouri and Texas A&M joined the conference, three schools had to move some traditional dates in order to make the schedules work," McGarity told reporters. "Auburn and Georgia were two of those schools. It was to make the 6-1-1 work. If we hadn't done that, a bunch of other schools, many more than three would have had to make all kinds of changes. To undo it now, again, you'd need a much larger [group] of teams make changes, many more than three.
"So it's one of those things where it might not have been the best for Georgia, but it was best for the conference."
Apparently, McGarity and Auburn AD Allen Greene need to get the word to their respective head coaches. First, Auburn coach Gus Malzahn made public his desire to see it go back to the old way a week or so ago. Then Smart echoed that sentiment when asked about it by reporters at the SEC Meetings on Tuesday.
The coaches' opinions on this are understandable. When Georgia used to play Auburn at home in odd years, it also would be playing Georgia Tech, its other traditional rival, on the road, and vice versa in even years. The way it is now, the Bulldogs have to play their two oldest rivals on the road in the same years, making for a more challenging finish to the season. That was the case this past season when Georgia lost to Auburn at Jordan-Hare Stadium.
The same goes for Auburn, which ends every season against Georgia and Alabama in back-to-back weeks. This past season, the Tigers went 2-0 in those games and played in the SEC Championship Game. The previous year they went 0-2.
"I think it [could] balance things out," Smart said of the switching back the home and away dates with Auburn. "It would probably be helpful in the long run. But I've got a feeling there's more to it than just us and them. It always affects so many moving parts, but it would be nice if we could do that."
But they can't. Further encumbering the process is the SEC's 4-4 requirement. SEC teams are required to play four conference home games and four conference away games every year. If Georgia and Auburn just decided to flip it back one year, then it'd mean they'd play three conference home games one year and five the next. The league wouldn't allow that for competitive reasons, then it would throw the schools' balance sheets out of balance.
So there's that, too.
UGA News
Next
These are very good times indeed for UGA athletics