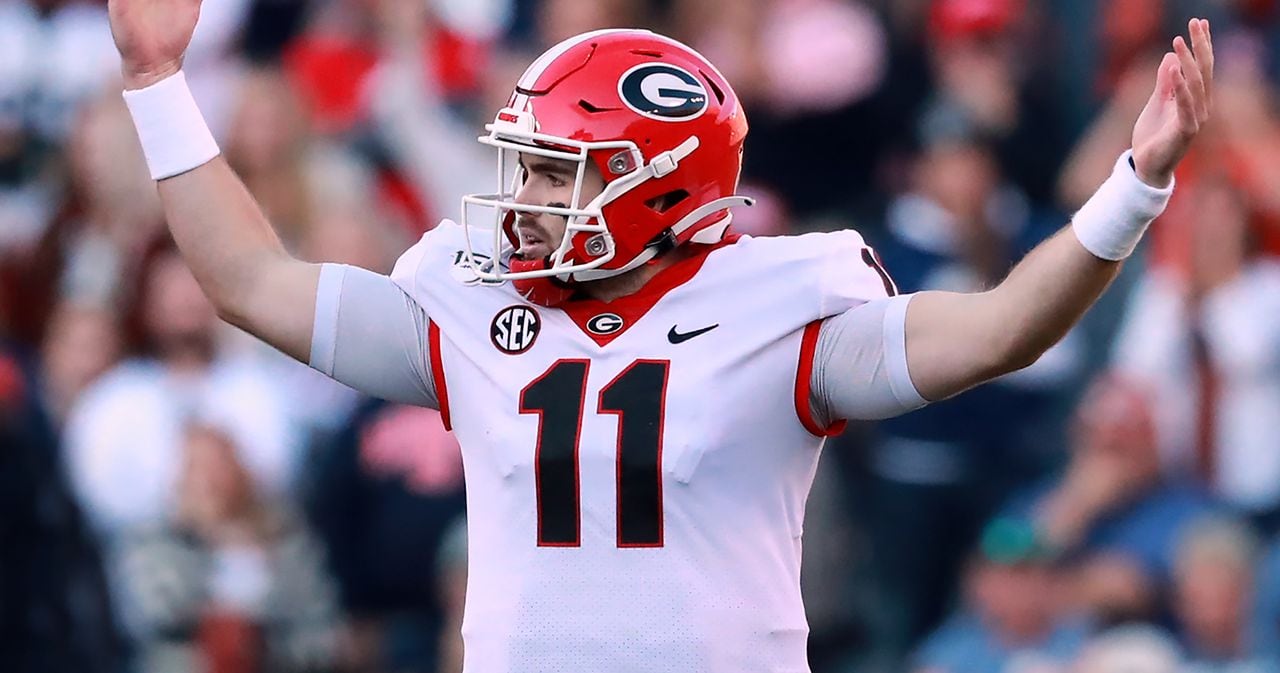 Georgia offense ready to 'open up the playbook' for LSU in SEC Championship Game
ATHENS — Georgia offensive coordinator James Coley might have some surprises in store for the LSU defense in the SEC Championship Game.
"We'll open up the playbook, and we're going to do a lot of different stuff, too many people haven't seen," UGA offensive guard Solomon Kindley said. "Particularly for this game."
The No. 4-ranked Bulldogs (11-1) play No. 2 LSU (12-0) at 4 p.m. on Saturday in the SEC Championship Game at Mercedes-Benz Stadium.
WATCH: Kirby explains how Georgia built different than LSU, Alabama
Georgia's offense has been more geared toward efficiency than explosiveness, and quarterback Jake Fromm has stuck to high percentage throws to the tune of 11 of 12 games without an interception.
The Bulldogs' deficiency at receiver has had as much to do with Fromm's lower completion percentage of late, the junior throwing more passes away than ever.
Senior Tyler Simmons, who recently removed a protective shoulder brace that had limited his range of motion and harnessed his effectiveness all season, said the receivers have been staying late to work with Fromm all week.
"A lot of people look at our pass game as our deficiency," said Simmons, Georgia's leading receiver over the past two games. "Teams are surprised when we throw the ball or when we go deep, but for us to be a complete team, that's what we need to continue to work on and do."
Simmons, like Kindley, indicated the Bulldogs' offense has some new looks in store for LSU.
"I know we have a lot of plays we have yet to run," Simmons said. "It's time now to put them on the field and show what we've been putting on the practice field all year."
Calling the plays is one thing, but executing them is another.
Coach Kirby Smart knew he had a challenge at the receiver position last summer. Georgia lost its top five pass catchers from the 2018 season, leading Smart to remark that UGA was just couple of injuries away from the danger zone.
Things grew worse in the opener when starting slot receiver Kearis Jackson suffered a broken hand.
At some point in September, Demetris Robertson developed a hamstring issue that has seemingly robbed him of his blazing speed all season.
Simmons suffered a shoulder subluxation in the second game of the season that put him in the restrictive brace.
Then senior graduate transfer Lawrence Cager suffered a separated shoulder, and then bruised ribs, and finally last week, an ankle injury that required season-ending surgery.
"We've had a merry-go-round at receiver," Smart said earlier this season. "It's been a group that's been beat up and banged up the whole  year. I think every guy has missed a game or an opportunity."
And now with Cager out and freshman George Pickens suspended for the first half of the game for engaging in fisticuffs in the second half of a 52-7 win at Georgia Tech last Saturday, there will be opportunities for previously less-targeted players.
RELATED: George Pickens apologizes for latest immature act
Quarterback Jake Fromm, who has completed less than 50 percent of his passes in each of the past four games, said it comes down to each Georgia player beating the man across from him.
"It's about winning first downs, and how we can win our one-on-one battles," Fromm said. "All 11 guys are playing for the team, but it kind of revolves around winning the one-on-ones. So we have to win our one-on-ones, and we have to win on first down."
Georgia WR Tyler Simmons
Georgia Receivers
George Pickens 33 catches, 498 yards, 6 TDs
Lawrence Cager 33 catches, 476 yards, 4 TDs
Demetris Robertson 26 catches, 281 yards, 3 TDs
Dominick Blaylock 17 catches, 299 yards, 5 TDs
Tyler Simmons 14 catches, 168 yards, 1 TD
Matt Landers 7 catches, 80 yards
Kearis Jackson 5 catches, 79 yards
Jaylen Johnson 2 catches, 20 yards
Willie Erdman 2 catches, 14 yards
Trey Blount 1 catch, 13 yards
Tommy Bush 1 catch, 1 yard
Georgia football DawgNation
LSU coach Ed Orgeron brings great confidence into matchup
Georgia aware of Tigers dangerous running back
Kirby Smart relays how LSU represents greatest challenge
James Cook could provide offensive spark vs. LSU
Statistical comparison of Georgia-LSU in SEC title game
VIDEO: Kirby Smart shares feelings on George Pickens
WATCH: Jake Fromm zeroes in on LSU