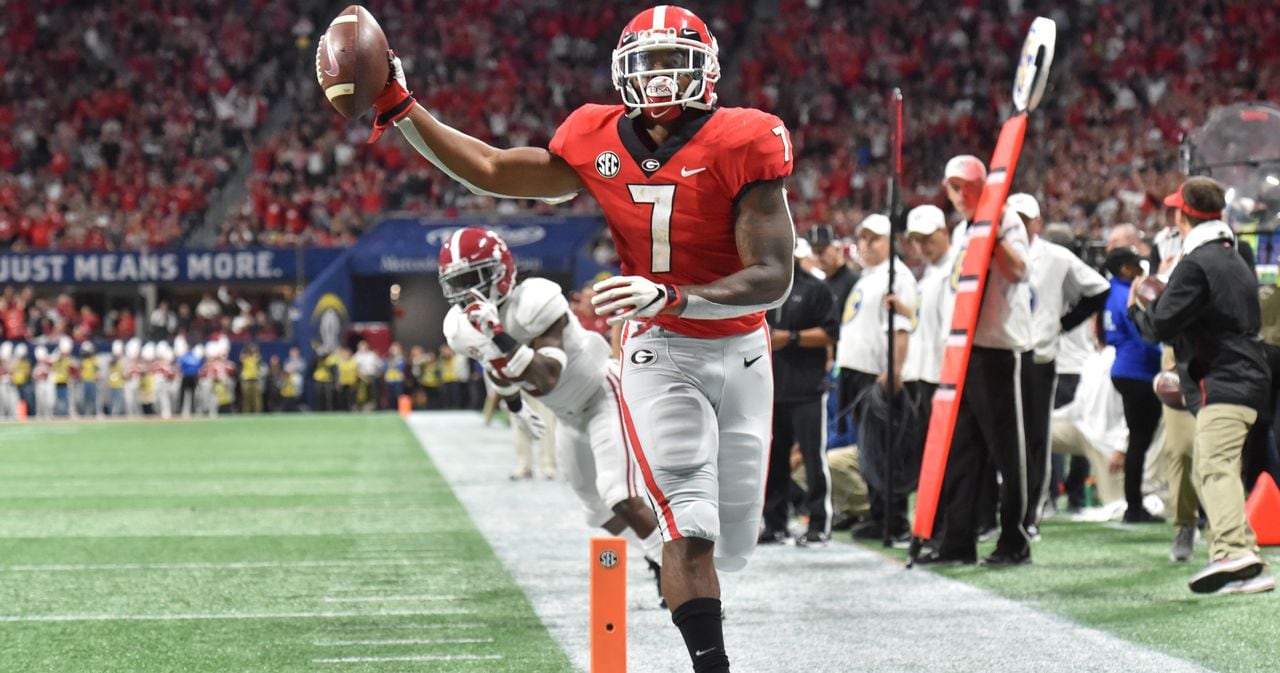 SEC Network analyst predicts Georgia running back D'Andre Swift to win 2019 Heisman Trophy
Per the latest Heisman Trophy odds, D'Andre Swift has 14-to-1 odds to win the 2019 Heisman Trophy. And based off the analysis of one SEC expert, you might be wise to place a bet down on Swift at those odds. Because according to SEC Network analyst Chris Doering, Swift is winning the Heisman Trophy.
Doering laid out the case for Swift on SiriusXM as to why he will be the first Georgia player to win the award since Herschel Walker took it home in 1982. Doering cited how Swift is one of the most explosive players in the country and the fact that he'll also be playing behind one of the best offensive lines in the country.
But the real difference-maker for Swift, in Doering's eyes, will come with Swift's contributions in the passing game.
Another point that Doering made is that the change in offensive coordinator will help boost Swift's numbers. The Bulldogs replaced Jim Chaney with James Coley after the former left to become Tennessee's offensive coordinator.
"The one thing we've heard a lot about what James Coley wants to do with this offense and taking in a little bit of direction than where Jim Chaney had it is that Coley wants running backs to catch more passes out of the backfield," Doering said.
While Coley was the offensive coordinator at Miami, Duke Johnson had a standout junior season for the Hurricanes while filling a similar role to that of Swift. Johnson rushed for 1,652 yards as a junior while also catching 38 passes for 421 yards. Those numbers would have garnered Heisman Trophy consideration had Miami not gone 6-7 that season. Swift also has a similar build to that of Johnson, as both are listed at 5-foot-9 and around 210 pounds.
The recent history for running backs winning the Heisman Trophy isn't great, as only two running backs have taken home college football's most prestigious award since 2009. Alabama running back Mark Ingram did it in 2009 and Derrick Henry, also of Alabama, won in 2015. Before them, you'd have to go back to Reggie Bush in 2005 to see won a running back was awarded the Heisman Trophy (Bush later had his taken away).
Ingram finished his Heisman campaign with 1658 rushing yards, 334 receiving yards on 32 catches and a total of 20 touchdowns. Henry rushed for 2,291 rushing yards — an SEC record — and 28 touchdowns. Henry only had 91 receiving yards in his Heisman Trophy-winning season. Alabama won a national title in both of those seasons.
Swift isn't the only Heisman Trophy contender on Georgia's 2019 roster, as Fromm also has 14-to-1 odds to win. Among running backs, only Wisconsin's Jonathan Taylor has better odds, as he has 12-to-1 odds.
Following the departure of running back Elijah Holyfield, Georgia will need someone to take on some of those additional carries. Georgia does have a plethora of other backs it will turn to, but Swift is also likely to see a rise in carries, especially given that all indications are that this will be his final year in Athens.
Swift and his coach, Kirby Smart, have maintained that he is capable of more in 2019.
"I should contribute as much as he (Kirby Smart) wants me to, so I'm playing out there to my best ability and giving 100 percent every practice," Swift said. "I don't let off. I shouldn't be taken out of practice or anything like that. I don't think anybody should, so that's the standard here at Georgia, so I play to that standard."
Related: Kirby Smart details how D'Andre Swift has 'set himself apart' this spring
Georgia has produced a number of talented running backs in recent years, but the last one to be a Heisman Trophy finalist was Garrison Hearst all the way back in 1992. He came in third that season, finishing behind Miami quarterback Gino Torretta.
Swift will get his first chance at producing a Heisman Trophy season on Aug. 31 when the Bulldogs take on the Vanderbilt Commodores.
More Georgia football stories from around DawgNation