Georgia spring practice Day 4: Observations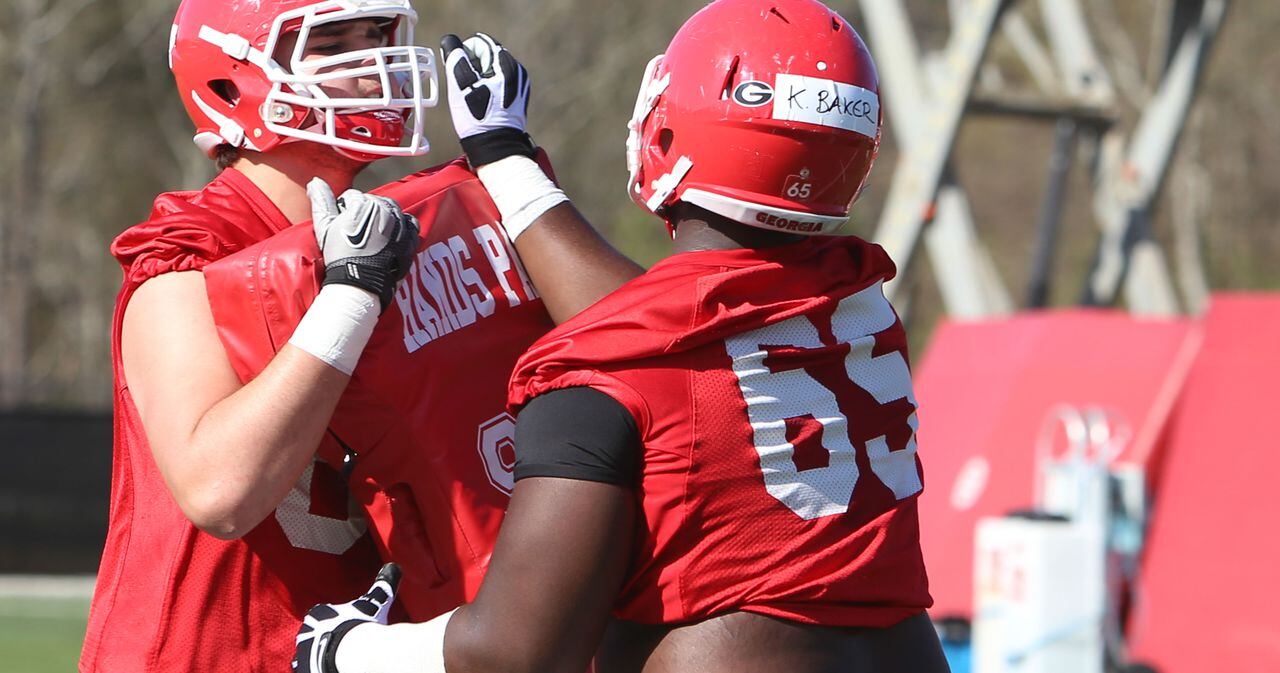 ATHENS — The media was shuttled to and from Georgia's temporary practice facility on Tuesday for the three-period, 15-minute viewing period. Here are some observations:
Reggie Carter, who had been in a black non-contact jersey last week, was in a regular jersey on Tuesday. That's fairly notable, as the junior inside linebacker battled shoulder problems. But things must be looking up.
Jonathan Ledbetter, as expected, was present and accounted for three days after his misdemeanor alcohol arrest. Kirby Smart is scheduled to meet the media after practice, at which point he will be asked about any potential discipline. On a football note, Ledbetter (listed at 251 pounds) is noticeably more svelte than the other defensive linemen. He's definitely not a nose, and you wonder if outside linebacker could be in his future. But for the moment Ledbetter is most likely to be used at end in certain situations. His athleticism for a down-lineman was one reason he was recruited hard by both the previous and current staff. (Ledbetter was committed to Smart at Alabama for a while.)
For what it's worth, during a drill the first team D-linemen on Tuesday were Trent Thompson at nose with DaQuan Hawkins and Justin Young at end, while John Atkins was on second team, along with Michael Barnett and Chauncey Rivers.
The offensive line depth chart remains the same as the first week. The first team, left to right, is still Kendall Baker, Isaiah Wynn, Brandon Kublanow, Dyshon Sims, Greg Pyke. And the second team still has big Ben Cleveland (6-6, 345) at left guard and just as big Sam Madden (6-6, 346) at right guard. While offensive line coach Sam Pittman isn't going mega-big with his first-team offensive line yet, leaning more on experience, he is trying it out with his first team. (The rest of the second team is Aulden Bynum at left tackle, Lamont Gaillard at center and Pat Allen at right tackle.)
Keith Marshall was among those stopping by practice.
Athletics director Greg McGarity was also there observing.
Offensive coordinator Jim Chaney's voice carries, by the way, and he speaks a lot — often critically, though not overly so. He's closer to Mike Bobo in that regard than Brian Schottenheimer. 
The quarterbacks were being used in the media viewing period in the same way as last week. Greyson Lambert and Brice Ramsey were working with walk-on Nick Robinson in a three-spotting drill, and Jacob Eason was coming in next.
And finally, yes, Nick Chubb is still getting carries in the straight-ahead "play polish" drill, then moves to the side for other drills.
Next
14 new details on where UGA stands right now with 5-star Demetris …