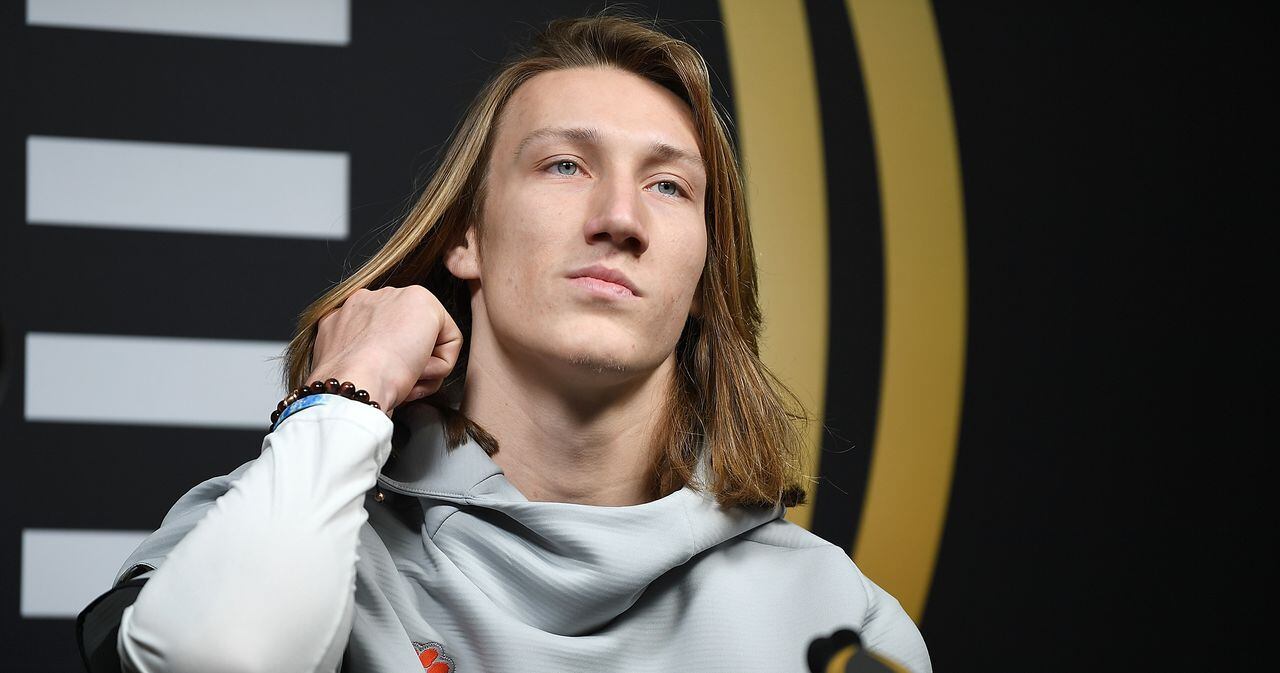 WATCH Clemson QB Trevor Lawrence: Thoughts on Georgia football, Justin Fields
SAN JOSE, Calif. — Georgia high school produced the two top quarterbacks in the nation in the 2018 class in Trevor Lawrence and Justin Fields.
Both Lawrence and Fields made national headlines their freshman years of college, but in very different ways.
Lawrence has led Clemson to the CFP National Championship Game against Alabama on Monday, while news of Fields' transfer from Georgia to Ohio State has been almost as talked about.
Even Lawrence, who has been focused on the Tigers' 8 p.m. game against the Tide (TV: ESPN), has taken note of Fields' situation.
RELATED: Fields' inability to beat out established starter keys transfer
"I knew (Fields) since my junior year probably, and he was 45 minutes away from me, right there in Kennesaw," Lawrence said. "We worked out a few times together, and we had a good relationship.
"Obviously I saw and hard about the kind of stuff that happened with him going to Ohio State and all that," Lawrence told DawgNation at the CFP National Championship Media Day on Saturday. "But definitely, wish him the best of luck whatever he decides to do. I feel that way about a lot of guys."
RELATED: Dabo Swinney explains college football QB transfer dynamics
Lawrence reiterated that he probably would have gone to Georgia if not Clemson.
Kirby Smart made the then-6-foot-6, 210-pound Lawrence his priority after being hired as Georgia's head coach following the 2015 season.
Lawrence led Cartersville to the Class 4A state championship twice, passing for 13,908 yards and 161 touchdowns with 21 interceptions against good competition.
"There's great players, obviously, all around the state of Georgia," said Lawrence, who left high school as the nation's No. 1-ranked prospect. "Just being there and playing some great teams throughout my four years of high school, I think it helped me a lot."
Lawrence was 52-2 as a starter and his yardage and touchdown numbers eclipsed the previous state records held by former Clemson quarterback Deshaun Watson.
Once Lawrence committed to Clemson, Smart moved on to Fields, who was committed to Penn State at that time.
RELATED: Jeff Sentell report on Lawrence choosing Clemson over Georgia
"Georgia and Clemson were my last schools," said Lawrence, who had made unofficial visits to Georgia in May, June and July of 2016 before playing his junior season and committing in Dec. of 2016.
The Bulldogs, of course, were 7-5 at that time in Smart's first season leading the program, having just lost to Georgia Tech.
Dabo Swinney's Tigers were 12-1 en route to a national championship when Lawrence chose them over Georgia.
Clemson, no doubt, was the better-looking program at that time, and he also said he felt closer to that staff.
"Just felt like I had a better relationship with everyone involved in the program," Lawrence said Saturday, "and it was a place where I felt like I could grow the most, just personally and football-wise, too."
It proved to be the right choice for Lawrence, as he beat out incumbent Kelly Bryant in September while Fields was unable to win the starting job away from Jake Fromm and has left Athens.
Next
WATCH: Clemson's Dabo Swinney explains same QB transfer dynamics …