WATCH: Elijah Holyfield reveals when Georgia football made its move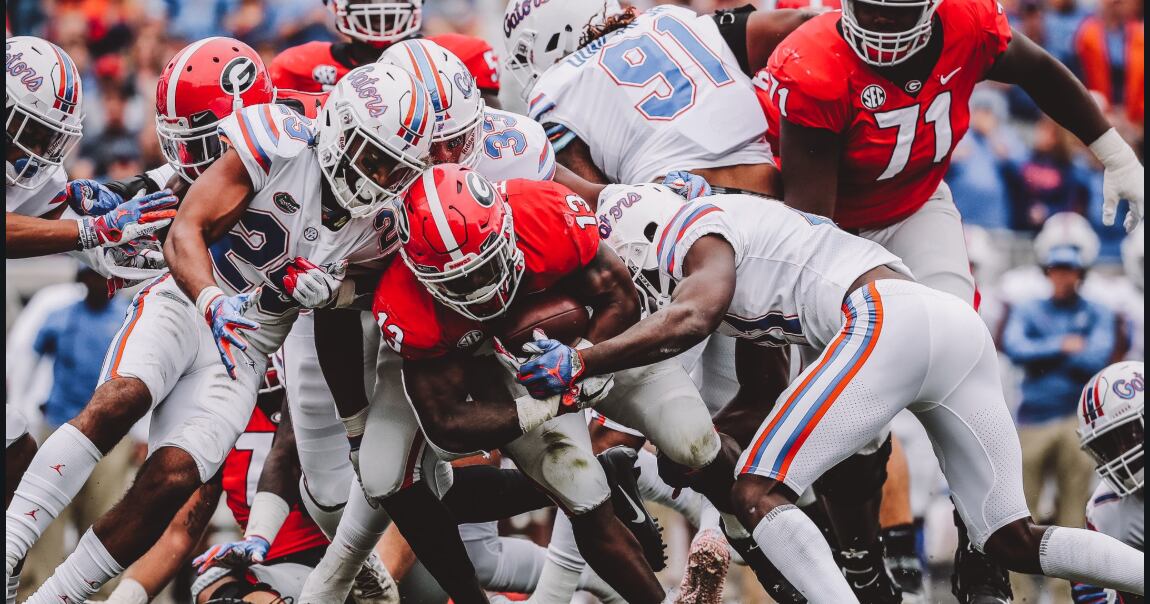 ATHENS — Georgia tailback Elijah Holyfield points back to the bye week as a pivotal time for the Bulldogs as they continue their quest to repeat as SEC champions and College Football Playoff contenders.
"I think a lot of people on their bye weeks lay back and rest, (but)  we went back to work and we worked on some of the things we knew we could be good at and it's starting to pay off now," said Holyfield, who has started the past five games at tailbacks and leads Georgia with 674 yards rushing and 6.5 yards per carry.
"You go back to almost  camp-style practices, where you go back and focus on yourself and playing more good on good, and getting ourselves better."
The No. 5-ranked Bulldogs (8-1, 6-1 SEC) play host to No. 24 Auburn (6-3, 3-3) at 7 p.m. on Saturday in Sanford Stadium (TV: ESPN, Radio: WSB 750 AM, 95.5 FM).
RELATED: Kirby Smart has serious concerns about Auburn game
Some 3 1/2 weeks ago, Georgia was coming off a humbling 36-16 loss at LSU that knocked it out of the No. 2 spot in the polls and sent the team back to work with pivotal games against Florida and Kentucky head.
RELATED: LSU defense makes key adjustment, Tigers stop Bulldogs 
Fast forward to this week, the 36-17 win over the Gators and 34-17 victory over the Wildcats in the rear-view mirror, and it's Auburn on deck.
The Tigers have one of the best defensive lines in college football and have held six of their nine opponents this season without a rushing touchdown, surrendering just five all year.
"Auburn is a really good team, so they have all our attention," Holyfield said. "They have one of the best fronts we've played so far.
"Auburn is a really good team, so they have all our attention."
Holyfield said he's enjoying seeing D'Andre Swift get back to full strength after a groin injury slowed his backfield mate the first half of the season.
Swift has 622 yards rushing and is averaging 6.3 yards per carry coming off a 156-yard performance in the 34-17 win over Kentucky last Saturday.
"I feel the competition makes us better," Holyfield said. "Iron sharpens iron."
Georgia tailback Elijah Holyfield
UGA News
Next
Georgia Basketball-Savannah State: Game time, TV Channel, how to...