NFL coach: Kirby Smart will win big one 'in the future soon'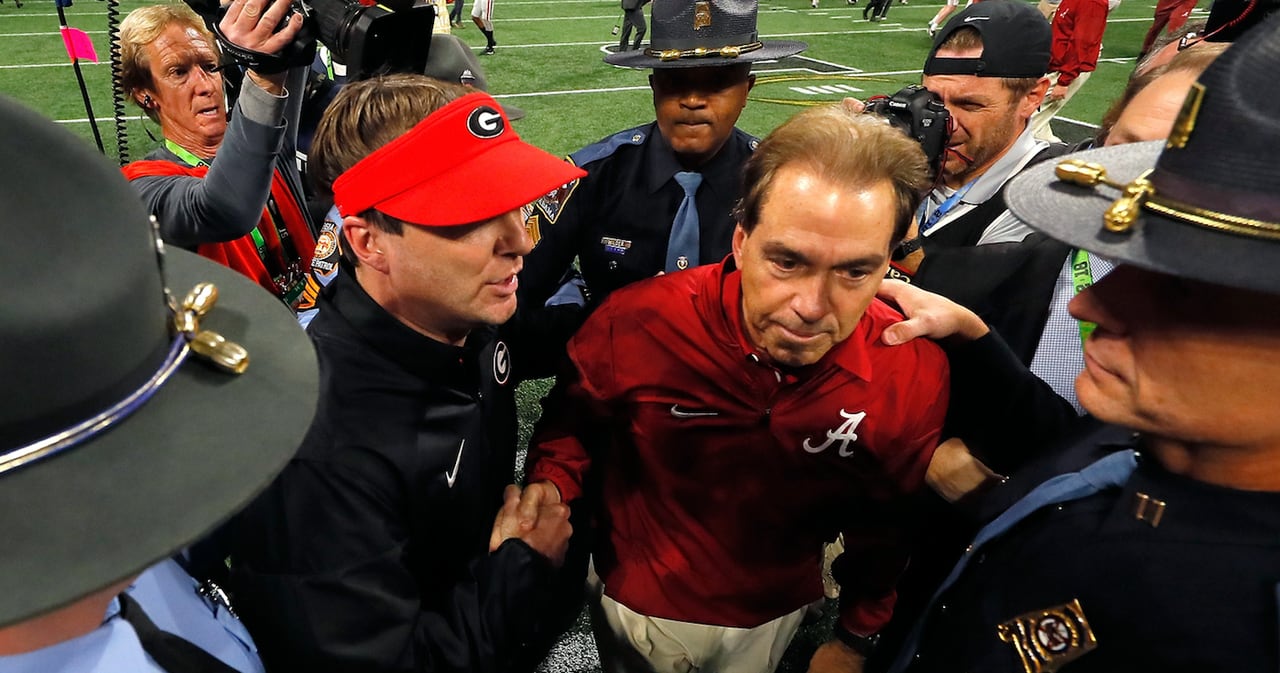 GREENSBORO, Ga. — Two-time NFL Coach of the Year and renowned "Quarterback Whisperer" Bruce Arians dealt high praise to Georgia coach Kirby Smart on Monday.
It came with a qualifier and prediction on Monday afternoon.
"Kirby has done an unbelievable job, his passion and his energy are obvious, (and) he's done a great job in recruiting," Arians told DawgNation at the Arians Family Foundation golf tourney at the Lake Oconee Ritz-Carlton.
"The next step is he's just got to win the big one, and I can see that in the future soon."
Georgia's close calls against Alabama the past two seasons have been well-documented. The Bulldogs fell 26-23 in overtime in the CFP title game following the 2017 season. Last season, Georgia fell 35-28 in the SEC Championship Game.
UGA has led or been tied the Tide 118 minutes and 54 seconds of 120 minutes and 281 of 290 plays of those past two meetings.
Arians, a former Paul "Bear" Bryant assistant at the start of his coaching career and now the Tampa Bay Buccaneers head coach, has also had strong words for UGA quarterback Jake Fromm.
Fromm, Arians said, has quite a challenge on his hands. It will be up to the Georgia coaches to make sure they give him the best chance to succeed.
"I think he's got a big challenge because he has a group of young wide receivers," Arians said. "I think the biggest thing about Jake is his leadership.
"Having been up there in practices a couple of times and watched, those young guys will come around fast. Because he'll have them out there working all summer and get them to ready to go."
That said, Arians — a two-time Super Bowl champion while offensive coordinator for the Pittsburgh Steelers — indicated James Coley should keep the pass game simple.
"I think you have to simplify and watch the learning curve, don't over-coach them, they have to be able to play fast," Arians said, asked how he'd handle a young receiving corps.
"If they are thinking, you've over-coached them. Let them play fast, and let them play to the abilities. With a guy like Jake, he's going to protect the football. So just get them up to speed as fast as they can."
Arians believes Coley's offense will be similar to last year's.
"I think you'll see a lot of the same framework, but a different personality doing it," Arians said. He'll have a little more, maybe down the field stuff, so I think he'll interject his enthusiasm into the offense, and he'll be better."
Arians shared his thoughts on the Georgia-Florida rivalry staying in Jacksonville. He equats it to the pageantry lost when Alabama-Auburn left Birmingham, but also acknowledging the importance of recruiting.
The author of the book "The Quarterback Whisperer: How to Build an Elite NFL Quarterback" also chuckled at the notion that the RPO is a new element in football in his exclusive video interview with DawgNation.
Arians' wife, Christine, asked her video promoting the CASA program (Court Appointed Special Advocates) for foster children also be included.
Tampa Bay HC Bruce Arians on Georgia
CASA PSA with Christine Arians
UGA News
Next
WATCH: Highs of D'Andre Swift's dazzling highlights, low of Sugar...