WATCH: Georgia football secondary shakeup, CB Eric Stokes in for Tyson Campbell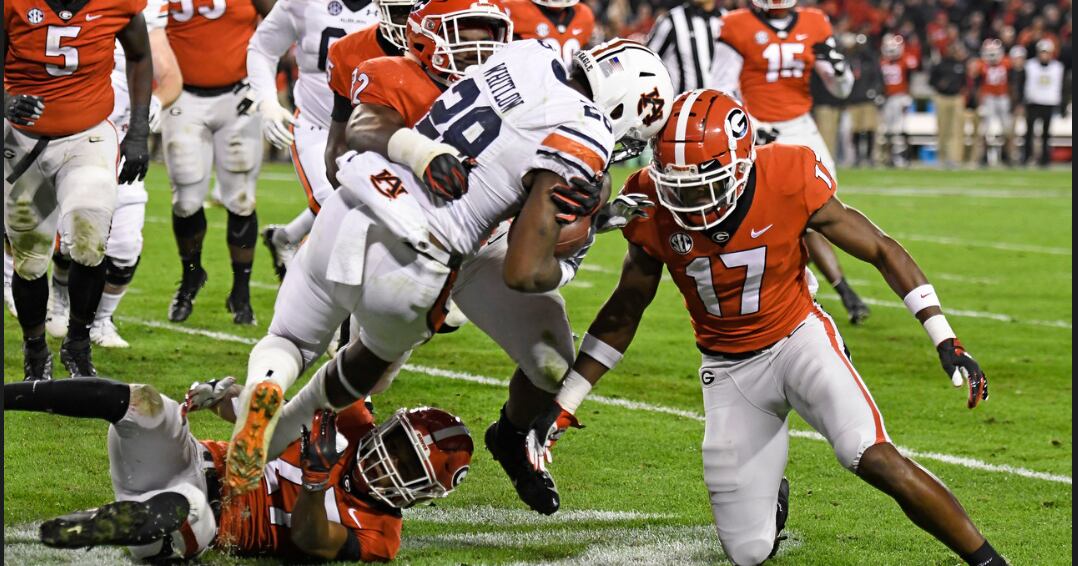 ATHENS — When Georgia coach Kirby Smart says the Bulldogs are a work in progress, he means it, and one need look no further than the secondary on Saturday night.
The Georgia secondary has arguably been the best and most consistent position group on the team, but Smart and defensive coordinator Mel Tucker didn't hesitate to try to make it even better against Auburn.
Freshman Otis Reese made his first career start at safety and sophomore Eric Stokes came off the bench to replace highly touted freshman Tyson Campbell at cornerback during the Bulldogs' 27-10 victory over the Tigers.
WATCH: Kirby Smart explains why Georgia football has  best football still ahead
Reese made just one tackle before sophomore Richard LeCounte came back in the game at safety and made six stops.
The Stokes' substitution, however, could be a sign of things to come as he proved much more effective than Campbell after entering the game in the second quarter.
It was Stokes draped all over Auburn's Seth Williams in the end zone, breaking up a Jarrett Stidham pass and relegating the Tigers to a field goal that gave them a 10-6 lead at that time.
"That was a huge play in the game," Smart said. "Think about that third-down play, we hold them to a field goal otherwise it's 14-3, 14-6, whatever it was. Eric Stokes is one of the hardest workers on our team. He's the epitome of team. The guy hasn't complained, fussed, all he's done is work. He's going to get better, he's going to continue to grow, and Tyson will do the same."
Smart has stayed patient and supportive of Campbell throughout the season, even when he's had sub-par performances.
"Tyson had a tough night," Smart said after the win over Auburn. "We've talked for a long time, we're going to play the players that play the best. I still think Tyson Campbell is a really good football player."
Campbell has had a tough task playing opposite of All-American candidate and projected first-round NFL pick Deandre Baker.
LSU picked at Campbell for 153 yards passing in its 36-16 victory in Baton Rouge, and the 5-star prospect from Fort Lauderdale, Fla., has been burned deep on other occasions.
Teammates have talked throughout the season about trying to keep Campbell's confidence up, but he has not looked the same since suffering a shoulder subluxation in Georgia's 43-29 win at Missouri on Sept. 22.
Stokes, a 3-star recruit from Eastside High School in Covington, Ga., came off the bench that day against Missouri and had four pass break-ups in addition to blocking a punt after replacing Tyler Simmons on that special teams unit.
"I'm always into the game getting mental reps, so I'm playing the game from the sideline," Stokes said on Saturday night, explaining how he has been able to be so effective coming off the bench. "Someone said, go get them, and it was time for me to go, (and) I was already mentally ready."
Smart said in fall camp there was so much competition that he wasn't going to name any starters, and he held true to his word, as the Bulldogs didn't issue a public depth chart before the opening game.
The competition continues each week in practice, Smart telling his team that it needs to improve each week to reach its goals and vowing to play the best players.
Georgia cornerback Eric Stokes
Georgia football stories
UGA News
Next
WATCH Georgia football coach Kirby Smart: 'Our best football is ahead'