Georgia football offensive linemen have plenty to prove at NFL combine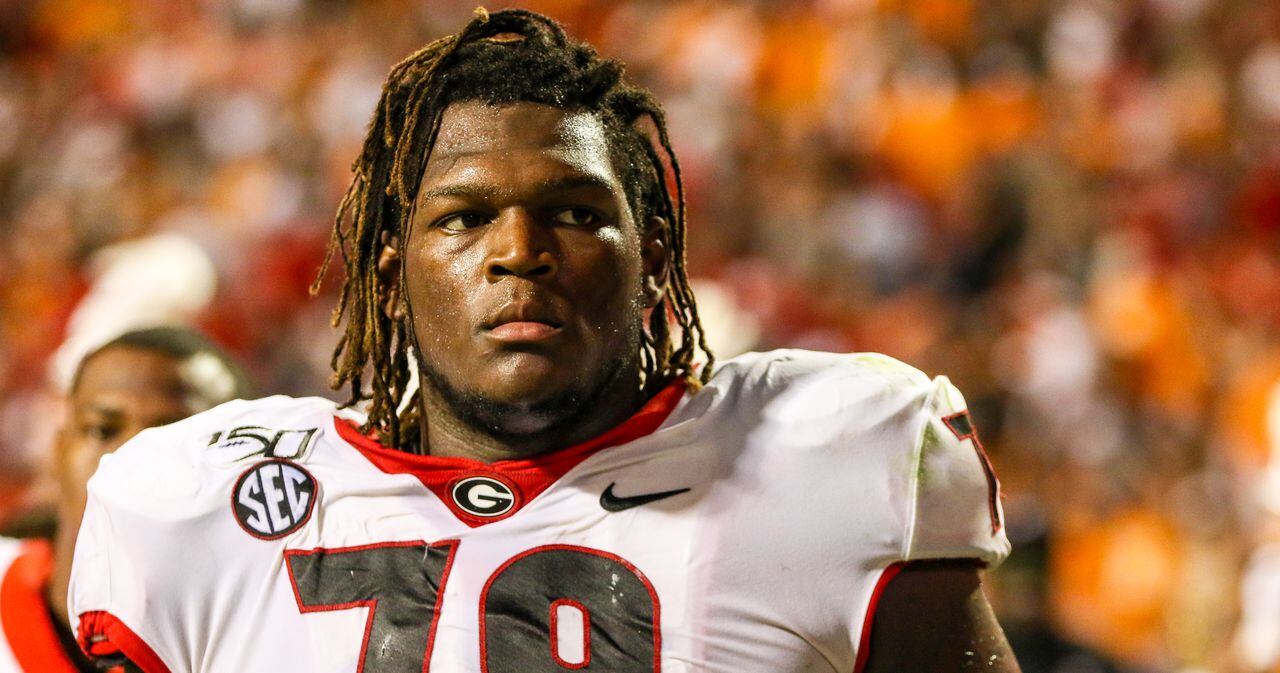 INDIANAPOLIS — It's prove-it time for the Georgia offensive linemen at the NFL combine, and millions of dollars is riding on it.
Offensive tackles Andrew Thomas and Isaiah Wilson, along with offensive guard Solomon Kindley, represent three of the 10 Bulldogs taking part in the combine this year.
They were part of a much-hyped Georgia offensive line unit nicknamed 'The Great Wall' in the preseason for its sheer size along with the expectations.
RELATED: SEC expert breaks down Georgia football 'Great Wall'
The Bulldogs' offensive line, however,  was forced to utilize six different starting lineups in the first seven games on account of injuries. The group never seemed to be completely in sync.
Thomas went on to have an All-American season at left tackle and is projected to be a first-round NFL pick.
RELATED: Andrew Thomas first-round lock
But Kindley and Wilson missed playing time with ankle injuries, and there has been a great deal of speculation that they would have been better off returning to Athens for another season under the direction of new offensive line coach Matt Luke.
"Georgia had some guys leave early on the offensive line," Senior Bowl executive director and former NFL scout Jim Nagy said. "I don't think a couple of them should have came out after watching the tape."
Indeed, for all the hype, Georgia's offensive line endured injuries at every position but left tackle.
"They had some issues in pass protection that Jake had to deal with," said Nagy, who will provide NFL combine and draft commentary for ESPN.
"There was a lot of flux up there and from a communications standpoint, that's difficult," Nagy said. "Dealing with a lot of those issues and mixing and matching, that's tough on an O-Line coach. You can never get comfortable. I would attribute a lot to that."
Mel Kiper Jr. was more blunt in his assessment.
"Kindley, I have a third-fourth round-grade on," Kiper said. "Wilson, I have a fourth-round grade on. I thought he should have gone back.
"If I was Isaiah Wilson, I would have gone back to Georgia."
Kiper is more confident in Thomas.
"I have Andre Thomas at 18 (overall) to Miami," Kiper said. "Like I said before, he's still not where he needs to be. He's not a finished product. At 18 (overall), he would be a developmental left tackle."
NFL.com analyst Daniel Jeremiah said Thomas might not end up playing left tackle in the NFL.
"He's just on the ground a little bit for me, that was my concern, some of the balance issues," Jeremiah said. "I know some teams would like to kick him over to the right side. But I definitely think he's a first-round tackle.
"Isaiah Wilson is intriguing because he's so big,  6-7, 340 pounds. He's a little bit stiff, but he's got a lot of ability."
UGA News