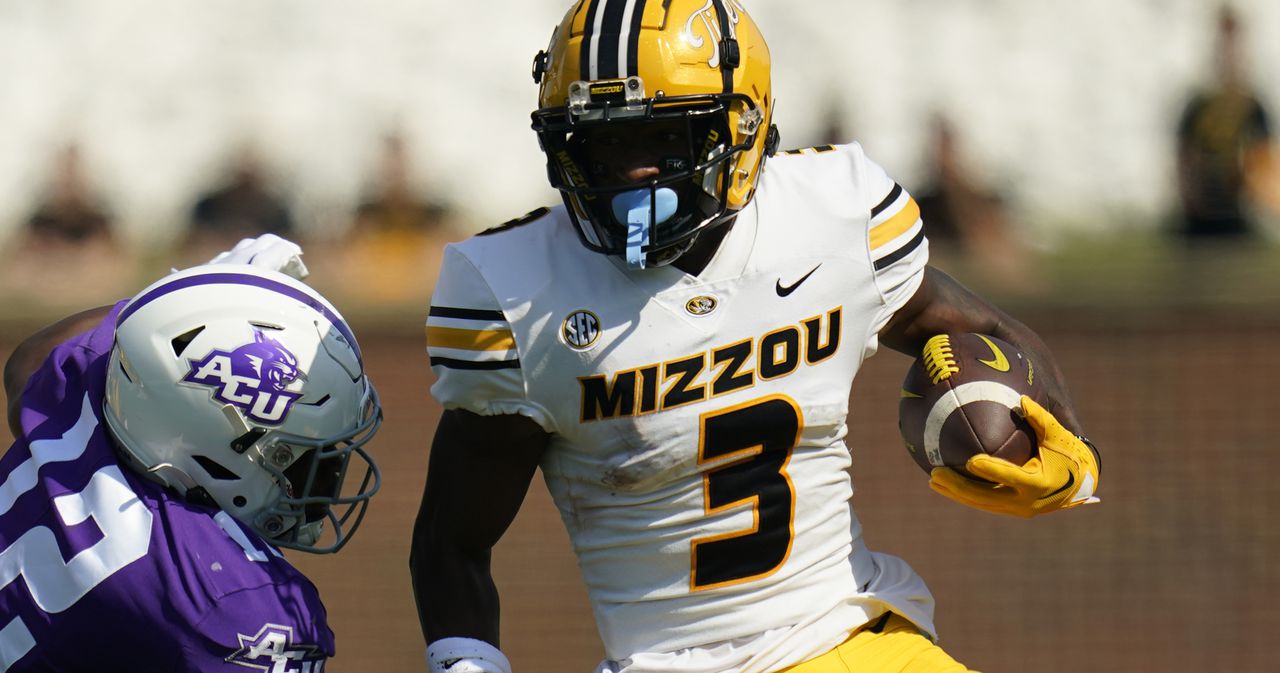 All eyes for Georgia football will be on talented Missouri wide receiver Luther Burden
Welcome to Good Day, UGA, your one-stop shop for Georgia football news and takes. Check us out every weekday morning for everything you need to know about Georgia football, recruiting, basketball and more.
All eyes for Georgia football will be on talented Missouri wide receiver Luther Burden
Georgia picked up a pretty sizeable recruiting win on Tuesday. The Bulldogs landed a commitment from Tyler Williams, a 4-star wide receiver from Lakeland, Fla. It was a big win for Bryan McClendon, Georgia's first-year receivers coach.
McClendon was brought to Georgia to bring in players like Williams, who was also considering Miami.
"I've seen a couple of games from him at Mizzou as well as in high school. Pretty good player," defensive back Kelee Ringo said. "Good speed, good size. Honestly, like every week I'm looking forward to the challenge."
Burden is perhaps one of the few head-to-head recruiting wins the Tigers have had against Georgia in recent seasons. The St. Louis prospect elected to stay home, giving Missouri the No. 1 wide receiver prospect in the 2022 signing class. Georgia finished as the runner-up in his recruitment, nearly missing out on the dynamic playmaker.
Related: Why Luther Burden spurned Georgia to stay home and play for Missouri
It's clear that when healthy, he's Missouri's best player and one who would also have no problem fitting in on Georgia's team.
Early in his Missouri career, Burden has already found a way to make an impact all over the field. He has a rushing touchdown, a receiving touchdown and a punt return for a touchdown in his first four games.
"He's strong. He's physical. You watch him as a returner, he makes people miss," Georgia coach Kirby Smart said. "They find ways to get him touches. He catches the ball out of the backfield, speed sweeps. He runs deep. And he returns the ball. He's a very elusive, physical runner. You can tell when people go to tackle him, you can tell, he's stout."
Of course with all that extra talent comes more attention and scrutiny. Burden was limited in Missouri's 17-14 loss to Auburn this past weekend due to a lower leg injury.
Eli Drinkwitz told reporters this week that Burden was only supposed to fair catch punts. Instead, he ended up being targeted three times snaps on offense, doing what he could to try and help Missouri win its first SEC game of the season. He is questionable entering this Saturday's game.
Burden did not record a catch in the loss against Auburn. Afterward, he raised eyebrows by scrubbing his social media profiles of any mention of Missouri. Pulling a move like that as a 5-star wide receiver in the transfer portal era will certainly draw a lot of attention to yourself.
Next
Marcus Rosemy-Jacksaint ready to be more than just a great blocker …