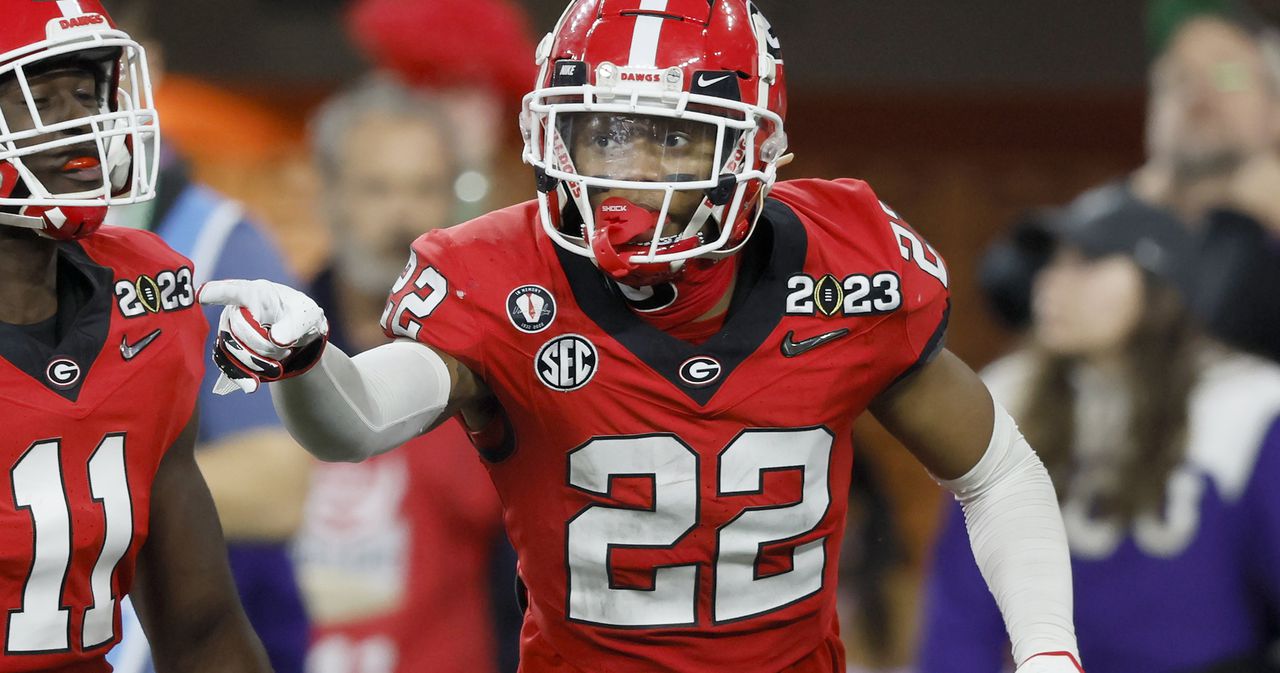 Javon Bullard looks to build off strong finish to 2022 season: 'I have big goals and big plans'
Welcome to Good Day, UGA, your one-stop shop for Georgia football news and takes. Check us out every weekday morning for everything you need to know about Georgia football, recruiting, and everything else UGA.
Javon Bullard is more than the next man up in Georgia football secondary
ATHENS — By now, most college football fans should know who Javon Bullard is. Ohio State fans certainly do, given they've spent much of the offseason whining about his hit that broke up a key third-quarter pass from CJ Stroud.
Bullard added a sack in the win over Ohio State. Then in the first half of the national championship game, he put on an even more brilliant display. He intercepted Max Duggan twice while recovering a fumble.
The two performances won Bullard defensive MVP honors in both of Georgia's College Football Playoff wins. His play at the end of the 2022 season allowed him to announce to the college football landscape that he was going to be Georgia's next star defensive back.
"I have big goals and big plans for myself and for this team. I just want to keep learning and keep growing," Bullard said. "I feel like this is the best school to learn and grow from the DB perspective. I come in here eager to learn every day. With the coaching staff that we have and the plays that we run, I feel like it's going to happen. Just keep eating, keep learning, and have a growth mindset every day that you come to work."
Related: 2023 Georgia football identity emerging: 'It's an honor for us to wear this G'
Bullard started 13 games for Georgia last season, all at the star position. He'll spend the spring cross-training at cornerback and safety as well, something the Bulldogs do every spring to figure out how to piece together their secondary.
The junior defensive back should be considered as an option to replace Chris Smith, who was a consensus First-Team All-American last season. Bullard told reporters on Thursday there's no way to replace Smith, given all he did for the Bulldogs over the last three seasons.
Smith, on the other hand, feels very comfortable about the future of the Georgia secondary knowing it has Bullard in it.
"Freak athlete," Smith said. "One of the guys that got a great passion for the game. That's just a part of the culture we build here and guys we want to bring in here. The culture that we built around here isn't going to stop."
The end of the 2023 season wasn't all gravy for Bullard, as he did leave the national championship game with a shoulder injury. He told reporters he's feeling better now, as the two months between the end of the season and the start of spring practice proved to be exactly what Bullard needed to recover.
A year ago, Bullard had been seen as someone who could possibly push for playing time. He came to Georgia as a comparatively unknown recruit. He was the No. 634 overall recruit in the 2021 signing class, the second lowest of Georgia's signees in that recruiting cycle.
But Kirby Smart clearly knew what he was looking for when he landed Bullard out of Milledgeville, Ga. While Bullard may not have been the most athletically-dominant player in the class, his mental makeup is the exact thing Georgia looks for in recruiting.
"My mindset going into every game is treat every game like it's your first game," Bullard said. "Play your hardest whether it's the national championship. I feel like I played as hard as I did against Oregon versus TCU, and it was the first game of the season versus the last game of the season. Keep every game the same game. Don't try to be too big in the moment.
Next
Georgia football outside linebacker position starts youth movement in …