Kirby Smart gets hero's welcome, asks fans for G-Day sellout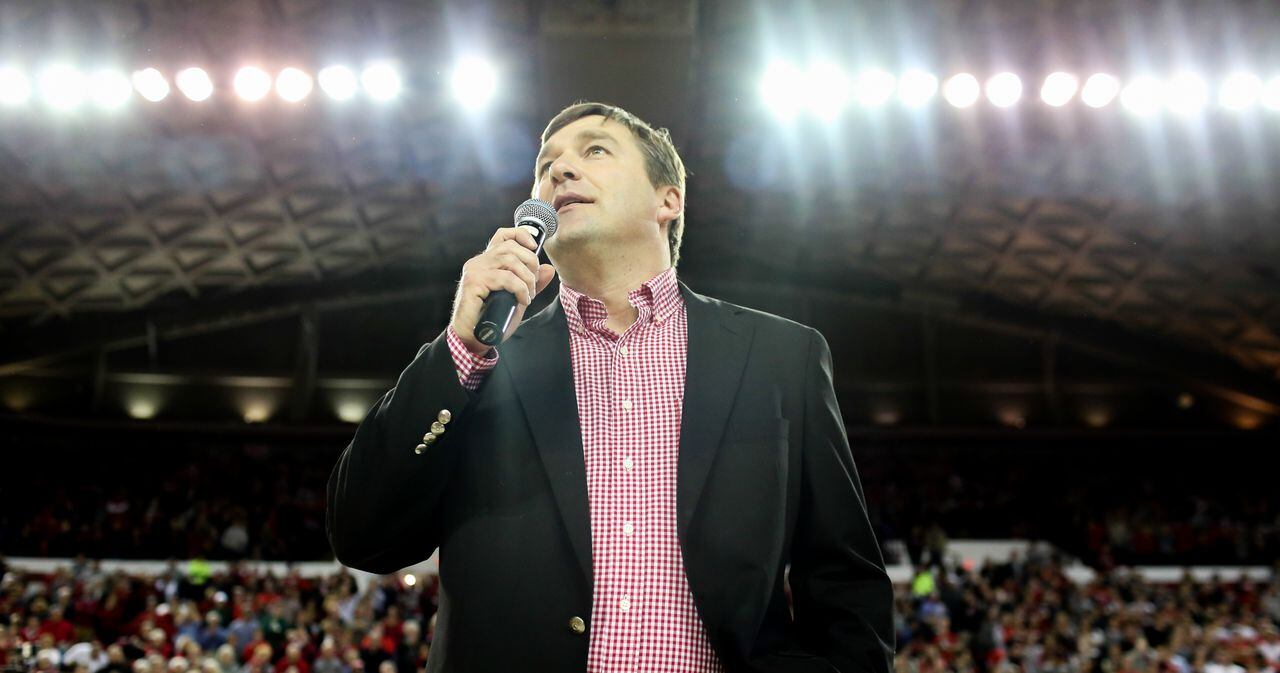 ATHENS — Georgia's new football coach got a lot of mileage out of a basketball game on Saturday.
Fans finally got a chance to hear directly from Kirby Smart as the Bulldogs' new football coach addressed the crowd gathered for the home basketball game against Arkansas Saturday at Stegeman Coliseum at halftime. And Smart heard from them as well.
The arena lit up with explosive applause when he walked in unannounced early in first half with his wife and a procession of recruits following behind. He slapped hands with the entire first row of the north side of court all the way to his seats in the west end horseshoe.
Then Smart got nearly eight minutes of time sitting in with the SEC Network broadcasters calling Saturday's game, Roy Philpot and Andrew DeClercq, until halftime.
But the highlight was Smart's halftime message to the crowd, in which he implored the fans to sellout Sanford Stadium for the spring G-Day game.
"I just want to tell everybody how great it is to be back home," said Smart, who was quickly drowned out by cheers and barks. "I love the energy and passion here tonight. We want to see the same energy and passion at the spring game. We want to see 93,000 there to come out and support us.
"The easiest thing in recruiting is when your fanbase is united and everybody is pulling in the same direction. That's what we need, that's what we want, that's what we expect. We want to get that done."
It was Smart's first opportunity to speak to the general public. His last two appearances as Georgia's head coach have been news conference formats, on Dec. 6 when he was introduced as head coach at the Georgia Center for Continuing Education and on Jan. 13 after he returned from the national championship game with Alabama to resume his UGA duties full time.
It was a big recruiting weekend for the Bulldogs, who were hosting 5-star prospect Derrick Brown among many others.
"We're recruiting right now; we've got a lot of great guys we're pursuing," Smart said. "We're trying to finish off an awesome recruiting class."
During the television interview, Smart was asked how quickly he thought he could get the Bulldogs to a national championship such as the one in which he just won with Alabama.
"First of all, that's a tough question because I don't like get into hypothetical situations," Smart said. "But I do think there's talent within a five-hour radius to win big and that's what we plan to do. When? I don't know. It depends on how long it takes us to recruit these good players we've got."
One of Smart's new touches for recruiting was evident at Saturday's game. The Bulldogs transported the prospects to the Coliseum via matching black GMC Tahoe sports-utility vehicles with UGA flags flapping as they drove down Smith Street.
Next
Top UGA target cancels Alabama trip