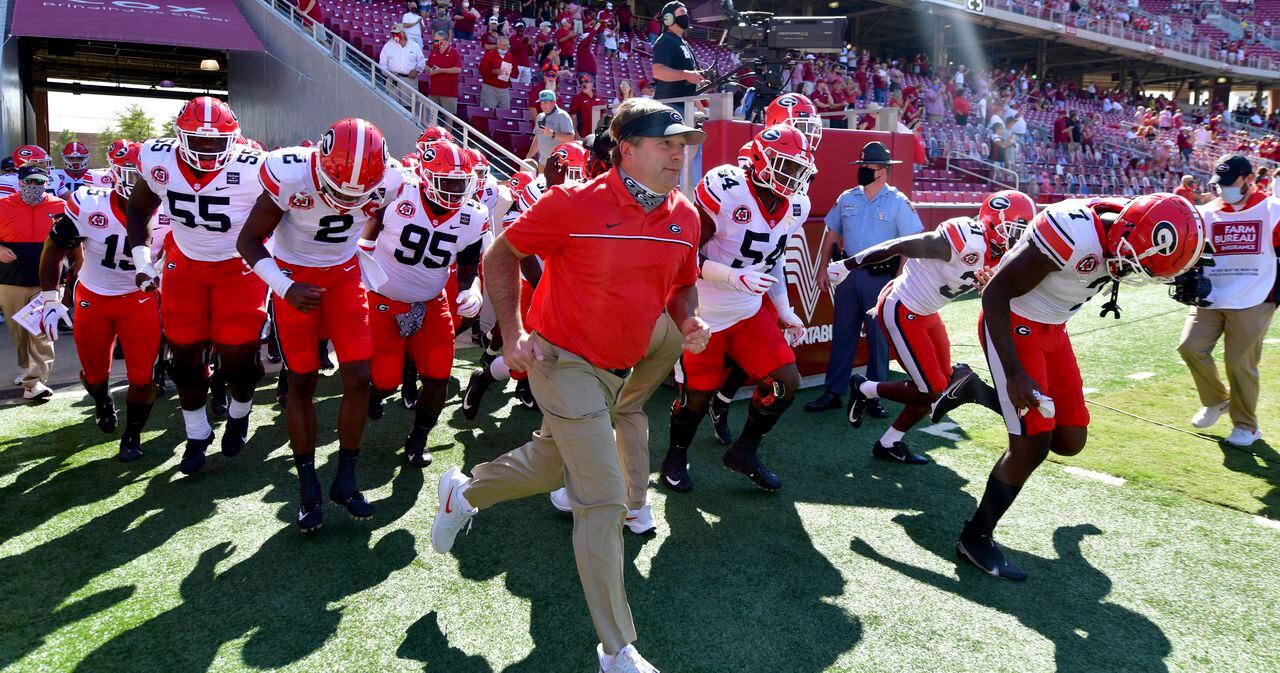 Kirby Smart: Georgia football needs work after 37-10 win over Arkansas
The scoreboard said one thing, but Georgia football coach Kirby Smart left Razorback Stadium saying another.
"We're not going to beat many football teams playing like we played," Smart said, proud of his team's effort but dismayed by the slow start in the No. 4-ranked Bulldogs' 37-10 road win at Arkansas.
Redshirt junior Stetson Bennett came away the hero, coming off the bench in the second quarter to rally Georgia from 7-2 down, finishing 20-of-29 passing for 211 yards with 2 touchdowns.
Smart, 5-0 in opening games as UGA's head coach, pointed out that redshirt freshman starting quarterback D'Wan Mathis didn't have the best support around him in the early goings.
"We didn't execute well early, and when we did, we had penalties," said Smart. "We have a long way to go to get to where we need to go."
Smart said he was proud of his team's resiliency, but the team must improve and get better.
"It starts with the penalties, it starts with guys missing assignments and guys missing signals," Smart said. "When you turn the ball over, when you hold people and you line up in the backfield, you're not going to have a lot of success."
Georgia had 8 penalties for 73 yards in the first quarter alone.
The Bulldogs' defense was also lackluster early on by its elite standards.
Arkansas, which has now lost 20 straight SEC games dating back to 2017, managed a 7-play 91-yard touchdown drive in the opening quarter.
The Razorbacks took advantage of a third down UGA pass interference call to sustain the drive, and then Feleipe Franks (19-36, 200 yards, TD, 2 interceptions) struck for a 49-yard touchdown pass.
Arkansas receiver Traylon Burks got past Georgia preseason All-American Richard LeCounte after the pressure failed to get to Franks on time.
"We lost contain on the touchdown pass and ran a stunt where we tried to get some penetration and get him flushed, so we lost contain and then a guy got behind us," Smart said. "It was a good route against a poor coverage. Give Arkansas credit, they ran a scissors route."
we lost contain on the touchdown pass, and ran a stunt where we tried to get some penetration and get him flushed, so we lost contain an then
And the Bulldogs ran in circles throughout most of the first 30 minutes.
"You have to be efficient, you have to execute, you have to play clean," Smart said. "We did not play clean today."
Georgia finished with 12 penalties for 108 yards — just one in the second half — along with one interception and one lost fumble.
UGA's finishing flurry, outscoring Arkansas 32-3 in the second half, figures to help the  program save face in the polls.
Particularly with both LSU and Oklahoma falling in major upsets on Saturday.