Kirby Smart says Georgia offense is 'striking a violent blow' against the defense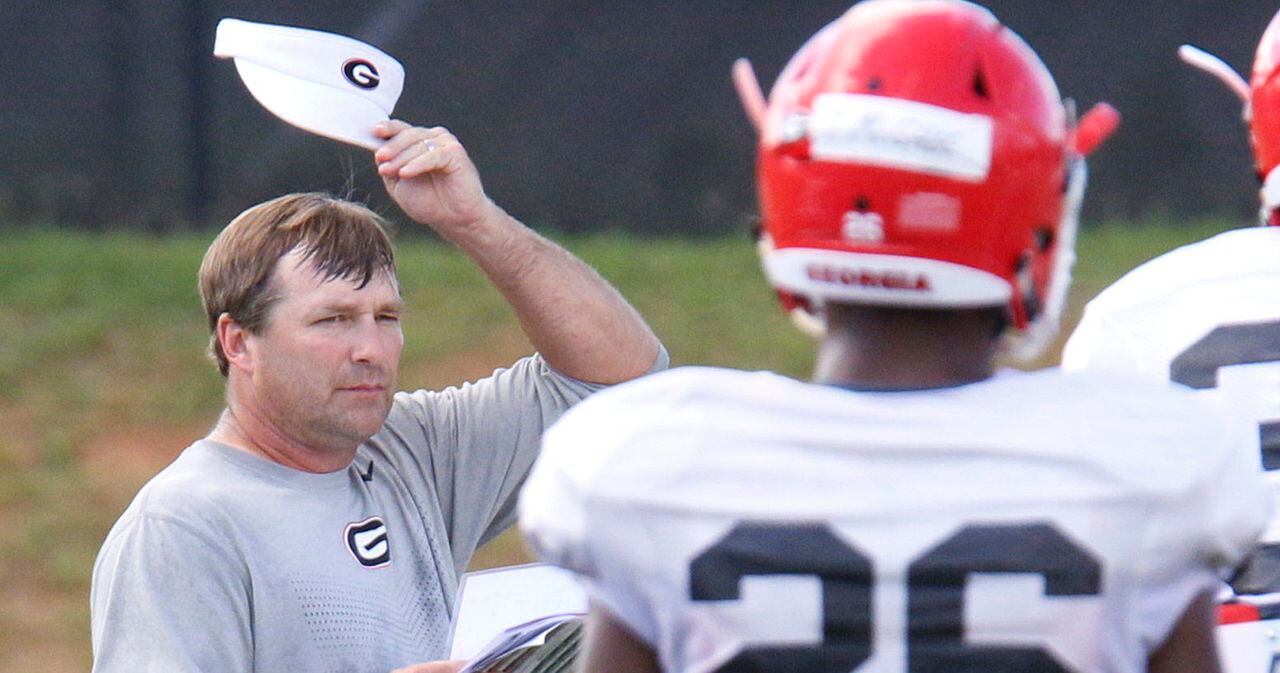 ATHENS — Kirby Smart is still applying pressure, private and publicly, to what should be the strength of his Georgia team: the defense.
And in so doing the Bulldogs coach is praising what has been the weak link: the offensive line.
"The offense is striking a blow. It's striking a violent blow and knocking people back," Smart said after Tuesday's practice, the seventh of the spring. "This game is tough, physical game. And we're (defensively) not playing tough, physical football right now. Whereas they are (on offense). And I'm kind of like, either they're hungrier than us, or those guys aren't responding to how we're challenging them."
Smart was speaking as a former defensive coordinator, using "they" for offense and "we" for defense. But as a head coach such comments, which he made last week too, serve a dual purpose.
It instills confidence in a unit that needs it, the offensive line. And it attempts to avoid complacency on a defense that was good last year and is set to return 10 starters.
So perhaps the criticism is by design. Last Saturday, safety Dominick Sanders labeled defensive complacency to be just "media talk." But Smart has now repeated it in two different weeks.
"Defensively we are still not where we need to be," Smart said. "And probably the most disappointing thing is the run defense. So one of two things has happened: Either complacency has set in, which I mentioned before, or our offensive line is moving better. Because a lot of the same defensive players are out there, obviously, with the exception of Trenton (Thompson) and Roquan (Smith)."
Those aren't two minor missing players. Thompson, out with shoulder surgery and a medical issue, is a difference-maker at defensive tackle. Smith, out with a pectoral injury, led the team in tackles last season.
Still, the offensive line lost three starters and is moving players in and out this spring, trying to find the right combinations. So this is at least an early, hopeful sign.
But Smart's emphasis seemed to be on the defense. And he acknowledged that during his time at Alabama he went through this experience before.
"I've been around some really unique ones where there were great defense coming back at Alabama, and maybe they under-performed for the spring, but they stepped up when they had to," Smart said. "Then there's been other ones that have been really hungry, then they didn't perform great early in the season because maybe they had butterflies and nerves.
'I don't know. This defense hasn't taken on its true identity yet. And I don't think they're sensitive to criticism. Because they get criticized at practice, I can assure you of that. But we're not where we need to be. And the offense is playing more physical than us. I call it like I see it. They can watch the tape, they know."
UGA News
Next
Georgia receiver updates: Mecole Hardman and Jayson Stanley