NFL draft profile: Georgia's Nick Chubb goes back to roots to train for pro ball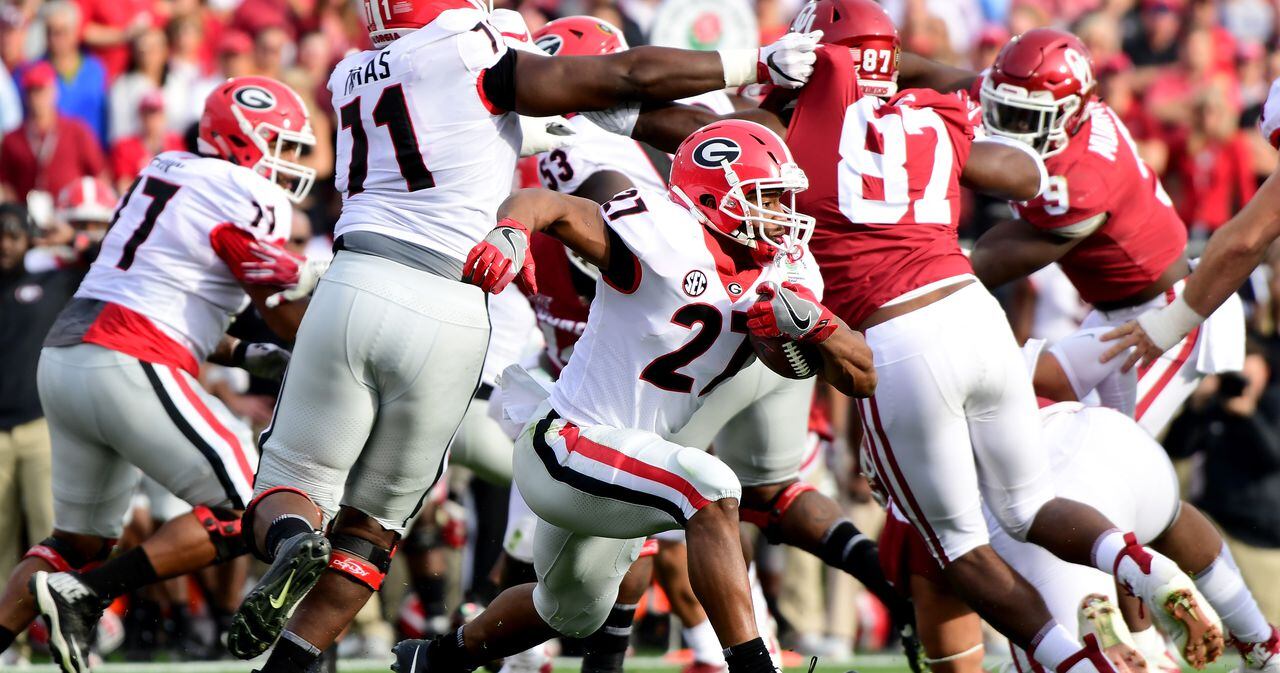 KENNESAW – Roquan Smith is training for the NFL draft at the prestigious EXOS Performance facility in Phoenix, Ariz. Javon Wims is working with local guru Chip Smith. Davin Bellamy is getting his work in at ISO Training in Pensacola. And Nick Chubb is doing his training at Cedartown High School.
That's right, Cedartown High.
In what will surely endear Chubb only further with his adoring fans, Georgia's star tailback is back in his old stomping grounds to get ready for the draft. He's working out with his longtime trainer, an assistant coach and weighting-training teacher at Cedartown High, Mikey Worthington.
Chubb and Worthington have a long history together. Not only did they work together while Chubb was setting high school rushing records for the Cedartown Bulldogs, Chubb always trained with Worthington every time he came home on a break from Georgia. And he'd famously come home on spring break to work out with his weight-lifting mentor.
Chubb's agent, Pat Dye Jr. of Atlanta, said he gave Chubb the option of training anywhere in the country. Cedartown and Worthington were Chubb's choice.
"That's very much who Nick is," Dye said Thursday. ""I am a big believer in letting my clients have ownership of decisions like this. The last thing I want to do is force him to go somewhere and do something the don't to. We could've sent him anywhere and this is where he wanted to go."
It was at Cedartown working out with Worthington that Chubb famously power-cleaned about 400 pounds as a high school senior. A video of that feat was posted on YouTube and went viral on the Internet.
"Oh, Nick loves Mikey," Chubb's mother, La'Velle Gregory said this past weekend. "He's somebody he knows and trusts and they work well together."
It certainly doesn't appear to have held back Chubb. He just finished his Georgia career second only to Herschel Walker in career rushing yards (4,769), career rushes (758), career touchdowns (48), 100-yard games (24) and all-purpose yards (5,130). Chubb once had a streak of 13 consecutive 100-yard rushing games, interrupted only when he suffered a season-ending knee injury in 2015.
Chubb came back in 2016 and shared more time with his roommate Sony Michel. And this past season he recorded his third 1,000-plus yard rushing season with 1,345 and 15 touchdowns. Again, only Walker had ever done that.
Any questions about a loss of speed were also answered during the Bulldogs' 13-2 season and run to the CFP Championship Game. He also recorded the fastest time among backs on UGA's GPS monitoring system when he recorded 22.3 miles per hour on his 55-yard touchdown run against Kentucky.
As renown as Chubb is for that kind of hard-nosed, on-field production, he's also known as quiet and reserved off of it. He has been keeping his conversion from amateur to professional athlete decidedly local. Dye and his agency Sports Trust Advisors is based in Atlanta. And like Aaron Murray and some other Bulldogs, he has chosen Everett Sports Marketing of Greenville, S.C., as his marketing representative.
Dye, the son of the former Auburn coach and Georgia player, is a nationally-renown sports agent with clients such as Demarcus Ware. But he has a long history of representing Georgia players, including Garrison Hearst, Jon and Matt Stinchcomb, Marcus Stroud, David Greene, Geno Atkins, Cordy Glenn and many others.
It was through ESM that Chubb held a paid autograph session at Sports Addiction at Town Center Mall. There, around 600 people stood in line for hours and paid $49.95 per item to have memorabilia signed by Chubb.
He is also holding a football camp arranged by at Roswell East Park this Sunday in metro Atlanta. That four-hour event, in which kids 6 to 16 years old paid from $145 to $220, is also sold out.
All of them are banking on the same thing: That Chubb will make a great pro running back.
There seems to be little argument about that. The question comes in how long will it will be before Chubb is selected. The latest projection by NFL.com has him among the top 50 players selected in April's draft. Chubb was listed at 49th, or 21 places behind his best friend and backfield mate, Sony Michel. Georgia linebacker Roquan Smith (19) and offensive lineman Isaiah Wynn (37) are also on that list.
"We're layering around (Chubb's choice of Worthington) with nutrition and physical therapy and massage therapy and whatever we need to do give him the complete pre-combine training experience," Dye said. "Obviously that's a critical event for him. But he has great tape, great character and these teams are going to be very anxious to see how he runs and jumps and moves around."
ESPN's Todd McShay believes Chubb will be a Day 2 draftee: "He didn't have the same explosiveness in 2016 coming off the injury, but he has quick feet for his size [5-foot-10, 228 pounds]. Right now, he projects as a Day 2 pick, but he could move up the boards if he can regain some of that agility."
That's the thing about Chubb, doubt him at your own peril. That's why his mother has not questioned for a minute her son's decision to train at home in Cedartown or anything else.
"I know this," she said at Chubb's autograph signing this past weekend, "if he has a weakness or something they say is a weakness, he's going to work on it until it's not a weakness anymore."
That method has worked for Chubb going all the way back to Cedartown High.
Next
Question of the Day: Any chance UGA's Stetson Bennett beats out …