Notre Dame's Brandon Wimbush now calls Atlanta home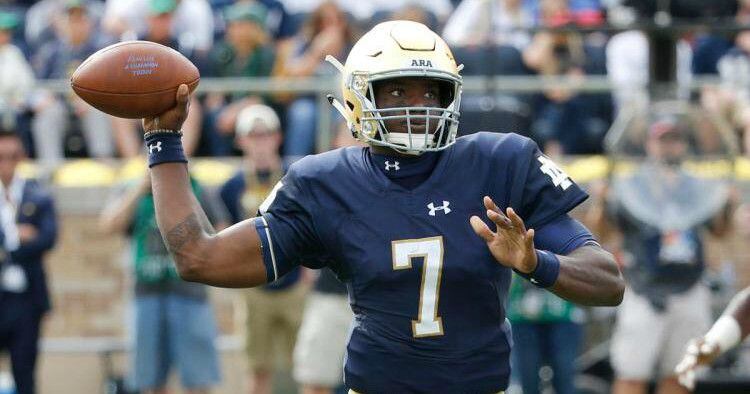 SOUTH BEND, Ind. – His bio in the Notre Dame media guide lists Brandon Wimbush's hometown as Teaneck, N.J. But as far as his mama is concerned that's incorrect. He's a Georgia boy.
Atlanta, actually. More specifically, Acworth. Heather Wimbush moved there in January of 2016.
"He rejects here as home," Ms. Wimbush said with a laugh in a telephone interview Thursday morning. "I'm working on that with Brandon. But he loves his Mama and home is wherever she is."
Wimbush is, of course, the starting quarterback for the Notre Dame Fighting Irish. They will play host to the Georgia Bulldogs in a rather notable game of national significance on Saturday here at Notre Dame Stadium (7:30 p.m., NBC).
Ms. Wimbush will be there. She planned to hop a MARTA train and then a plane to South Bend as soon as she left her job at a doctor's office in Sandy Springs on Thursday. That's the same routine she followed last week when Wimbush made his first career start for the Irish.
As one might suspect, this week's contest against the Bulldogs holds a little more significance.
"Listen, I am strong in my allegiances and I don't waver much," said Ms. Wimbush, a registered nurse. "I drive around here with my Notre Dame stickers all over my car and I am Irish through and through. I know I'm in the heart of SEC country now but I'm so proud of who Brandon is."
Brandon Wimbush is a lot of things, but chiefly he is Notre Dame's quarterback and arguably its most lethal offensive weapon. He's the proverbial dual-threat QB, with the speed and moves of a running back and an arm that his coaches and teammates believe is undervalued at the moment.
So effective has been Wimbush at picking up and executing the Notre Dame offense that Malik Zaire chose to transfer out and now resides at Florida. Zaire, a senior and former starter, would've been next in line with DeShone Kizer leaving for the NFL. But the consensus going back to Wimbush's redshirt year last season was that he was going to be the better option.
And the 6-1, 225-pound redshirt sophomore made his coaches look good in Notre Dame's season opener. He passed for 185 yards and two touchdowns and rushed for 106 yards as the Irish piled up 606 yards in a 49-16 win over Temple. Wimbush did have an interception in the game and drew some criticism from his coaches for not sliding more and avoiding contacts on his 12 runs.
Otherwise, it was a stellar debut and has both the No. 24-ranked Irish and Wimbush feeling confident for Saturday's matchup against the No. 15 Bulldogs.
"Getting in the locker room singing the fight song with the rest of the guys after the game," Wimbush said of his goal for the Georgia game. "That's what you play the game for here. There's so much tradition here and Coach Kelly is talking about the ticket prices everybody's paying to be here. You play this game to win and to fight with your brothers."
The opener was Wimbush's first start, but he's far from a rookie. He's a junior academically, majoring in accounting. He played in two games as a true freshman as a backup, against UMass and Pitt, accounting for 109 total yards and scoring on a 58-yard touchdown run.
Wimbush served as the third-string quarterback last season behind Kizer and Zaire, but with the expressed intention of redshirting if possible. Wimbush flourished running the scout team in practices and, by the end of Notre Dame's 4-8 season last year, he was thought to be the heir apparent at quarterback.
Kizer, who became the first Irish player to turn pro with two seasons of eligibility still on the table, was drafted in the second round by the Cleveland Browns. He is expected to start the Browns' opener.
So Wimbush hadn't played in two years when he took the field against the Owls this past Saturday. Now he'll be opposing a quarterback in Georgia's Jake Fromm who will be making his first career start as a true freshman at Notre Dame Stadium in a nationally-televised night game.
Wimbush empathizes.
"It's a big deal for him, especially," Wimbush said. "I don't know much about Mr. Fromm but I wish the best for him as he comes up to Notre Dame. But I know it's going to be a challenge for him going against our defense and 80,000 of our fans."
Nobody is more surprised than Wimbush that his mom is now a Georgia resident. It wasn't something he saw coming.
"She's taking it all in, week by week," Wimbush said of his mother. "She gets pretty excited anyway but, to be down in Georgia, there's a bunch of Georgia fans that work in the (office) that she works and she gets to talk a little smack."
Heather Wimbush raised Brandon and his older Sean in areas of Teaneck and Hackensack, N.J., across the river from New York City, from the day they were born. But she has always dreamed of a better life for her two boys. While she graduated from Penn State and always had a good job as a labor and delivery nurse, it was always difficult to make ends meet as a single mother.
"I kind of fell in love with Georgia back when Brandon was playing so much baseball," she said. "He was here for a couple of summers for the Perfect Game tournament when he was like 12 and 13 years old. I would look around and say, 'you know, I could see myself living here.' So it's no mistake that I live in that area right by Kennesaw. The irony is baseball is probably why I'm here now."
Heather Wimbush first landed a job with Kennestone Hospital. She worked there for about six months before switching to her current job in a six-doctor office so she could have weekends off.
"It really has worked out well," she said.
The only downside for Ms. Wimbush is she wasn't able to make the move sooner. But her oldest son, Sean, recently graduated from Florida A&M after starting his college career as a track athlete at Rutgers. And with Brandon now firmly entrenched at Notre Dame, there was nothing holding back Heather Wimbush.
"It was a bold move, I guess you could say," she said. "But the New York/New Jersey area is so expensive and I just felt like I wasn't thriving there are all. I needed to improve my quality of living. I needed to own a home. I'm not well to-do but I work hard and raising the boys on my own I hadn't been able to save much money. So I just wanted something tangible and be a homeowner again."
Wimbush now is a proud homeowner in Acworth, just northwest of Atlanta. Another reason she wanted to settle there is it got her closer to her parents.
Wimbush's mother and father currently reside in West Palm Beach, Fla. That happens to be in the path of Hurricane Irma and has their daughter extremely concerned. They have not left the area but have assured Heather they have a plan for seeking refuge and will consider coming to north to stay at her house if needed.
In the meantime, Heather Wimbush intended to be on that plane Thursday afternoon and in the stands at Notre Dame Stadium to watch her baby boy play ball against her home-state Bulldogs on Saturday.
She said she hopes the Irish win and that her son plays great, as he usually does. But that's not really what it's all about for her.
For her it's all about her youngest son getting a great education. She actually wanted Brandon to accept the scholarship offer he received from Stanford University, where he says they both met Georgia's Jacob Eason and his father Tony at a camp. But Notre Dame and its top-ranked business school represented a good alternative.
The Irish also feature a pretty good football program that happened to be in need of a quarterback. After a bit of a wait, Brandon Wimbush is finally fulfilling both his dreams and those of his mother.
"Football is football," Heather Wimbush said. "I just want him to get the most out of it that he can for life."
OTHER NOTABLE CONNECTIONS
Wimbush represents one of only a few Georgia connections on the Notre Dame roster. But while there aren't many, most of them a pretty notable:
Tyler Newsome is from Carrollton and is a senior punter and a very good one. He holds the Notre Dame record for single-game punting average (52.4, UMass, 2015) and is second in career average (44.0).
Montgomery VanGorder is a senior from Buford and is a backup quarterback. While he has appeared in only one game on offense, he is Notre Dame's primary holder for placement kicks. More notably for Georgia fans, he's the son of former UGA and Notre Dame defensive coordinator Brian VanGorder. But he's a backup who doesn't play.
Mick Assaf is a sophomore wide receiver from Atlanta's Pace Academy but has yet to play in a game for the Irish.
Oh, and you may have heard that Mike McGlinchey, Notre Dame's 6-foot-8, 315-pound All-American left tackle, is a first cousin of Atlanta Falcons quarterback Matt Ryan.
Next
UGA mailbag: The Jake Fromm Show heads to Notre Dame