Towers Take: You'll have to wait 'til next year to hear from Jacob Eason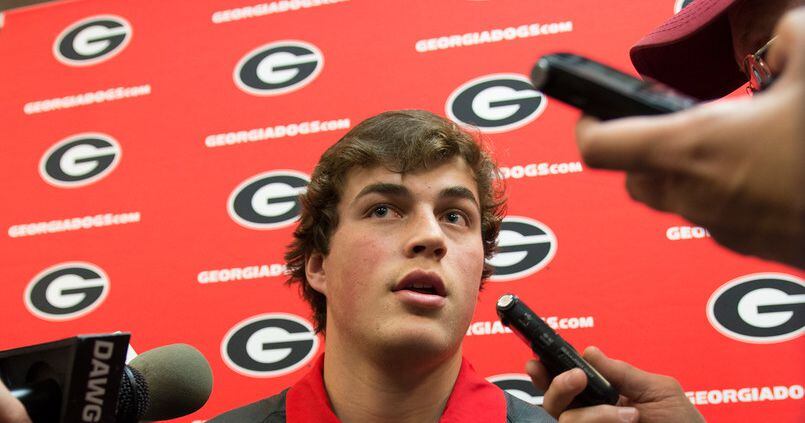 ATHENS — What did he see on the game-winning pass play? What were his thoughts when he got the call from the sideline? What is it about him and Isaiah McKenzie that makes them click? How did it feel to start in his first SEC road game? How would you compare Southeast weather and climate to that in the Pacific Northwest?
These are just some of things you might like to hear from Jacob Eason.
He is Georgia's starting quarterback and a big reason the Bulldogs were able to pull out a 28-27 win over Missouri in Columbia on Saturday. You might have heard that he threw the game-winning, 20-yard touchdown pass on fourth-and-10 with 1:29 to play in that game. In fact, Eason played every offensive snap for the Bulldogs, threw the ball 55 times and completed 29 of them for 308 yards and 3 touchdowns.
In other words, Eason played a pretty big part in the outcome.
We heard from McKenzie after the game, but not Eason. He was scratched by head coach Kirby Smart from the interview request list. Eason also was not available Monday when the Bulldogs held their weekly news conference at the football complex.
I asked Smart why that was and he referred to Georgia's "policy" regarding freshmen. Only there isn't any such policy.
UGA sends out a policy and procedures note to media every preseason, and it devotes 22 paragraphs to explain its "Media Guidelines" on Page 3 of the 2016 UGA media guide. But nowhere in any of that does it say that freshmen aren't available.
In as delicate and as respectful a manner as I could possibly muster, I asked Smart during his weekly news conference Monday to expound on his reasoning for not allowing his starting quarterback to talk to the media after the game. Smart was neither delicate nor respectful in answering.
"What year is he in school?" he asked tersely.
"Freshman," I replied.
"We've got a policy here, and Jacob Eason adheres to that policy, too. Thanks," Smart shot back.
You're welcome.
I tried to point out that Eason was old enough to enter the military and fight for his country and old enough to vote for our nation's president. But those aren't Smart's policies, so he wasn't interested in debating the point.
In any case, Smart makes it pretty clear where he stands. And he's not alone.
Many coaches don't allow freshman interviews these days. Even the relatively liberal Mark Richt had invoked that unwritten policy the last couple years as Georgia's head coach. To a point, anyway.
Freshmen were available one day in the preseason, then unavailable until they actually played in a game. But once they played, they were fair game.
For instance, Todd Gurley wasn't available in the preseason of 2012, when we started hearing a lot of buzz about the young back from Tarboro. But Gurley was available at the end of the season opener that year against Buffalo when he returned the opening kickoff 100 yards for a touchdown.
Same thing with Terry Godwin last season. The freshman wide receiver showed up for postgame interviews only after he played in games when his presence made an impact. I think we finally heard from "Little T" after he had big game against Kentucky last fall. And he was there again after earning MVP honors in the TaxSlayer.com Bowl.
Georgia Tech's Paul Johnson adheres to the same "policy." Freshmen aren't available until they've played.
Some coaches are obstinate about it. Johnny Manziel was not available his entire redshirt freshman season and he won the Heisman Trophy that year. I remember being told by an LSU sports communications assistant at the end of the 2003 SEC Championship game that I couldn't talk to tailback Justin Vincent, even though I was in fact standing there talking to Justin Vincent on the field as confetti fell down all around us.
I told Vincent, "Do what you have to do, kid, but this is the United States of America and you're free to speak to anyone you would like." Besides, he had already told me that "it felt great" to win MVP honors and his "offensive line made it all possible." So I already had what I needed for my story.
Vincent's coach at LSU that year was Nick Saban. He carried that policy with him to Alabama.
And Smart apparently brought it with him to Georgia. Only it remains unwritten at this point.
I just thought things might've changed now that Eason is clearly going to be playing a lot at quarterback this season, if not exclusively. So it's good to be able to hear from the guy playing that position.
I share this with you merely for informational purposes. I know I'm not going to win an argument with fans over whether I should be able to interview Eason or any other freshman playing a lot. To me, it falls into the category of the public's right to know.
I just assume you'd like to hear from the young freshman from Lake Stevens, Wash. I had the pleasure of talking with him when he was a recruit and, as you might expect, he is extremely bright and articulate and actually mindful of what he says and to whom. I'd imagine a coach could trust him to not say something that might end up on Ole Miss's proverbial "bulletin board."
I can only assume that's why Smart is fearful of allowing freshmen to talk to the media. I wouldn't think 10 minutes of media responsibility a week is going to wreck Eason's preparation for the next opponent. But I honestly don't know what Smart's thinking is. I tried to ask him nicely and found out only that's it's "the policy."
Only it isn't.
Oh, well, I guess we'll hear from Eason next year.
Next
Georgia's Kirby Smart gets testy over offensive line questions