UGA kicking legend says Bulldogs need to 'stick with one guy'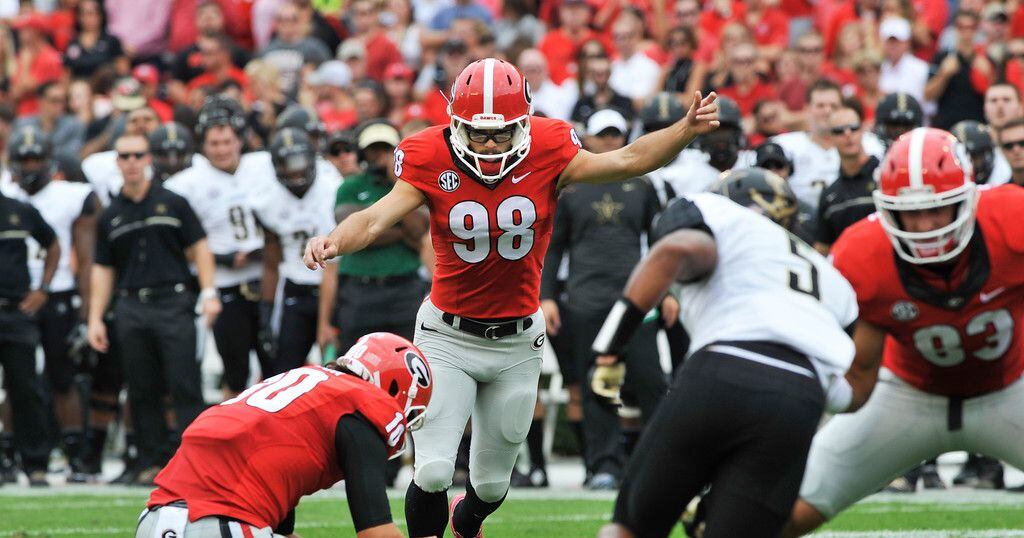 ATHENS – Rex Robinson was Georgia's kicker on the 1980 national championship team. He was an All-American each of his last two seasons (1979-80) and left college as the SEC record holder in single-season field goal percentage, career points, career field goals and consecutive extra points, all of which have since been overtaken.
He also was Rodrigo Blankenship's kicking coach. Well, at least he was for a short while.
I had the opportunity to sit down with Robinson last Friday. He is one of the subjects I am profiling for a DawgNation series that is going to run later this fall called Georgia Greats.
So, naturally, I had to ask Robinson about the Bulldogs' current kicking situation and the competition that was waged between Blankenship, the incumbent starter, and David Marvin, a graduate transfer brought in to compete for playing time. On Tuesday, Georgia coach Kirby Smart announced that Blankenship had beaten out Marvin and would handle the kicking duties for the season opener Saturday against Appalachian State.
At the time I was interviewing Robinson, that decision had yet to be made. But Robinson said he liked that Smart brought in Marvin to compete with Blankenship and understood it. However, he added that once the coaching staff made a decision, it needed to stick.
"Once they choose a guy, he needs to be the guy," Robinson told me. "You don't want to go back and forth. You don't want to do that at any position, particularly at quarterback and kicker. You don't want that in the back of his mind: 'Hey, if I miss a kick I might get pulled, or if I throw an interception I might get pulled.' They need to have confidence that they're going to be the guy. However that plays out, whoever wins the job, I hope they stick with them for a while."
That's good in theory for sure, but it's doubtful that's the way Smart and company will handle it. That hasn't been this staff's method of operation so far. I'm sure Blankenship's job is going to be only as secure as his last game performance.
But no matter how it plays out from this point forward, you have to be impressed with the way Blankenship has handled this situation. The kid from Marietta has competed his legs off since he showed up at UGA as a preferred walk-on in 2015. And, to date, he has answered every challenge.
And this was a big one, to be sure.
The rather public controversy that has played out since Blankenship's arrival involves grants in aid. Succinctly, he's still a walk-on and Georgia gave Marvin a scholarship to come here from Wofford and provide competition.
Though Marvin came to UGA from an FCS program, he distinguished himself there. He left the school with a record 32 field goals made and went 17 for 24 last season, which included a pair of 57-yard field goals. Marvin also was the punter and the kickoff specialist, but it was his tremendous range that attracted graduate transfer offers from several Power 5 schools, including North Carolina and N.C. State. That's why Georgia had to come forth with an offer if it truly wanted Marvin in Athens.
So he came.
But to Blankenship's credit, he didn't let that sway him. He chose to bear down and fight for his job. And for now at least, he has won it.
Robinson has watched with great interest as the whole thing has played out. But he has kept his distance.
"I've tried to back off in my involvement and trying to figure out recruiting and those types of things," said Robinson, who trained local kickers Mitchell Wasson and Patrick Beless and many others through his former kicking academy, Total Kicker. "I just want to show up and see who's playing on Saturday and who actually performs.
"I'm not surprised that they brought someone in, because I feel like they're going to have that type of competition at every position. I mean, that's sort of a cliché, but I feel like they're really doing that now and I feel like it's a good idea."
It appears to have brought out the best in Blankenship. And he wasn't bad before.
As a redshirt freshman last season, the 6-foot-1, 191-pound Blankenship was perfect on 26 PATs and made 14 of 18 field goals. Three of his four misses came from beyond 40 yards, with one over 50. He was named a freshman All-American.
Word is that Blankenship has gotten stronger and shown better range since last season, both on his kickoffs and his place kicks. But it has been his consistency throughout camp that won him the start.
"We're excited for where he is," Smart said after practice Tuesday. "We told Rodrigo that it's really important that we hit a high percentage of our field goals and he's competing to do that.
"It was really tight," Smart said of the competition. "Consistency probably was the biggest difference."
And consistency is what being a Georgia kicker is all about. Robinson can tell you all about that. He was one of the first in a long line of soccer-style kickers who became point-scoring weapons for the Bulldogs in the 1970s and '80s. He made 88.2 percent of his field goals in 1978, then an SEC record, and made six kicks of 50 or more yards. His records subsequently were overtaken by Kevin Butler, then John Kasay and Billy Bennett and so on.
Robinson said Blankenship can carry on that proud tradition. And he has more than a little insight in that regard.
"I've known Rodrigo since he was in sixth grade," Robinson said. "I worked with him in middle school. But his dad has always been his primary kicking coach. … He was a very good kicker at that time, but just a little-bitty guy. He really shot up, probably his sophomore year in high school. He became a tall, skinny kid. He's filled out a lot now, of course. But he was always very consistent, just boom, boom, boom. He just wasn't kicking them very far at that time, but within two years or so, eighth or ninth grade, he was really booming it.
"It was obvious he had potential, had the talent. It was just a matter of the circumstances and where he would fit in and have an opportunity. I was glad he got an opportunity here."
So far at least, Blankenship has made good on that chance.
Next
Still some uncertainty on Georgia's offensive line