With a win at Auburn, the 'Legend of Jake Fromm' only grows from here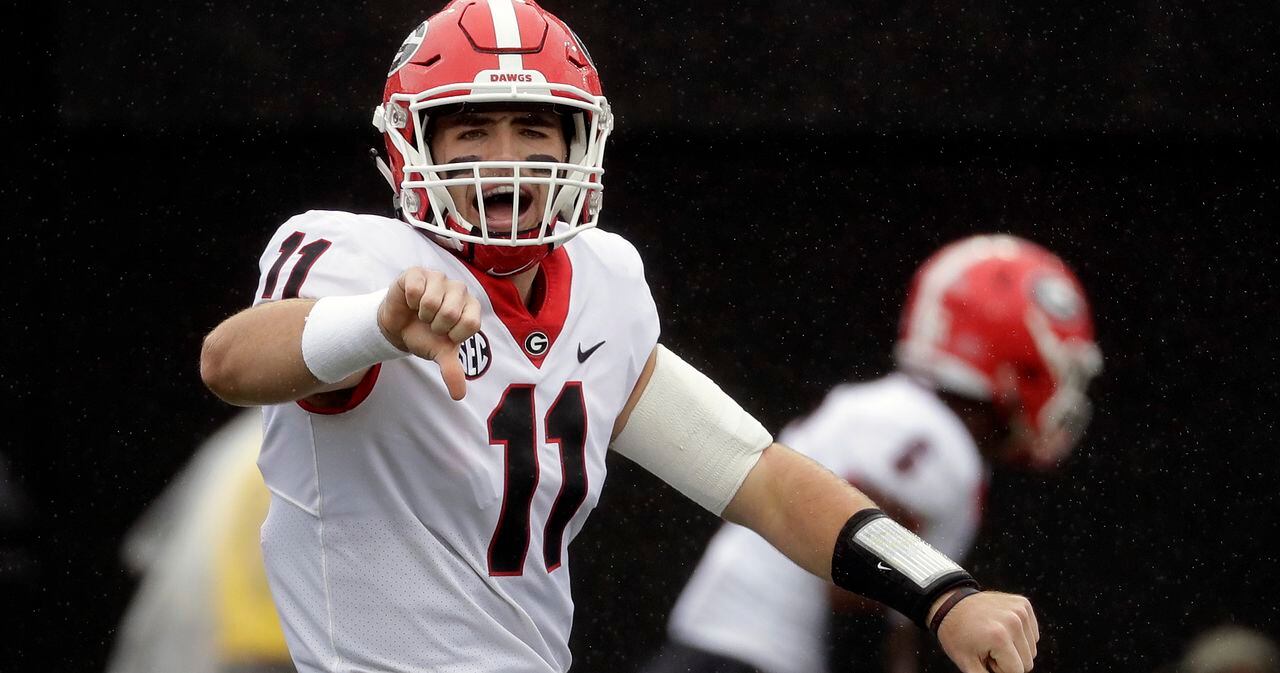 ATHENS – Von Lassiter has backed off on it now. A little.
He used to swear that Jake Fromm had a photographic memory. But now, as the stakes have increased for Georgia along with the ever-growing tale that is "The Legend of Jake Fromm," Lassiter finds himself being a little more measured when it comes to adding to the hype.
"I actually don't know what you call it," said Lassiter, who coached Fromm at Houston County in Warner Robins. "He's just had that kind of uncanny thing his whole life, or at least since I've known him at 14 years old, where if you gave him something to learn, he came back the next day, and he knew it like he'd known it all his life. He was able to learn it, process it and put it together on the field better than any player I've ever coached.
"He says he does it through repetition, and that may be it. But I know he sure does turn it around really quick."
More than arm talent, more than athletic prowess, Lassiter believes Fromm's capacity to process large amounts of information quickly and then disseminate it on the field of the play is the reason he has been able to keep Georgia's offense rolling this season. The Bulldogs' offense has been allowed to grow with Fromm at the controls, and that's one reason why the Bulldogs, who are ranked No. 1 in the College Football Playoff rankings, are favored heading into Saturday's game against No. 10 Auburn at Jordan-Hare Stadium.
That theory will be put to the ultimate test today as the Tigers feature not only the best defense Georgia has faced to date, but one of the best in the country, particularly up front. Word is, the folks on The Plains are licking their chops at the chance to get after this true freshman quarterback who seems to do nothing more impressive than just win.
But many other defenses have thought the same thing, to their own peril. Fromm has been working overtime in preparation for Saturday's matchup, and those who have spent the most time around this Fromm are putting their money on UGA's Computer Who Wore Cleats.
"We always did everything really fast," said Lassiter, who left Houston County for Bleckely County after last season. "The ball's blown dead, and we gave ourselves about 10-13 seconds to snap it again. When you do that over and over again in practice, you get pretty good at processing information. I think that probably helped him prepare for college."
Clinically speaking, photographic memory goes by the scientific name of eidetic memory. It is defined as an ability to vividly recall images from memory with high precision after only a brief time of exposure.
While this is indeed what Fromm does on a weekly basis — and all quarterbacks to varying degrees of success — it's not technically what is going on here. He's not looking at the sequence and order of a thousand pictures and then recounting them perfectly.
But Fromm is indeed regurgitating a large amount of information in a short amount of time.
"I just kind of noticed through the years," Lassiter said. "You ask him about something you taught him yesterday or two years ago, and he knows it. I don't know how he does it. We'd do installs in the offseason, and we'd come back to something during the season and he'd know it like I'd just taught him. How you explain it, I really don't know."
Georgia coach Kirby Smart scoffed at the notion that his freshman quarterback might have some sort of freakish mental powers.
"I don't think I'm cleared to determine that," Smart said following one of the Bulldogs' practices this week. "I don't have the license or the ability to say he has a photographic memory. I think he's a bright kid, but I'll leave that to Von to comment on his memory. That's probably a little bit much."
Then Smart managed only the very slightest of grins.
"I know he didn't remember to motion a guy in last week a couple times, so I know he doesn't have a perfect photographic memory," he said.
In a word, Fromm's just smart. That's his primary weapon as a football player.
His parents, Lee and Emerson Fromm of Warner Robins, said he never made a B all through school. He was placed into the school system's gifted program as a 5-year-old. Otherwise, he just matriculated through classes like everybody else.
Well, there was a documentary film crew that followed him around fall semester of his senior year at Houston County. But other than that, Fromm is just a regular guy with a high aptitude for football.
"He's just been one that never really had to study," said his mother, Lee. "In high school, they'd would teach it in class, he'd see it up there on the board or in power point and that's it. I mean, it was weird like that. He was just able to remember anything, visually or audibly. He could just remember well, but even moreso visually."
That's what Georgia offensive coordinator Jim Chaney has learned about Fromm this fall. As the season has progressed, so has the Bulldogs' offensive playbook. He just keeps throwing more and more at the freshman and the freshman keeps absorbing it.
That, in turn, has kept Fromm's legend growing exponentially as the Bulldogs continue unscathed through this extraordinary season. This is a young man who wasn't expected to start at the outset of the season. Jacob Eason went down with a knee injury on the third series of Georgia's first game, and Fromm has been The Man ever since.
But Fromm has shown he has been up for every challenge, just like he has at every other turn in his star-kissed young life. Saturday's will be his greatest to date.
Led by the SEC's sack leader, Jeff Holland, the Tigers have dropped quarterbacks 26 times this season. Auburn has registered 50 three-and-outs. They're the best defense Georgia has faced, by far.
If Fromm slays this dragon and gives the Bulldogs another nationally-televised road win against a top-10 opponent, The Legend of Jake Fromm only gets bigger from here.
That's starting to be a bit of a concern within the Fromm household.
"Yeah, he showed up in a red-and-black flannel shirt and ripped jeans and he fought off a bear as he walked uphill both ways to school," joked his father, Emerson. "He studies with a book in one hand and a football in the other. He gets up before dawn every day to go to practice, then goes by the old folks home to feed them breakfast, then go to class.
"It's hilarious what Jake's story is turning into. It's an exaggeration of who he is, but in a lot of ways that is who he is. He's the real deal when it comes to football and that kind of stuff."
Lassiter said Fromm gets through challenges by not getting overwhelmed by the moment and simply remembering his keys and checks and counting on the plethora of talent that has been assembled around him to produce most of the wow moments.
"I'm extremely proud of him," Lassiter said. "He's everything he was ever advertised to be. He has stood up to every type of challenge he's had. It's been fun to watch and it's really pleasing to his old ball coach."
And to a few Bulldogs fans, too.
UGA News