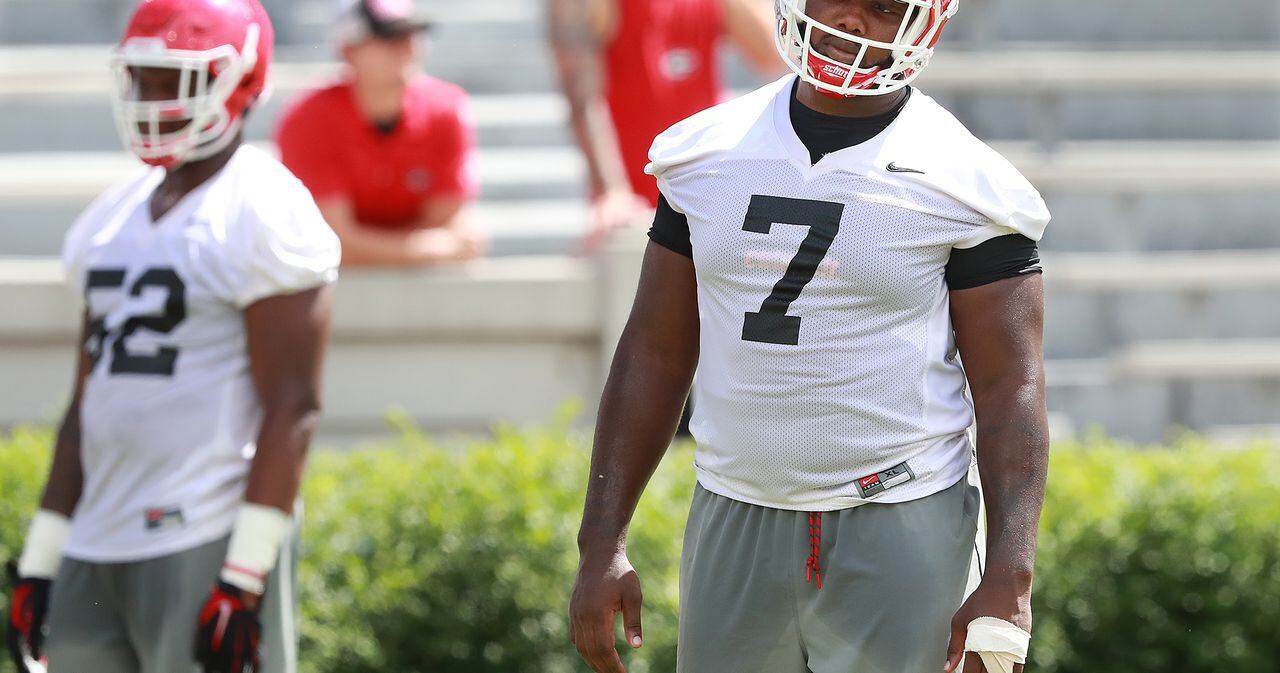 Own the East: Notre Dame transfer Jay Hayes provides much-needed help on D-line
ATHENS – There's a lot Georgia fans didn't know about Jay Hayes when he announced he was transferring to UGA from Notre Dame early this summer. And they're still learning things about him. Like, how is name isn't really Jay.
His given name is Jonathan Lamar Hayes. In fact, his mother still calls him that.
But folks back in Brooklyn started calling him Jay when he was playing football in high school, and it's through football that Jay Hayes has made a name for himself. The Bulldogs hope Hayes continues to gain recognition as he joins their roster as a much-needed defensive line addition.
Hayes was a 13-game starter for the Fighting Irish and actually was his team's co-leader with seven tackles in a game Georgia eked out 20-19 in South Bend.
"He's played a lot of football," said Georgia defensive coordinator Mel Tucker. "He's a mature guy, he's a high-character guy, he's a high-motor guy, he's a leader, and he's a team guy. He's very unselfish. When you can add a guy like that to your roster, that's like gold. We've been very happy with what he's done so far. I think he's fit in well with our group."
Georgia is lacking depth on the defensive line more than any other position on the field. The Bulldogs lost starting noseguard John Atkins and defensive tackle Trent Thompson to the NFL, and then for whatever reason haven't been able to recruit either elite talent or high numbers to Athens.
That has left them with a dearth of experience on the line, particularly toward the inside of the formation. Defensive tackle Tyler Clark and defensive end Jonathan Ledbetter are returning starters, but only noseguards Julian Rochester and DaQuan Hawkins-Muckle and end David Marshall played much in the was significant snaps last season. Michail Carter, Malik Herring and Justin Young played only sparingly. And Georgia added only two players to the mix in the class of 2018 in Jordan Davis and Devonte Wyatt.
The thought is that Hayes, who played defensive end for Notre Dame, can help them both inside and outside.
"I really see him in pass-rush situations to be the inside pass rusher," said Tucker, who employs a 3-4 based defense as oppose to the 4-3 the Irish ran. "I'm not sure he'd play much nose, but he has the ability to play all those spots up front, so he gives us position versatility. He's a team guy, he's going to do whatever we ask him to do."
As detailed in a profile that ran on DawgNation at the start of preseason camp, Hayes' journey to Georgia and college football in general is an incredible one. He lost the three most important men in his life – his father, grandfather and uncle – to untimely deaths during a six-month period as an 11-year-old. At that point, he not only hadn't played football, but any organized sport.
Thanks to a trip to visit family in Maryland that summer, Hayes was introduced to football and came back to Brooklyn with an interest in the game. His mother, Melissa-Denise Hayes, got him signed up for youth football with the Brooklyn Titans, and the rest is history.
Hayes soon was invited to play football for the prestigious Poly Prep Day School in Brooklyn, started both ways for four years and had his choice of college offers upon graduation. He chose Notre Dame, and after early struggles to get on the field, became a mainstay for the Irish last season. He played in 23 games the last two years and left with 39 career tackles.
Hayes graduated from Notre Dame with a degree in film, television and theatre. And after defensive coordinator Mike Elko left to join Texas A&M, he decided he might like a change of scenery, too. He'd been intrigued by Georgia ever since the Dawg Nation took over the stands at Notre Dame Stadium last September. He found himself rooting for the Bulldogs when they ended up facing Alabama for the national championship.
"He wanted to play for a championship," said Melissa-Denise Hayes. "He liked the coaches and coaching is going to get at Georgia. The excitement of that university and the reputation of both the football program and the school — hello? — that's why he wanted to go to Georgia."
The Bulldogs are glad he wanted to come their way. And they're happy with what they've seen since he arrived in June. Hayes has proved competitive in the weight room has added several pounds to a frame in which he played at 6-foot-3, 289 pounds last year. He's been working mostly at the tackle position led by Clark in camp but is getting moved around and getting looks all across the line.
In that regard, Hayes is just what the doctor ordered for what ailed the Bulldogs' defense. If he plays like coaches and players expect, he'll be another
Next
Georgia football injury report: Bulldogs relatively unscathed, but …