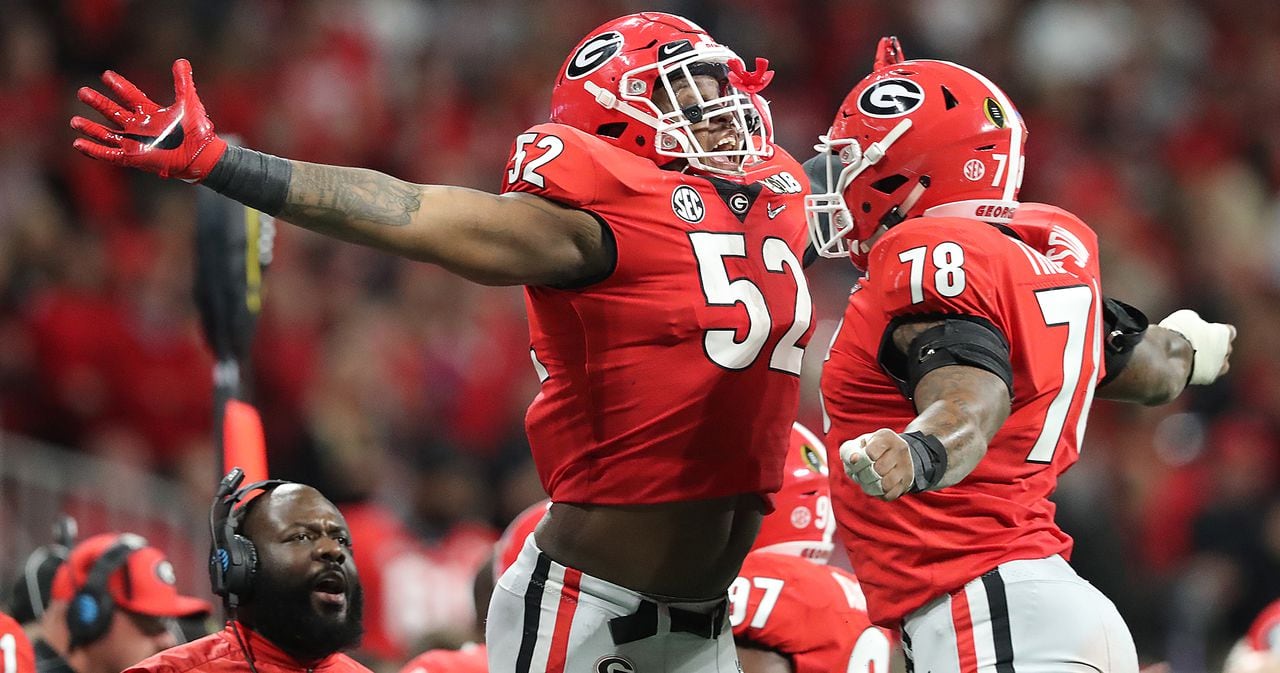 Own the East: Tyler Clark no longer in anybody's shadow on Georgia's D-line
ATHENS – That clog in the Americus pipeline to the NFL might finally get opened up soon. And if it is, Georgia's Tyler Clark will be the clog buster.
Per capita, the tiny town of 15,000 or so in Southwest Georgia has sent more than its share of football talent to the NFL. Dan Reeves and Chan Gailey got it started a long time ago, but it has been since Leonard Pope got the call from the Arizona Cardinals in 2006 that Georgia's fair city named after our fair country has had one of its own make it to pro ball.
Clark, a junior defensive tackle for the Bulldogs, is the latest sensation to come out of Sumter County. His ability to knife through clogs of blockers and into opposing backfields is attracting the interest of NFL scouts.
You might have noticed No. 52 last season. While he had been a force on the defensive front for the Bulldogs all year, Clark really made a name for himself in the Rose Bowl. That's certainly when Oklahoma quarterback Baker Mayfield and the rest of the nation became of aware of him.
Clark knifed through the Sooners' interior offensive line to sack Mayfield on one critical play in the second half, and twice he dropped Oklahoma running backs in the backfield. On one 4-yard loss, he met Dimitri Flowers as soon as he took the handoff from Mayfield.
TV commentators raved about Clark during the broadcast, and analysts broke down is work frame by frame in the days following Georgia's 54-48 victory. When it was all said and done, Clark had accounted for 5 tackles, 2 for loss, and a sack.
And while the five tackles matched his career best, Clark had been doing such work all year.
"Intensity, physicality, toughness, he loves striking people," Georgia coach Kirby Smart said of Clark. "He is very passionate. As far as competitiveness, he reminds me of myself."
Smart pointed to the Tennessee game last season. You may recall that the Bulldogs won that game 41-0. Nevertheless, Georgia's staff found themselves having to calm down Clark halfway through.
"He was all mad," Smart said with a grin. "We had to grab him and calm him down. He has intense passion and intense competitiveness and it bothers him when he does not do well. I think that is a good trait for a defensive lineman who has grown."
When Smart talks about Clark's growth, he's not just talking about him going from 290 pounds as a freshman to more than 300 now. He has come miles in terms of his football IQ.
That's reflected in Clark's doubled production as a sophomore. After making 21 tackles, 1.5 tackles for loss and a half sack in 2016, Clark had 41 tackles, 18 solo stops, 6 TFLs and 2.5 sacks last season.
Likewise, while his close friend Trent Thompson came into the season with all the accolades and press clippings, it was actually Clark who ended up owning the tackle position in 2017. He started 12 games (to Thompson's 3) and logged the majority of snaps in games week-to-week.
"Think about the growing pains he went through his freshman year," Smart said of Clark, who did not start as a freshman. "It paid off a lot last year as he was a very physically dominant player."
The narrative heading into this season was that Clark will have to carry a heavier load as a junior. While he appears capable of doing that for Georgia, liberal rotation on the defensive line remains an important element of the Bulldogs' winning formula.
Georgia's cause – and Clark's by association – was helped with the summer transfer of Notre Dame graduate Jay Hayes.
"I think any defensive line in the SEC has to play a lot of guys," he said. "They get worn down, they're second-effort players, they run so much more than offensive linemen, a lot of them are playing double-teams. So, to be able to switch those linemen out helps."
As long as Tyler Clark is one of the players running on and off the field for the Bulldogs, D-line should be another reason Georgia "Owns the East."
Next
Georgia WR Jayson Stanley hasn't let past missteps slow him down