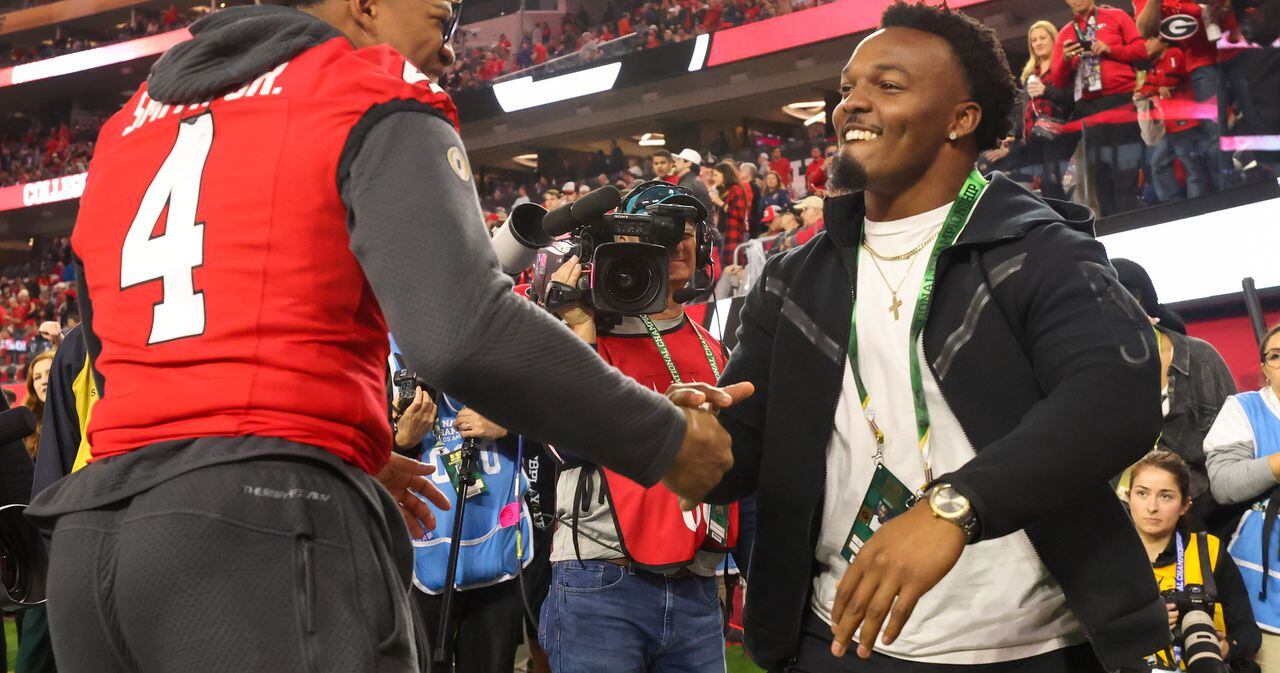 Nakobe Dean celebrates Georgia football dynasty moment, acknowledges edge 2022 team had over 2021′s
LOS ANGELES — Nakobe Dean was back in the Georgia football locker room celebrating victory once again, but this time he was doing so as a fan.
Dean was one of the former Bulldogs' players who attended Georgia's 65-7 win over TCU in the CFP Championship Game on Monday night.
Former UGA quarterback and current L.A. Rams signal caller Matthew Stafford was there to serve as the "honorary captain" during the coin flip. Former tailback Sony Michel was also among past Bulldogs' players spotted in attendance, along with Derion Kendrick and Jamaree Salyer off last year's team.
Things, however, look to be working out OK even as Dean played only 38 defensive snaps this season.
The brain center of the legendary 2021 defense is part of the Super Bowl favorite Philadelphia Eagles franchise and has a coaching staff and teammates who believe in him as a young NFL prospect.
It's no different than how Dean believed in Smael Mondon Jr. and Jamon Dumas-Johnson last season, helping to develop this season's leading tacklers with his leadership and wisdom in 2021.
RELATED: Georgia sacks leader and defensive snaps leader make Freshman All-American team
"It was great seeing my guys that I call brothers, that I came into college with, accomplish something that really hasn't been done at the university of Georgia," Dean said, "and that's two-peat, so it was great being able to see that."
Dean was proud of Dumas-Johnson, who has replaced him as the vocal leader, but his respect for the 2022 team didn't stop there.
After all, this was a group that lost five first-round picks and eight starters and still found a way to keep TCU from scoring more than one touchdown or gaining 200 yards in the CFP Championship Game.
RELATED: Georgia QB Brock Vandagriff adresses future, transfer rumors
"His (JDJ) ability to lead the defense is just great, you know, it's a credit to all the guys on defense and a credit to all the guys on offense, and a credit to all the guys on special teams," Dean said, "to be able to get the job done and be able to have such a great season undefeated."
Here's a reminder of the players drafted off the 2021 Georgia team, and the players who stepped into their roles
First round:
Travon Walker (1) / Mykel Williams
Jordan Davis (13) / Jalen Carter
Quay Walker (22) / Smael Mondon Jr.
Devonte Wyatt (28) / Nazir Stackhouse
Lewis Cine (32) / Malaki Starks
Second round
George Pickens (52) / Ladd McConkey
James Cook (63) / Kenny McIntosh
Third round
Nakobe Dean (83) / Jamon Dumas-Johnson
Channing Tindall (102) / Trezman Marshall / Rian Davis
Fourth round
Zamir White (122) / Daijun Edwards / Kendall Milton
Jake Camarda (133) / Brett Thorson
Sixth round
Justin Shaffer (190) / Tate Ratledge
Jamaree Salyer (195) / Broderick Jones
Derion Kendrick (212) / Kamari Lassister
John FitzPatrick (213) / Darnell Washington
Next
WATCH: Kirby Smart showed his hand on Georgia 2023 season, if only …