Pre-spring analysis: A fascinating QB competition arrives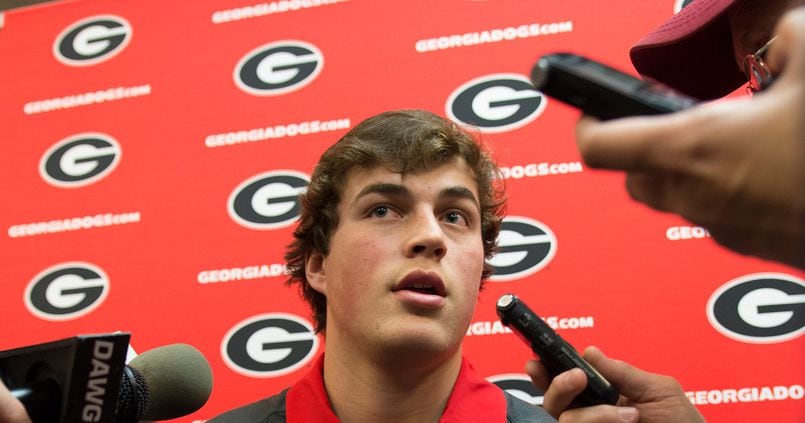 ATHENS – And now we arrive at the end of our series, a series that has been leading up to this very moment: When we reveal who Georgia's starting quarterback will be.
OK, obviously not. But get ready for another long slog towards Georgia finally doing so, just as happened last year. There are the same reasons not to do so.
You have only three scholarship quarterbacks, for one. Name a starter, and you risk one of them transferring, especially if that starter isn't Brice Ramsey. (Greyson Lambert has already transferred so he's unlikely to do so. Jacob Eason isn't going anywhere.)
Plus, competition is just better, at least in the thinking of most coaches. Yes, there's an argument to be made that Georgia's lack of cohesion between quarterback and offense last year led to the ensuing passing-game issues, what with Lambert parachuting in mid-summer and winning the job. But Kirby Smart just came from an Alabama team that took even longer than Georgia to name its starter last year, and that worked out just fine.
That's not to say Smart definitely won't name a starter after the spring. It will just have to be a going-away, obvious choice.
You have to laugh now when you look back at last spring's quarterback "competition." You had three candidates, with so much internet bandwidth wasted on each, and the winner ended up being … none of them. Mark Richt and Brian Schottenheimer emerged so confident in their choices that they imported Lambert from Virginia.
Ramsey, Faton Bauta and Jacob Park ended up starting a combined one game for Georgia last year. The latter two have since transferred. Ramsey became a punter.
There's every reason to believe this spring's competition will have more value.
For one you do have a returning starter: Lambert, who for all the criticism he took did finish with a 10-2 record as a starter, and had a great TD-to-interception ratio: 12:2. But Lambert's inconsistency clearly means the competition is wide open.
Enter Jacob Eason, who you figure will be Georgia's starter at some point. But right away? When the first game is against a name opponent (North Carolina) with a name defensive coordinator (Gene Chizik) in a big environment (the Georgia Dome)? Had Richt/Schottenheimer remained, and thus entering a make-or-break year, that might have led to the experienced hand getting the job. But with Smart and Jim Chaney running the show now, and blessed with their honeymoon period, do they just start the Eason era and take their lumps?
Ramsey shouldn't be forgotten either. There was a reason Richt and Mike Bobo thought he'd eventually be named the starter. The behind-the-scenes word from pre-spring workouts is Ramsey is doing well. He should benefit from a new set of eyes, and you never know what effect that might have on his chances.
Let's break it down further:
QUARTERBACKS
Returning starter: Greyson Lambert, Sr.
Others returning: Brice Ramsey, Jr.; Nick Robinson, RFr. (walk-on); Sam Vaughn, RSo. (walk-on).
Early enrollees: Jacob Eason, Fr.
On the way: None.
Analysis: All eyes this spring will be on Eason and whether he looks ready to play right away. He may be helped by the uncertainty at receiver, and the new faces at tight end. It's not like Lambert has this great rapport with so many returning weapons. So it really does clear the decks as far as the idea that anybody enters with an advantage, at least in the eyes of the coaches. What's also different about this year's competition is the similarities in style: They're all pocket passers, and that's how they make their mark. Last year it was universally acknowledged that Ramsey had the strongest arm, Bauta the most mobility, and Park the second-most in each category. This year the delineation is experience: Lambert is a fifth-year guy with multiple years starting, Ramsey is in his fourth year with some playing time to lean on, and Eason is fresh out of high school. That's why Eason can't be considered the obvious choice.
Bottom line: The conventional wisdom was wrong last year, in part because a new offensive coordinator/quarterbacks coach scrambled the thinking. Now you've got a new head coach and OC/QB coach. Even more scrambled, huh? Let's not finish this series by dilly-dallying around. While we can't offer a firm prediction on who will win the job, we – OK I, Seth – will offer up a percentage chance that each wins the job: Eason 45, Lambert 40, Ramsey 15. …. And then feel free to ask me again after spring practice is over.
Spring practice begins next week. We hope you've enjoyed the series. If you missed any here's the full list:
PRE-SPRING ANALYSES
Next
UGA's football support staff grows under Kirby Smart