Pregame observations: Georgia vs. Auburn for SEC championship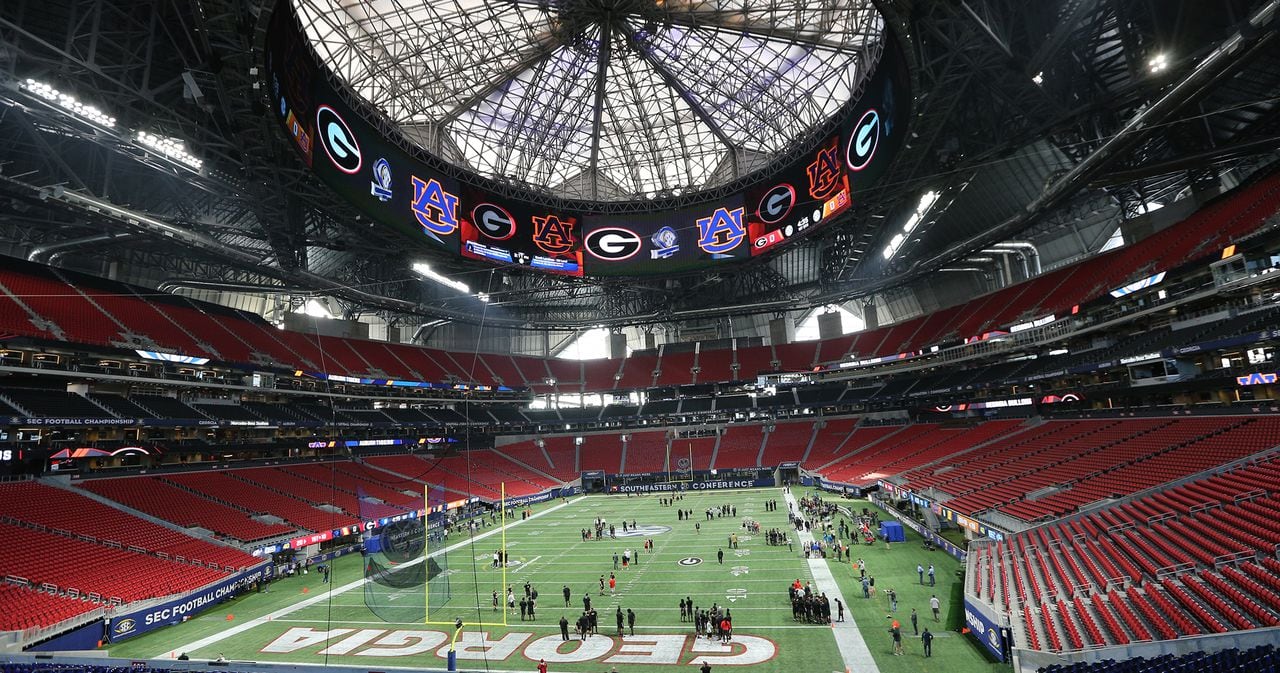 ATLANTA — No big deal, just the biggest Georgia football game in five years. SEC Championship Game. Georgia vs. Auburn. Winner goes to the College Football Playoff at either the Rose or Sugar bowls. Oh, and the game is being played at gleaming and fancy new Mercedes-Benz Stadium. So much already has been written, what more can be said? We shall try, so check here for regular updates and observations.
Georgia lineup
There are no apparent lineup changes for the Bulldogs. … Natrez Patrick is once again the first-team inside linebacker with Roquan Smith.
On the field
Terry Godwin and Javon Wims briefly played hacky sack with a football before they warmed up. … The last two coaches to lead these teams to national titles are here: Vince Dooley and Gene Chizik. … Georgia defensive line coach Tray Scott, who probably is happy he didn't stay at Ole Miss, has his headphones on, listening to some music before the game. … Kirby Smart's son caught dancing on the big screen. The Bulldogs and their contingent are loose.
Officiating update
The referee for the game is John McDaid, and the replay official is Jack Childress.
Crowd factor
Gus Malzahn said Friday he had heard that Georgia would end up with more fans, and that seems reasonable. But how many more?
Just walking in, there were a lot more red shirts and jackets than blue and orange. I've seen some people predict a 3-to-1 advantage for Georgia inside the stadium by the time the game begins.
We shall see. Geography isn't a huge factor: These are actually the two closest schools to this site: Athens is about 73 miles away, while Auburn is 109 miles. It's about a three-way tie for third between Tuscaloosa, Knoxville and Columbia, S.C., depending on which side of those towns you're heading.
Malzahn opined that Georgia fans would be at an advantage because they've known for longer their team would be in the game — four whole weeks, while Auburn only stamped its ticket a week ago. The other subplot is what Alabama fans, so used to coming to this game and perhaps buying tickets prematurely, did with their tickets: Sell to UGA fans just so they don't help their archrival or sell to the highest bidders, who may have been Auburn fans?
In the end, it's not an insignificant factor: Jordan-Hare Stadium and its atmosphere have been an immense help to Auburn. And, as this is being typed, the in-house monitors at the stadium are showing the 2013 SEC Championship Game, when Auburn had an immense crowd advantage against Missouri. It was still a close game until then-No. 3 Auburn pulled away from then-No. 5 Missouri in the fourth quarter.
Georgia, of course, has appeared in this game five times, each time as the closest school in proximity, but is only 2-3.
The betting line
Whether it's the status of Kerryon Johnson or just a sense about the rematch, money appears to be going toward Georgia to win this game.
The Bulldogs are favored by 1 1/2 points, per the consensus on VegasInsider.com, after the Tigers opened as 2 1/2-point favorites.
Johnson's injury looms large in that consideration. Still, it's quite remarkable that so many are putting money on the team that lost by 23 points in the first game just three weeks ago. There's a lot of faith in Smart and his team figuring out what went wrong and fixing it.
At third glance?
If anyone needs any light reading before the game, feel free to scan my analysis of the first game. 
Keep in mind, as pointed out in the "final thought" portion of that story, the total yardage there was Auburn 480, Georgia 230. It would be quite an accomplishment for Georgia to rebound from that in such a short time. And that's not saying the Bulldogs can't do just that in this game.
UGA News