Projecting UGA's pre-spring depth chart for the defense
Welcome to your one-stop shop for all the relevant UGA football news and takes every Monday through Friday.
Putting the 'depth' in the 'depth chart'
When I went over my projected pre-spring depth chart for the offense on Thursday, the focal points were the questions at offensive line and wide receiver. There are no such questions with the defense because, oh, boy, this is one deep unit. There's a known, reliable commodity at pretty much every position, and the second team is full of young talent who will gain experience in relief.
It's the same deal as Thursday. Since this is the pre-spring depth chart, the only freshmen I'm listing are the early enrollees. And I've limited it it to the two-deep for simplicity's sake.
| | | |
| --- | --- | --- |
| | 1st team | 2nd team |
| DT | Trent Thompson | Julian Rochester |
| NT | John Atkins | DaQuan Hawkins-Muckle |
| DE | Jonathan Ledbetter | David Marshall |
| SAM | Lorenzo Carter | D'Andre Walker |
| JACK | Davin Bellamy | Chauncey Manac |
| MIKE | Natrez Patrick | Reggie Carter |
| WILL | Roquan Smith | Juwan Taylor |
| FC | Deandre Baker | Tyrique McGhee |
| BC | Malkom Parrish | Pat Allen |
| STAR | Tyrique McGhee | DeAngelo Gibbs |
| LS | Aaron Davis | Rashad Roundtree |
| RS | Dominick Sanders |  Richard LeCounte III |
Defensive line — There isn't a guy among these defensive linemen who I'd peg as a potential star, per se, but all six of the players on the line's two-deep are high-level players of relatively the same skill. So, what they lack in individual star power, they make up for in being a deep and versatile unit. And that's not even all the guys. This thing can go nine-deep, maybe.
Between the six of them, there really isn't a combination you couldn't deploy. The coaches can switch between speed and power rushes and not really have to worry about the skill level of the line, as a whole, dropping. There's also the benefit of being able to sub often without losing much. Defensive line is one of the most difficult positions to keep fresh. The more guys you have who put in a shift, the better chance you have at getting pressure on the QB in late-game situations.
Linebacker — The linebackers don't have as much depth as the defensive line, but the first-team LBs are the single-best starting unit on the team. The decisions by Lorenzo Carter and Davin Bellamy to return for their senior seasons were absolutely enormous. It will give Chauncey Manac and D'Andre Walker a season to gain experience before being called into starting roles. I can't wait to see the next step Roquan Smith takes because I think he has the ability to be the best player on this defense, maybe even the team. And the one-two punch of Natrez Patrick and Lorenzo Carter means you never lose a step at Mike. This should be one of the best LB corps in college football next season.
Secondary — The only player lost from the 2016 defense was corner Maurice Smith. With Rico McGraw's transfer, the only hole to fill was at Star. Tyrique McGhee, a speedy sophomore, seems to be the obvious choice to get the chance to fill the vacancy. Coach Kirby Smart once called him, the 'toughest freshmen I've ever been around,' so he's made some fans in high places. His only limitation may be his height. He's 5-foot-10 and UGA has been making a concerted effort to get taller at corner.
The other thing to look for at corner is what role the two freshmen, Richard LeCounte III and DeAngelo Gibbs, will take on in the spring. Gibbs is an athlete who could play at corner, safety or receiver. I have him pegged as a Star to begin with. It's the position that gives him the best chance to get experience early if UGA wants to play him in the secondary, which seems to be the case. With LeCounte's talent, I think he's a shoo-in to earn minutes next season, and he'll benefit in a major way by learning from Dominick Sanders for a season.
UGA baseball returns Friday night
Georgia baseball returns once again Friday night, when the Diamond Dogs host College of Charleston at Foley Field.
Tomorrow. #OaaT / #CommitToTheG / #FillFoley

Tickets » https://t.co/xZNO1AA8pX pic.twitter.com/0YaBPCp0mq

— Georgia Baseball (@BaseballUGA) February 17, 2017
Scott Stricklin's first three seasons as head coach have been nothing to write home about, but the 2017 campaign promises hope, if not necessarily a lot of success. The Bulldogs are looking to rebound from a 27-30 record last season, but they'll have to do it with a whopping 18 newcomers. Freshmen and sophomores outweigh upperclassmen by nearly a 3:1 ration on this squad.
I'll admit that I don't know a ton about UGA baseball, but from what I've read, this is a talented group of freshmen. To me, it looks like it could be a transition season where the team shows a lot of promise but also goes through a lot of growing pains. I don't expect anything spectacular from this team, but you never know what can happen with young talent, and this could be a team that helps bring UGA baseball back to prominence. You'll just have to watch to find out.
Georgia baseball is typically overshadowed by football (duh) and basketball in the UGA blogosphere, but my old college stomping grounds, the Red & Black, does a fantastic job at covering the Diamond Dogs every season. (It also does a great job with pretty much every non-revenue sport at Georgia, so support student journalism and check it out for all its coverage in that realm and more.) Here's some links to the work they've been doing in the buildup to the season to get you ready for first pitch:
Lady Dogs lose to No. 3 Mississippi State
Georgia (13-13, 5-8 SEC) led for 31 minutes of its game against No. 3 Mississippi State on Thursday, looking poised for one of the biggest upsets in women's college basketball this season. UGA led 42-39 at the end of three quarters in Starkville but only managed 7 points in the fourth quarter and fell to MSU, 58-49. Caliya Robinson scored 13 points and was the only Bulldog to reach double digits.
The #Dawgs hung tough, but fall short against #3 MSU. #RunAsOne | #GoDawgs pic.twitter.com/jGqxMNn4K0

— Georgia Basketball (@UGA_WBB) February 17, 2017
The Lady Dogs now head to Baton Rouge, where they'll play LSU on Sunday.
Kentucky comes to town
The Kentucky Wildcats are in Athens this weekend to to take on Georgia basketball on Saturday. As always, the Kentucky game is a hot ticket. If you're a student, here's what you need to do to make sure you can score one:
#UGA student admission wristband distribution starts at Noon Saturday at Stegeman for our game vs UK. Limit 1 per student with valid UGA ID. pic.twitter.com/YSaDYH2ALS

— Georgia Basketball (@UGABasketball) February 16, 2017
Dawgs sit in second at SEC Swimming and Diving Championships
Georgia men's and women's swimming and diving teams hold second place at the SEC Championships in Knoxville following three days of competition. The men trail Florida, 759.5–537, while the women follow Texas A&M, 729-601.
Thursday was a big day for Chase Kalisz on the men's side. He snagged his second individual win of the competition in the 400-yard IM.
The SEC Championships continue on Friday with the 200 butterfly, 100 backstroke, 100 breaststroke, 400 medley relay and women's platform diving. Champions will be crowned on Saturday, giving both UGA squads two days to make a comeback and bring a title home to Athens.
Own the moment. #GoDawgs? pic.twitter.com/pycA2VVMW8

— Georgia Swim & Dive (@UGASwimDive) February 17, 2017
Dawgs this weekend
In addition to everything mentioned above, here's what UGA athletics has in store this weekend:
Gymdogs Set For Mardi Gras Invitational
>> https://t.co/PlL28E20TM#AsOne pic.twitter.com/RG5usZ1Z3E

— Georgia Gymdogs (@UGAGymnastics) February 15, 2017
Locked in and ready for a big weekend at National Indoors. It begins Friday at 3:30 pm vs North Carolina. #GoDawgs pic.twitter.com/tA83BxkcwR

— Georgia Tennis (@UGAtennis) February 15, 2017
While most #Dawgs will train thru this weekend, 9 #UGA team members will compete for a tune-up before #SECTF.
>>https://t.co/Xp8Fcxv4N2 pic.twitter.com/xa8hpJC71C

— Georgia Track&Field (@UGATrack) February 16, 2017
There are plenty of chances to catch the #Dawgs in action this weekend! #GoDawgs pic.twitter.com/ghmHQBH2KS

— Georgia Bulldogs (@UGAAthletics) February 16, 2017
It's Friday
Anyone else ready for the weekend?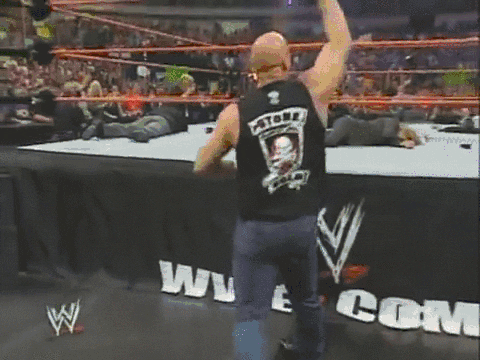 ICYMI
Good dog
Movin'.
this dog is movin pic.twitter.com/GRhmeLXcRC

— Pigeons & Planes (@PigsAndPlans) February 14, 2017