UGA recruiting: Get to know new 2020 DL commit Nazir Stackhouse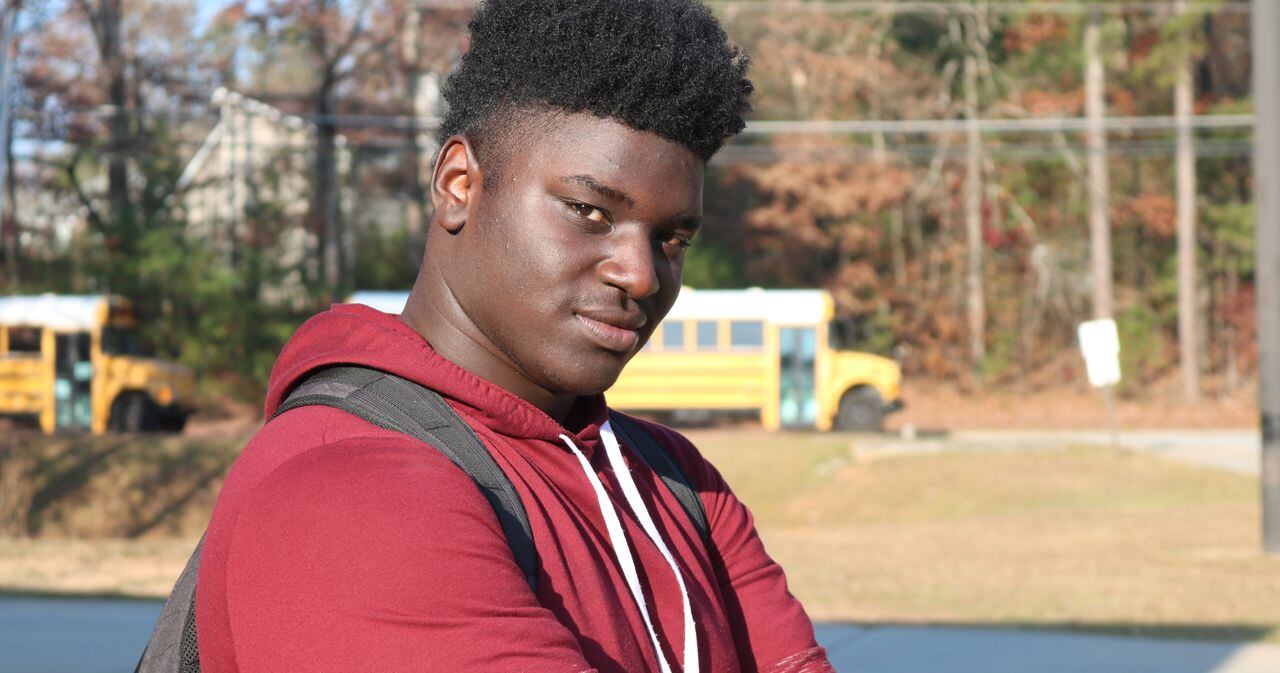 Want to attack every day with the latest Georgia football recruiting info? That's what the Intel will bring at least five days a week. The play sheet for Tuesday calls for a profile on newly minted Class of 2020 UGA commit Nazir Stackhouse. He committed to the Bulldogs mid-morning on the day of the SEC Championship Game. We understand if folks might have been a little preoccupied at that time.
Nazir Stackhouse cited a few keys factors when making his commitment to Georgia.
Location. Degree. Kirby Smart.
Those were the tent poles behind the decision for him to become the first pledge for the Bulldogs in the Class of 2020. He made his commitment to the Bulldogs public about six hours before Georgia took down Auburn for its first SEC title since 2005.
He was 3. Stackhouse (Stephenson/Stone Mountain, Ga.) will always be able to say that he committed to the Bulldogs on the day they won an SEC Championship Game. That is a pretty small fraternity.
"Georgia is the closest to home and I know that I can make history there," Stackhouse said. "Georgia is a really great school compared to all the other schools I went to. Say like Alabama and Clemson. I just had to pick Georgia because I felt as though it was the school that connected to me."
Stackhouse, 15, chose the Bulldogs over Alabama. Geography mattered.
"It is just 45 minutes away from where I live," Stackhouse said. "So I would like to be closer to my family. I have a lot of friends and family here. They will be very happy if I go to Georgia. But I am not just going there because of fans, friends and family. I am going there because I know that Georgia will be a great school to set up my future."
Stackhouse said he plans to major in chemical engineering in Athens. He's moved around a lot and although only a sophomore, he has attended high school at Cedar Grove, Martin Luther King Jr. and Stephenson.
When he was at Cedar Grove, he got to know future UGA signees Netori Johnson and Justin Shaffer.
"When I first met those two, I got to know them because they were two pretty big guys," Stackhouse said. "That really motivated me more because during those practices I would line up in front of them. Sometimes they would beat me. Sometimes I would beat them. That really built up a lot of drive and motivation for me to try and hang with them and try to compete with them."
They also offered him some hope in ways besides those one-on-one battles.
"They told me that I was going to go places," Stackhouse said. "They always told me that Georgia was going to be a good place and they were actually right now in the end."
His primary recruiter was Kirby Smart.
"I wanted to commit, and I knew I had the potential," Stackhouse said. "I want to do really great things so I knew I could do really great things at UGA. I'm pretty sure that I could do really great things anywhere, but I wanted to do them at Georgia. UGA was just that fit for me."
What else led Nazir Stackhouse to Georgia?
Stackhouse was at Georgia the last time I laid eyes on him. He was at the first Kirby Smart Camp, and that was when Georgia didn't have its new indoor practice facility and practice was at the intramural fields. (Side note: That does seem like so long ago.)
There was this massive young man in a golf cart. My memory banks started turning about which mystery junior or senior prospect that was.
That was Stackhouse. He was just out of middle school. It was the summer before his freshman year. It wasn't long after that when the New Jersey native picked up an offer from Georgia.
He says he is 6-foot-4½ and 285 pounds. He's put on a few pounds of late.
"Georgia right now sees me playing any position on the defensive line," Stackhouse said. "I can play any position on the end and down to tackle. I like defensive tackle more than I like playing defensive end."
He actually prefers those double teams.
"I like pushing two guys to the ground and getting through them and getting to that quarterback and to that running back coming from up the middle," Stackhouse said. "I know what it is like on the outside, but there is just more action in the trenches than there is at defensive end."
When asked why he committed so early, he said that it will be a benefit to him. He'll have a goal in mind and a focus for him to excel.
"Now I know where I am going and I know what I am working for when I go to college," Stackhouse said. "I know where I want to play. It is all now a reality."
He didn't go to a game this year. Well, sort of.
"I didn't go to an official game this year," he said. "But I went to G-Day. That was enough for me to not like the school, but love it."
He also went to a couple of camps at Georgia this summer. Stackhouse said that the major he has in mind was fueled by a desire to help others.
"I was thinking first about chemistry in the eighth grade," Stackhouse said. "I was really interested when we were doing an experiment. My teacher told me that chemical engineers help find cures for any disease. I was like 'wow,' I would like to help find a cure for a disease that could help thousands and thousands of people. I wanted to go to college for that."
RELATED: Check out Georgia's recruiting board for 2018
Scouting report on Nazir Stackhouse 
Stackhouse didn't begin the season as an instant starter at Stephenson High. But he did finish it as a first-team player for a Jaguars program that always produces top talent.
Jalil Irvin, a class of 2018 Auburn commit, shared his thoughts on Stackhouse, his teammate, with DawgNation.
"He's a good football player and a kid I block every day in practice," Jalil Irvin said. "He is strong. He can move well and run [and is] one of the strongest [guys] on the team. I think he has a very high ceiling, though."
Stackhouse wears No. 78 for the Jaguars. Irvin saw a parallel there with the home-state recruit who currently plays the defensive tackle position for the Bulldogs and wears that number: Trenton Thompson.
"He could be like 78 on UGA to me," Irvin said.
Irvin said he sees Stackhouse as a player who can shift along the defensive line. He's been a 3 technique for the Jaguars but has also lined up at defensive end.
Since he committed to Georgia, he's picked up even more recruiting attention. The recent offer from Ohio State just goes to further the early evaluation made by the Bulldogs staff on Stackhouse.
He comes from a very big family. Stackhouse said he has three younger brothers, two older brothers and also a sister. Several of those siblings still live in New Jersey.
Check out the DawgNation interview with Stackhouse below.
5-star gazing at UGA?
The Bulldogs now have a trio of 5-star commitments for their 2018 class. That's not just based on the Rivals.com ranking, but now from the 247Sports composite, too.
Did you miss something? No. Just a market correction, if you will.
Georgia outside linebacker pledge Adam Anderson picked up his fifth star on Rivals.com yesterday, which caused his composite ranking to also rise to 5-star status. Justin Fields and Zamir White have been 5-star pledges for quite some time.
The move regarding Anderson now means that the Bulldogs have a collection of six prospects who carry the 247Sports composite 5-star rating committed to the team. That includes those three for 2018, plus Dominick Blaylock, Jadon Haselwood and Nolan Smith in 2019.
That number could rise by as many as four over the next two months.
Did you see Before the Hedges from DawgNation? 
We sure hope that you have heard about Before the Hedges by now. That's the weekly show on DawgNation's Facebook page that covers all things UGA recruiting.
Those have been running for several weeks. This edition this week featured a sitdown with Stackhouse, a preview of all the Bulldogs involved in the Georgia High School Association state championships at Mercedes-Benz Stadium this weekend, plus a lot more.
The program, which appears every Monday night, will now shift to a live show at various Marlow's Taverns across the Metro Atlanta area on Tuesday nights.
Miss any Intel? The DawgNation recruiting archive will get you up to speed faster than Georgia All-America candidate Roquan Smith can find the football after the snap.
Next
What does 5-star target Jamaree Salyer think of Georgia's SEC …