Nation's No. 1 RB Zach Evans takes the 5-star count up to 10 for weekend recruiting event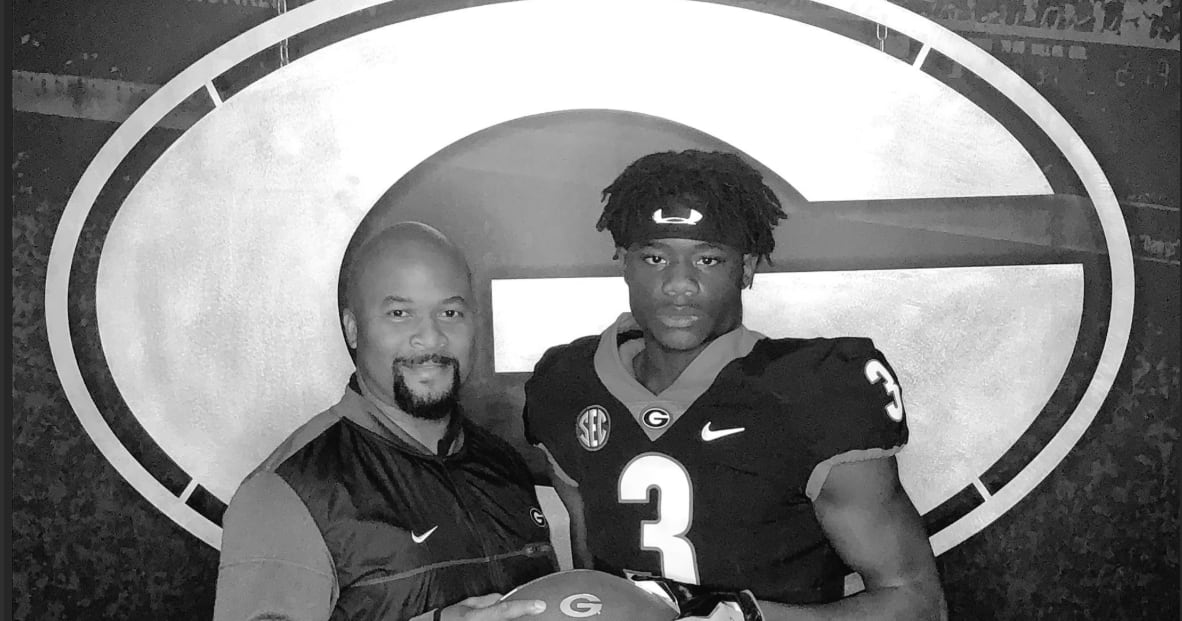 The number of 5-star prospects set to be in Athens this weekend is now up 11. There has been a slow trickle on the DawgNation message board forum for the last 7-10 days of those names lining up for the major recruiting event this weekend. The biggest one of late has to be Zachary Evans.
Evans rates as the nation's No. 1 RB prospect for the 2020 cycle. The speedy Texan is also the sixth 5-star from the 2020 class that has made plans to be in Athens this weekend.
This final summer recruiting fling was created by a window from July 25-July 31 between two months worth of dead periods. This quiet period does still permit on-campus visits.
Georgia, like other elite schools, will full advantage. A key takeaway from the week looks like that 5-star prospects are coming in from Arizona, California, Florida, Nevada, Texas and Washington D.C. and not a single one of those potential signees are doing so on an official visit.
There are another four 2021 prospects that hold a 5-star rating on the 247Sports Composite expected to join in the festivities, too. We have yet to confirm a list of the 5-star pitmasters expected for the grills and the meal prep.
This extended listing of expected elite prospects below will have to suffice in the interim.
The names below have been confirmed and verified independently by DawgNation. They are, as always, very much subject to change, depending on each individual's travel plan and schedules.
Some of these names, like 5-star junior DE Korey Foreman, plan to check off multiple schools along a Southeastern tour this weekend. Foreman is also checking out Alabama and Clemson on his trip.
Key 2020 prospects
(all ratings via the 247Sports Composite)
5-star Jordan Burch (6-5/255)No. 1 DE/No. 1 overall/Hammond School/Columbia, SC
5-star Zachary Evans (5-11/200) – No. 1 RB/No. 6 overall/North Shore/Houston, Tex.
5-star Kelee Ringo (6-2/205) – No. 1 CB/No. 8 overall/Saguaro/Scottsdale, Ariz.
5-star Darnell Washington (6-7.5/261) – No. 1 ATH/No. 10 overall/Desert Pines/ Las Vegas, Nev.
5-star Mekhail Sherman (UGA) (6-3/234) – No. 2 OLB/No. 13 overall/St. Johns/Washington, D.C.
5-star Broderick Jones (UGA) (6-6 /305) – No. 2 OT/No. 21 overall/Lithonia/Lithonia, Ga.
4-star Tate Ratledge (UGA) (6-6/322) – No. 4 OT/No. 35 overall/Darlington/Rome, Ga.
4-star Marcus Rosemy (UGA) (6-2/195) – No. 7 WR/No. 45 overall/St. Thomas/Ft. Lauderdale, Fla.
4-star Jalen Carter (UGA) (6-4/305) – No. 8 DT/No. 77 overall/Apopka/Apopka, Fla.
4-star Jalen Kimber (UGA) (6-0/165) – No. 5 CB/No. 80/Mansfield Timberview/Arlington, Tex.
4-star Sedrick Van Pran (6-4.5/305) -No. 3 C/No. 98 overall/Warren Easton/New Orleans, La.
4-star Carson Beck (UGA) (6-5/225) -No. 3 pro-style QB/No. 125/Mandarin/Jacksonville, Fla.
4-star Arian Smith (6-1/170) – No. 27 WR/No. 134 overall/Lakeland/Lakeland, Fla.
4-star Nazir Stackhouse (UGA) – No. 24 DT/No. 280 overall/Columbia/Decatur, Ga.
3-star Justin Robinson (UGA) – (6-4/200) – No. 64 WR/No. 381 overall/ELCA/McDonough, Ga.
3-star Corey Wren (UGA) – (5-9.5/175) – No. 25 ATH/No. 505 overall/John Curtis/New Orleans, La.
3-star Brady Ward (6-8/310) – No. 46 OT/No. 546 overall/St. Paul's Episcopal/Mobile, Ala.
(UGA)– indicates a current UGA commit
Key 2021 prospects
5-star Korey Foreman (6-5/266) –No. 2 SDE/No. 4 overall/Centennial/Corona, Calif.
5-star James Williams (6-5/218) — No. 1 S/No. 7 overall/Western/Fort Lauderdale, Fla.
5-star Amarius Mims (6-7.5/310) — No. 3 OT/No. 13 overall/Bleckley County/Cochran, Ga.
5-star Micah Morris (6-4/318) — No. 5 OT/No. 26 overall/Camden County/Kingsland, Ga.
5-star Lee Hunter (6-5/295) — No. 3 DT/No. 28 overall/Blount/Eight Mile, Ala.
4-star Barrett Carter (6-2/215) — No. 7 OLB/No. 96 overall/North Gwinnett/Suwanne, Ga.
4-star Jayden Thomas (6-1/198) — No. 21 WR/No. 114 overall/Pace Academy/Atlanta, Ga.
4-star Ahmari Harvey (5-10.5/175) — No. 5 S/No. 171 overall/Florida St. School/Tallahassee, Fla.
Talking up the visit list on "Before the Hedges" this week
DawgNation first dropped the news of an expected Evans visit yesterday afternoon on our weekly "Before the Hedges" live stream on Facebook and YouTube.
The reaction from show host Brandon Adams when he saw Evans flash as an anticipated guest on the screen was one of his more off-guard moments.
The necessary background data on Zachary Evans
Zachary Evans rates as the nation's No. 1 RB prospect for the 2020 cycle. He has been rated as high as the nation's No. 1 overall prospect for 2020 on the 247Sports Composite ratings, but he currently slots at No. 6 overall for his class.
Evans will be quite the high-profile visitor at UGA for its recruiting event this weekend. DawgNation has learned he currently plans to visit this weekend.
That should be seen as quite a development for the 2020 class and the RB plans in Athens. If given the opportunity, then Evans is simply too talented a prospect not to entertain on campus whenever possible.
There is a strong chance that he will stay home to play for Texas or Texas A&M. That's where he has strong family support.
If not, then Alabama and Georgia appear to be the top alternatives. Those two programs have the big lines he prefers to line up behind that fit his specific running style.
MaxPreps.com named Evans as its co-National Player of the Year for 2018. That was after he averaged more than 10 yards per rush attempt against some of the top defenses in the Lone State State.
Evans played for a North Shore (Houston, Tex.) squad which finished 16-0 and won a state championship in Texas in 2018. He ran for 1,785 yards and 29 touchdowns during his junior year. He did that in Class 6A, Division I in Texas.
It is the highest playing classification in the state of Texas.
That came after a junior season in which he rolled 1,483 yards and another 27 scores on the ground.
Evans placed UGA among his final five schools back on May 29. He didn't compete at The Opening finals in Texas earlier this month but did show his measure as a prospect during regionals testing.
The 5-foot-11 prospect weighed in at 200 pounds for his Opening testing earlier this year.
He also put up the nation's fifth-highest Opening rating earlier this spring despite some back-and-forth about his laser time in the 40. Evans was finally listed with a 4.51 at that distance.
But the real eye-popping numbers would be 3.84 effort in the 5-10-5 pro agility drill. He threw the power ball 40 feet and also came away with a 37.2-inch effort in the vertical jump.
Next
REEL TALK: Former All-American OL Mike Johnson breaks down 4-star …