BREAKING: 4-star RB Kenny McIntosh commits to UGA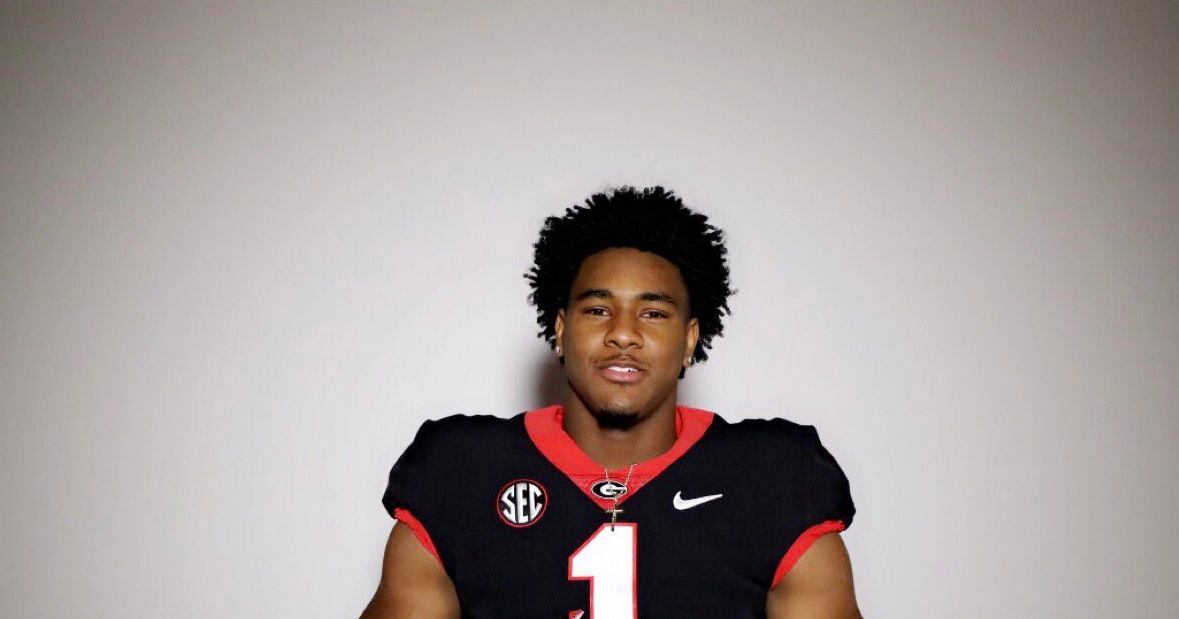 Kenny McIntosh had a great official visit for Auburn weekend. The sort that inspires a soon-to-follow Tweet.
This one did. It just came out on Wednesday.
McIntosh did so anyway. That says something about the way the Bulldogs are recruiting right now.
"Georgia is definitely growing in a great direction," McIntosh said. "God has definitely been blessing that program and I think it is only going to go one way. That's up. That's to the championship each and every year and hopefully, win it all. Georgia has definitely been doing great things and I've been loving watching them."
The 4-star prospect rates as the nation's No. 10 RB prospect on the 247Sports Composite rankings. He's slotted as the nation's No. 185 overall prospect.
It is worth noting that he's simply a 3-star recruit for 247Sports.
His decision now gives the Bulldogs 18 public commitments for the class of 2019. For what it is worth, he is now the 11th highest-rated commitment going off the 247Sports composite for this class.
McIntosh chose UGA over heavy interest in both Auburn and Oklahoma. He was considering an official visit to Alabama prior to the UGA visit, but will likely no longer take that trip.
What DawgNation needs to know about Kenny McIntosh
McIntosh fits the need for the Bulldogs for a big back on the depth chart. The 6-foot-1, 217-pound senior could be used as an option should the program struggle in short-yardage or goal-line situations going forward.
"They definitely have been preaching to me about how they need a big back over 200 pounds," McIntosh said. "They said they have been needing that and I see that they need that."
RELATED: Get to know 4-star UGA RB commit Kenny McIntosh
Here are a few quick things to know about the South Florida resident:
Plays for a 9-1 team at University High in Florida
He's averaging more than 10 yards per rushing attempt this season
The first clip of his junior year highlight film showcases his worth returning punts
He's a big back that shows he can move well in space and good vision on film
One of his older brothers was drafted by the New York Giants in the fifth round of the 2018 NFL Draft.
Another brother signed with Notre Dame out of high school. He's now in junior college. The confident newly-minted UGA commit thinks that he's the best player in the bunch.
McIntosh picked up the nickname "The Blueprint" in youth football. The public address announcer gave him that one based off all the many things he could do on the field.
Sent a shoutout to his high school English teacher in his DawgNation interview since he's thinking about becoming a communications or a public relations major
Feels the best clip on his highlight tape was when he was an emergency substitution at cornerback. He hammered the runner on a big tackle. "Never played corner a day in my life before that," he said.
His friends and teammates will also call him "Kenny Mac"
McIntosh wants to wear the No. 1 jersey in college. It might take him a few years to get to that one.
He doesn't have teriffic or even above-average speed in the 40 (4.88 seconds) but owns that fact. The senior says that's a result that he's never worked on his 40 times. If you watch his film, he rarely gets caught, though.
If he works on his start, an athlete of his caliber can easily drop up to two-tenths of a second immediately off that laser time in the 40.
What this means for UGA football going forward
Does this close the door for the RB options for the Bulldogs in the 2019 class? That's a very good question
Elite talent Noah Cain, who rates considerably higher than McIntosh coming out of IMG Academy, told DawgNation on Thursday that he plans to take an official visit to UGA for the Georgia Tech game.
His father even said that the visit would take place regardless of whether or not the Bulldogs added a commitment in the 2019 class prior to the trip.
Cain even scratched an Ohio State visit to upgrade the Georgia visit from an unofficial this week for the UMass game to the official visit on Nov. 24.
That will be interesting to monitor going forward after the news shared by McIntosh today. Cain said he believed that the Bulldogs were only going to take one RB in their 2019 class.
The decision also adds to a pipeline of talent flowing to UGA from South Florida.
Georgia signed four players from South Florida among its top-rated 2018 signing class. They brought in another three South Florida Bulldogs in their 2016 and 2017 classes. It is not out of bounds to suggest that the Bulldogs could add another three South Florida Bulldogs in the 2019 class.
Kair Elma and Tyrique Stevenson were both in Athens this past weekend for the Auburn game. Stevenson, the nation's No. 5 CB prospect, was in town for his official. Elam, the son of a former NFL safety who played nine seasons in the league, took an unofficial.
Elam shared an interesting image of that elite cornerback duo from his Twitter account on Tuesday night.
UGA News
Next
Elite RB target Noah Cain is no longer visiting UGA this weekend but...