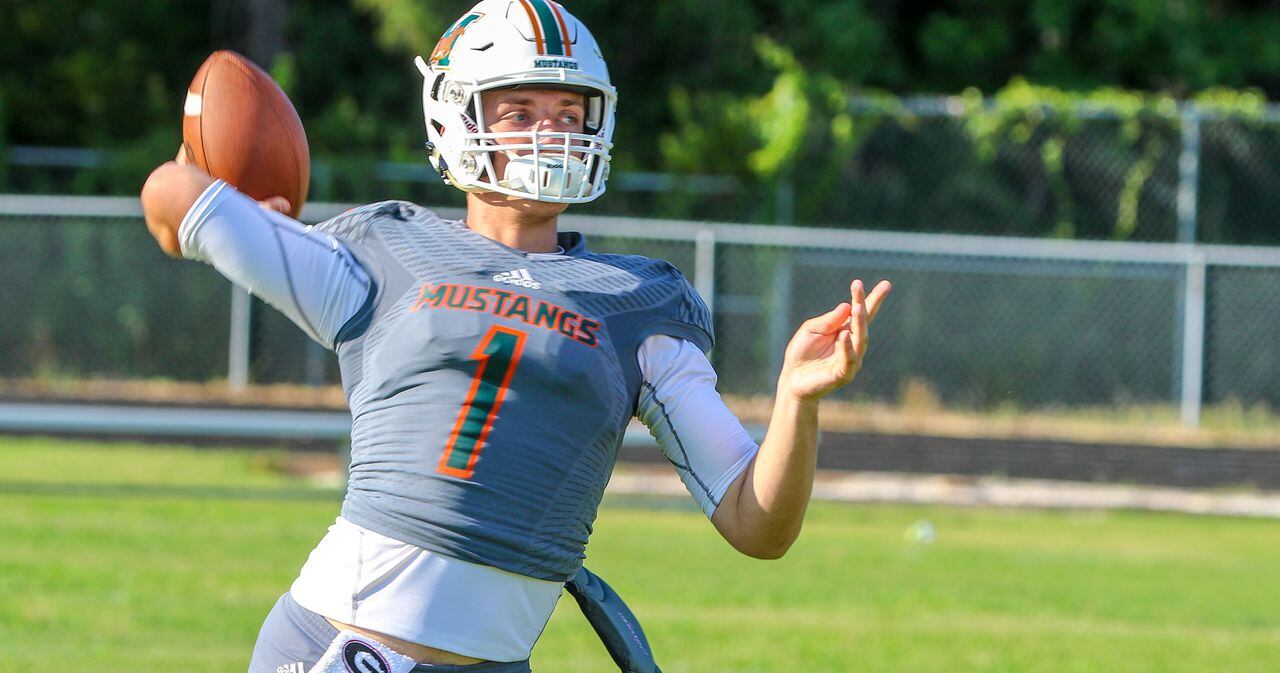 Carson Beck: Can he win games early on in his career at Georgia?
Jake Fromm has bypassed his senior season for the NFL. Where does that leave Georgia? Let's take on the case of a talented mid-year enrollee in freshman Carson Beck.
If Beck requests to wear that No. 11 jersey next season, it will come as no surprise. He probably has already done so. Beck has that air of calm and you will find out just how collected he is about him.
He's always favored that number growing up. The only reason he didn't wear No. 11 for Mandarin High in Jacksonville was that they didn't have one that fit him back in 2018.
That was right before he took the reins of a 2-8 team and lead them to the school's first-ever state championship in Florida's largest classification.
Beck enrolled at Georgia this week as a mid-year signee in the 2020 class. He did so with the complete respect of the prospects in the 2020 class for what he can do. The 6-foot-4.5, 225-pound freshman even showed up and helped run the scout team in about a week's worth of Sugar Bowl practices last month, too.
His long-time quarterback trainer, Denny Thompson, made it clear that Georgia fans can expect him to be ready. Even if he has the grit to wear that No. 11.
"When I saw the news today it was anything but panic for him," Thompson said last night. "If there's anybody who is ready to come in and play right away, that's Carson. He's got all the tools you need. He's got the big arm, he's got it in between the ears. Some of the guys that we sent off this year that I train I don't think I would feel as comfortable in saying that. But I feel that Carson is the most college-ready guy that I've trained in a long long time."
"Even if they get a graduate transfer Carson is going to compete and it wouldn't surprise me at all if he's taking the first snap in that opening game."
It seems prudent to also hit that graduate transfer option hard here. Wake Forest graduate transfer Jamie Newman seems to be the trending name to consider.
It also makes sense to bring up the name D'Wan Mathis and 2019 backup Stetson Bennett IV in the discussion. Don't discount "The Mailman" and a talented athlete like Mathis in the competition.
But this narrative will discuss Beck and all the things that might serve as a prelude to becoming the starter at Georgia in the not-too-distant future.
The plan was to understudy for a year under Fromm. Beck was fine with that. Even when there were rumors of Georgia signing 4-star All-American C.J. Stroud, he never wavered. Beck knew what he could do and was ready to compete. His outlook would have been the same if he was trying to press Fromm or battle with Stroud.
That has changed. At least for now.
"Whether it is next year or to open up his freshman year, he's going to be ready,' Thompson said. "He's going to win a bunch of football games at Georgia."
When he heard the news on Wednesday and was called into meeting after meeting, it didn't change his perception of his role.
"He's a worker by trade," Thompson said. "I don't think that [Fromm news] changed anything. He's a guy that was going to come in get the most out of every day before this news came out. My assumption of how well I know Carson is the first thing that went through his head was 'I have to step up my leadership game' and 'I have to take over this locker room' and 'I've got to be there for my teammates' but I think in his mind he thinks that is now his team. I know there are other guys there and they have the ability but the real roadblock in everybody's mind to Carson getting on the field was Jake. So now the best way that he can compete for that job right now is to win over his teammate's trust in the film room and the weight room. If they see that he is trying to find all the ways that he can to make their team better."
When the news dropped, Thompson bet the first thing that went through Beck's mind was: What do I have to do today to make this team better?
Carson Beck: The things to know about the Georgia freshman
The offensive coordinator at Mandarin High comes from a three-generation family of Georgia Bulldogs.
He told DawgNation this summer, despite realizing the full weight of what he was saying, that Beck could combine the talent of two all-time great Georgia quarterbacks.
"You never really really know with any of these guys," Bullock said. "Even with the top guys. He could be a bust. But when I look at him I really look at him with having a Jake Fromm head on his shoulders but with a Matt Stafford arm. That's what I see."
Thompson agrees with that.
"I think Carson has got the potential to be as heady as Jake was," he said. "As smart as Jake was. As dialed-in as Jake was. Everyone that he has played for will tell you that's he's another offensive coordinator."
He's not there yet. It is misguided to think any freshman QB can match the football I.Q. of an SEC champion QB who won a Rose Bowl, played for a national title and started 43 games in the nation's toughest conference.
But Beck will present more arm talent than Georgia fans have seen of late. That's even though there's far more to that in playing quarterback at a championship level. Fromm was a clear example of that.
"Physically now he's extremely gifted," Thompson said. "His arm talent is elite. It is as good an anybody in the country. His anticipation is great."
Thompson said that Beck has that rare arm that can throw a 50-yard pass three different ways. 1) He can loft it; 2) He can layer it over a defender or; 3) He can simply rip it in there on a line.
Beck was a one-time Florida baseball commit with a fastball that was clocked at 91 miles per hour.
Can he win the job and be the guy for Georgia in 2020? If he does, it definitely won't be the hardest thing he has ever had to do.
Consider the events that greeted him when he got the job at Mandarin in the fall of 2018. He was dealing with the following:
The local NBC affiliate following him around to class the week of his first start to hype up a season-opening broadcast
A broken thumb on the first play of his first game. He recovered to throw three touchdowns.
A bout with mono that saw him miss extended preseason time (at least 1.5 weeks of practice) and a lot of weight
A groin injury
Missing a game early in his junior season due to those ills
A tepid 1-2 start for a program that won two games in the year prior. That would be a prelude to a state championship season
If that wasn't enough adversity for a teenager, he was stunned on a personal level. He endured the tragic loss of a childhood friend in a one-car accident.
It traces back to his dear friend Dominic Allmond. That's what the "LLD" that still rests at the top of his Twitter page stands for.
Everyone knew him as Dom.
"Our first game was actually on a Thursday," he said. "I actually went to the Fletcher (High School) game that night and he ended up getting into a car accident and then passed away. But I didn't know that until the next morning when my Dad told me. I was completely devasted."
"So after all of those things that had already happened, I was like 'can anything else go wrong' in life right now," he said. "I was like 'Can anything go right?' with life right now."
They had known one another since they were six years old. Grew up playing basketball together. They won an AAU national championship together when they were in the seventh grade. Both of them had 20-plus points in that contest.
"He was just an amazing kid," Beck said last May. "He was always there for you whenever you needed him whether you were up or down or he was up or down. He was that way with everybody. If you go to his Instagram and you go to his last post it probably has 10,000 comments on it. That is insane."
"I want to say whether it happened or not I feel like I wanted to dedicate my [junior] season for that and there wasn't a day that went by that I didn't really think about him."
He wrote his initials on his left cleat that season.
"Whenever we play home games, when we run out, I always like kneel in the same spot and same the same single prayer every single time or something similar," Beck said. "I don't know. I just think about him. I know that's he's there and he's watching down and I feel him. For sure."
Beck expects to continue that tradition throughout his playing career.
Carson Beck: How he handled that adversity  
What did the Mandarin staff see out of Beck during a time when life was hitting him from all sides? Was he a shell? Truth be told, the staff really didn't even know the full sense of everything he was going through.
"Very level," Mandarin head coach Bobby Ramsay said. "The same kid every day. He didn't waver as far as how he handled his emotions. He doesn't really show his frustrations. I think he internalizes it all. Not in a bad way. He understands how to stay even-keeled which is incredibly difficult but important to be able to do that. Especially when you play the position of quarterback and play it at the level he plays it at with the attention he gets and where he is going in his career."
Beck pulled off a game-winning drive early in his junior season that meant the difference between a 1-3 and a 2-2 start. A loss might have cost the Mustangs a playoff berth.
The stakes were this: Down 21-17. District opener. 1:46 to go. On the road. 
"That drive he took us down the field," Ramsay said. "He took some shots. It was like what you would see on Saturday or Sunday as far as he commanded the offense. That drive always sticks out when I think about him."
Beck, a former Alabama commit, will watch as much film as any coach. A lot of players do, but the bet here is they don't enjoy it the way that he does. That's a Fromm quality there that goes back to his sophomore and junior years of high school.
Beck's father, Chris, started for three years at linebacker for Navy. That's even though he weighed maybe 205 pounds soaking wet. There's a worker mentality there inherent to his father's service commitment.
That is usually one of the first things people bring up when describing him.
"The intangible stuff, the off-the-field stuff and the amount of time he puts in," Ramsay said about that. "Becoming a better football player is like fun for him. The workouts, the throws, the studying is entertainment for him. It is definitely something that is a labor of love. He's passionate about it and 100 percent committed to being a total quarterback."
"Is he guy that you want to shoulder a program? He's that guy."
Ramsay will compare Beck to another high-level player he coached in high school. That's Heisman Trophy winner and NFL Pro Bowler Derrick Henry. Henry was a running back. He had a gradual climb to varsity stardom.
Beck's came basically in a blink during his junior season. He went on to win the state's "Mr. Football" honor in his junior year. That's a rare honor for a non-senior. His final junior year stat line will read that he completed 59 percent of 356 attempts for 3,546 yards, 35 touchdowns and eight interceptions.
"I keep referencing Derrick with the process here and the ability here," Ramsay said. "It is fun for them.  The process of getting better is fun for them. They play the game with a seriousness about what they are doing. Maybe 80 or 90 percent of guys who play don't play the game. They have to work at the game in order to be successful. They put in a lot of work but they are able to have fun playing the game because they have an inner belief and a calmness to them that they know 'I'm going to get it done' and it allows them to just have fun and play the game."
A familiar patch of adversity for Carson Beck
Beck finished his junior season with a 25-of-36 passing line for 329 yards, five touchdowns with zero interceptions in the Class 8A state championship game. The 475 yards he put up against Riverview in just the first half of a state semifinal pairing certainly considering he sat out the rest of that game.
But then "Mr. Football" had an eye-opening start to his senior year. He struggled.
The reason? Beck was basically the only returning full-time starter on the Mandarin offense as a senior. He was one of only two players on that unit with a college scholarship offer.
The Georgia commit went from the guy who threw 17 touchdown passes to one interception (tipped pass) in the state playoffs to a pedestrian stat line through his first seven games.
75 completions across 165 attempts (45% completion percentage)
9 TDs/8 INTs (TD: INT ratio of 1.1/1)
1,044 yards (149 yards per game)
That's about the time his recruiting rankings took a big hit. When he chose Georgia, he was rated as the nation's No. 3 pro-style QB prospect and No. 62 overall prospect for 2020 on the 247Sports Composite ratings.
He didn't perform at his best at the Elite 11 finals in Texas. He was above-average at times. Good in others. But he's wasn't elite that week. Throw in that start to his senior year. Beck is not rated as the nation's No. 8 pro-style QB and No. 204 overall.
What led to that? There was only one returning senior receiver in his two-deep. That veteran was not a starter. It got to the point where Beck took personal responsibility in turning that offense around. He set up extra workouts. Vowing not to let one specific Friday night setback ever happen again.
That's the sort of thing leaders do.
"The best thing that happened for Carson was this past year," Thompson said. "In high school, having to really lead and guide a team of guys who had not even really played high school football. It was a whole new team from the year before. I think that is going to come in really handy because it really made him get uncomfortable and then develop some real leadership skills. Now he is the new guy in town in Athens, it is going to allow him to get uncomfortable in a different way. He knows he has all the traits physically that you need. Now it is just a matter of fitting in and getting that 'Alpha Dog' mentality that he's got and just driving home the fact that we're here to win championships."
Beck finished the year with a flurry. He put up 11 touchdowns and just one interception across his last four games.
"That made him 10 times a better quarterback than he was at this time a year ago," Thompson said.
Thompson feels Beck can give Georgia that type of year Fromm gave the program as a freshman in 2017. It might just look different.
"Carson has such a good arm he's going to take some shots," Thompson said. "That may be some that other guys don't take. I do think there might be some mistakes but there are also going to be some highlight throws, too. Throws that will remind you of some of the greats that have come through Georgia. Kind of the same end result that Fromm had as a freshman, but it is just going to get there a little different."
There could be some ups and downs. The ball will get out quick, but there will be some jaw-dropping throws mixed in, too.
"He's going to try to fit the ball into some tight windows because he has the arm to get away with it," Thompson said.
Carson Beck: The guy underneath the helmet
Did we cover the arm talent yet? What about the sudden quickness that will allow him to buy time and escape pressure in the pocket?
He's developed some serious flexibility and core strength through yoga classes.
The whole field will be available for him, but he is still just a regular high school graduate. He loves Disney movies. "Nemo" is a favorite character.
"It is just sweet," he said of that movie.
He loved all the "Avengers" movies, too. His favorite character wasn't the leader type with Captain America. He'd rather be Thor. The God of Thunder. The big hammer. The long hair.
He chose the baddest Avenger on the battlefield. But when it comes to his playing field, go ahead and call him a football "nerd" or a football "addict" here.
He'll answer to either one.
"Absolutely," Beck told DawgNation last year. "I live and breathe football. Maybe it is school during an elective or something I am drawing up football plays. .. I absolutely love thinking about situations on the field where I can imagine running the play and seeing all the coverages they can run."
He relished the role he took on as an early commit.
"I have the opportunity to go recruit other players that I want to play with that will help Georgia to go win the national championship," he said last summer.
That's exactly what he did. He will be gifted his whole career at Georgia with better all-around receivers than Fromm ever had in any one single season.
Beck on deck? Getting to know Carson Beck