Elite DL Travon Walker knows he's a priority for Tray Scott and UGA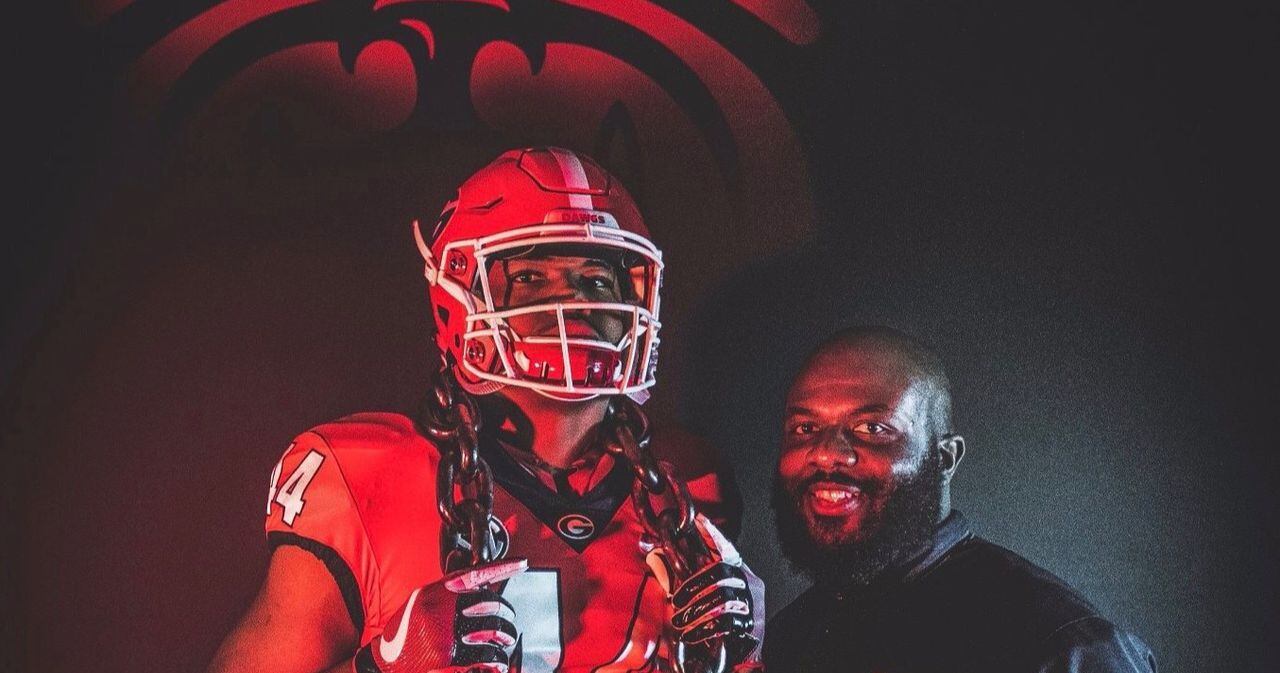 Want to attack every day with the latest Georgia football recruiting info? That's what the Intel will bring at least five days a week. We're leading off with a thorough conversation with one of the top UGA junior targets for 2019. That is 4-star Upson-Lee dual-sport star Travon Walker. 
Travon (pronounced Tray-von) Walker weighed in at 253 pounds on Saturday in Athens. The 4-star defensive tackle prospect also measured 6-foot-5 on the height chart.
He's ridiculously athletic, and that's why he's one of the top high school basketball players in Georgia.
It is also why the junior at Upson-Lee in Thomaston, Ga., has had conversations with UGA coaches about playing on both sides of the ball. To be specific, that would be a good look at tight end on offense and out in space on defense at both defensive end and outside linebacker.
Elite defensive tackle prospects are not supposed to see their names in sentences like those.
They are also not expected to average 13 points, 15 rebounds and 4 blocks per game for an undefeated defending state championship basketball team either.
He has some bounce. Walker told DawgNation his vertical leap is at approximately 32 to 33 inches.
Scott has been to see him weekly since the NCAA allowed its member programs to hit the road on the recruiting trail. When DawgNation starts ranking its top targets for UGA in 2019 next month, his name will be on the list.
It will be very high. Walker said UGA measured his wingspan at 83-plus inches. His hand size from the tip of his middle finger to his palm was more than 11 inches.
RELATED: Check out the UGA big board for 2019. 
What to know about Travon Walker's recruiting outlook
Let's just rattle these off in quick-hit fashion.
4-star DT Travon Walker is a three-sport athlete at Upson-Lee High School in Thomaston. (Travon Walker/Special) He maintains a top 4 of Alabama, Clemson, Georgia and South Carolina. That said, there are several other programs in the mix.
Michigan is a program that he also named which was becoming "right there in it" for him. He added Florida, N.C. State, Notre Dame and Ohio State. He has not set any of his official visits yet but will take some of those this spring.
Walker said he has been to UGA the most out of that top group, followed, in order, by Clemson, Alabama and South Carolina.
Look for him to make his decision right before the start of or somewhere in the middle of his senior season at Upson-Lee.
He's so skilled on the hardwood that South Carolina basketball coach Frank Martin has brought up the idea of playing both sports at South Carolina. Walker said Georgia basketball coach Mark Fox also has mentioned that idea and that Georgia football coach Kirby Smart has even discussed that he'd be good with it, too.
Add Walker's name to the list of 2019 targets who have said 5-star defensive end commit Nolan Smith cannot do a better job of recruiting him to join the class at Georgia. Walker said Scott has even told him that the coaches know how effective Smith is on the trail.
He wants to major in business or sports medicine in college. His recent trip to UGA was unique because it allowed him the chance to split away from the football complex and learn more about the Terry College at UGA. Upson-Lee is moving to block schedules next year and that means Walker will be able to enroll early in January 2019 at his school of choice.
Walker is stellar in the classroom. He said he carries an approximate 3.65 grade-point average in his core classes in high school. He said he's already achieved his qualifying scores on the ACT and SAT.
If he could add one thing to his football skill set, it would be another step of rare speed. His acceleration off the line is already impressive, but he said he'd love to add another gear via enhanced strength and conditioning to drop his 4.6-4.7 speed in the 40 down to the 4.4-4.5 range. He was clocked at 4.94 seconds at Nike's The Opening Atlanta regional last March, but he's a lot faster off the ball than that.
The Upson-Lee junior said he considers himself a run-stopper first but wants to add to his pass-rush ability so he can stay on the field for all three downs.
Travon Walker on football and UGA
Georgia was his dream school growing up, but Walker shared that he has not yet reached the point where he has even a private leader.
"I'm still sorting through all of this right now," he said. "I look at this now as a business process."
His three main priorities for his decision are education, depth chart and life after football, he said, adding depth chart is the top factor overall. He said UGA told him it plans to sign three interior defensive line prospects in 2019.
Which sport ― football or basketball ―does Walker love more? The answer appears to be tied to the calendar.
"To be honest, I love both sports, but when I am playing football it is a love for football," he said. "That's something I have always wanted to do. When I am playing basketball, I feel the same exact thing about basketball. So it is really an 'I don't know' situation, but whichever sport I play I will give it my best."
Basketball comes easier to him. He said he wishes he had a better handle on his dribble, but his athletic gifts make him a very formidable matchup.
"You don't find too too many players out there that are as big as me with the strength," he said. "They may be taller than me but they don't have the mass and force."
The Bulldogs were thinking about how they could use his ability to move in space between the lines.
"Coach Scott, [offensive line] coach [Sam] Pittman and I were playing around talking about maybe putting me at tight end maybe doing some blocking and them throwing me some jump passes," Walker said. "We really don't talk about playing about offense like for real. I guess I don't know if that was a real serious conversation."
Would that appeal to him?
"If it's something I had to do, then I wouldn't mind," he said. "But I am a defensive guy. I love to hit people. It really doesn't matter to me. I'm just trying to make it."
He said he's heard big-time coaches tell him that he could play at defensive tackle or at defensive end. That goes back to his agility and quickness. Walker said he would look to work first at defensive end at the prospect showcase camps this spring.
Given the proximity to home, UGA is very familiar to him. He said he's probably been to UGA at least five times during his junior year. He said there's a group of Georgia players he feels very comfortable with, including Jaden Hunter, Malik Herring, Richard LeCounte III and David Marshall, along with 2019 commit Smith.
Walker also knows the entire defensive line at Clemson very well. He stayed with first-team All-American Austin Bryant when he took an unofficial visit there. Bryant is a Georgia native from Thomas County Central.
Otis Reese seemed to enjoy his UGA official visit 
DawgNation previewed the Otis Reese official visit to Athens on Friday. His mother, Tonya Jamison, was with him on that visit.
He appeared to enjoy himself, and it looks as if the Bulldogs kept up the official visit tradition of SUVs with the prospect jersey numbers attached to them. That worked well for the Bulldogs during the stretch run of official visits during the early signing period.
Reese is committed to Michigan. The 6-4, 220-pound player rates as the No. 5 outside linebacker prospect for 2018 on the 247Sports composite ranking and as the nation's No. 87 prospect overall.
If UGA is able to flip Reese from the Wolverines, it would mean the program would add the nation's No. 1 outside linebacker (Adam Anderson) and the No. 5 inside linebacker (Channing Tindall) plus Reese in 2018. Tindall was way up the board at OLB but has since been rated at ILB.
Crisp County standout Quay Walker, who took an official visit to Auburn this weekend, also sits on the board for 2018 as the nation's No. 2 OLB.
If UGA finishes with either Reese or Walker in 2018, it will seem as if the Bulldogs were just a tad greedy recruiting the nation's top linebacker prospects in this class. That's not even counting "Jack" OLB types in 5-star strongside defensive end Brenton Cox (already enrolled) and U.S. Army All-American Azeez Ojulari from Marietta High School. Ojulari rates as the nation's No. 10 weakside DE for this cycle. That's four potential top 10 players at linebacker who already have signed, with the potential to add one or two more.
Tommy Bush breaks down where UGA stands
Four-star wide receiver target Tommy Bush told DawgNation the "UGA staff" is expected to return to Texas for its in-home visit with him Friday.
That was significant because receivers coach James Coley just flew to Texas to see him on Friday.
"It went really well," Bush said. "He just [visited] to assure me that they wanted me in this class and I was a priority. He also explained why they wanted me and then he jumped back on the Georgia jet and flew back for the recruiting weekend."
The 6-foot-5, 191-pound prospect ranks as the nation's No. 37 receiver and the No. 196 overall prospect for 2018.
Intel by the inch 
Coach Kirby Smart and inside linebackers coach Glenn Schumann were in Birmingham, Ala., on Monday morning to visit 2019 ILB target Vonta Bentley at Jackson-Olin High. Bentley already has offers from Alabama, Auburn, Clemson, Florida and LSU among others. Smart's visit caught some attention. He was the first head coach to visit Jackson-Olin this year. I would expect an offer from UGA very soon. Maybe even later today.
Consider this for a second: The last recruiting stretch weekend of the 2018 cycle comes this weekend. I don't see a single Plan A or Plan B 2018 target taking an official visit to UGA at this time. DawgNaton does not expect to see an official from 5-star San Diego cornerback Isaac Taylor-Stuart take place this weekend. (Editor's Note: When originally published, this item left off the official visit from 4-star OLB Quay Walker. That was our oversight. Walker does indeed still plan to take his final official visit to UGA this weekend.)
Let that previous item sink in for a second. The Bulldogs are jockeying with Ohio State for the nation's top class in 2018, and they already have signed six prospects with that elite final 5-star rating on the 247Sports composite for 2018. The Bulldogs basically have accomplished all of that and do not need the final official visit weekend to pull off anything dramatic. Walker will visit, but he is not vital to UGA finishing with the nation's top class for this cycle. There is also a strong chance to sign a seventh 5-star as well. That would be 5-star CB Tyson Campbell.
According to reports, Campbell took an official visit to Tennessee over the weekend. It appears he did not grant any interview requests after that visit. He is also expected to take his final official visit to Miami this weekend. Campbell remains the No. 1 target left for UGA in 2018.
Jadon Hasewlood ranks as the nation's No. 1 wide receiver recruit for 2019. (Jeff Sentell/DawgNation.com) There might be some worry among Bulldogs fans about 5-star WR Jadon Haselwood and UGA. What sparked that? Well, the recent de-commitment from 4-star junior DT Rashad Cheney Jr. had some folks wondering. Those two are close and also play together at Cedar Grove. My take on that situation is that Haselwood will take his visits, but remains set on UGA.
Another rep on Haselwood: It must be noted that 5-star quarterback Justin Fields signing and enrolling with UGA reinforced the Haselwood choice. The fact that James Coley is still on the staff in Athens is also key. Those two have had a very strong relationship for well over a year now.
I got the chance to speak with someone who shared something very interesting regarding the Class of 2019 at UGA. It appears the Bulldogs (along with several 2019 commits) have yet to give up on 5-star defensive tackle prospect Chris Hinton from Greater Atlanta Christian. He ranks as the nation's No. 1 strongside defensive end prospect for 2019 and at No. 14 overall on the 247Sports composite. Hinton chose Michigan for its academic luster, and if Jim Harbaugh sticks, he should. But someone pretty close to that situation told me they wonder what might happen if Harbaugh does not survive a 2018 schedule that includes road games at Notre Dame, Michigan State and Ohio State, and then home dates with Nebraska, Wisconsin and Penn State.
Miss any Intel? The DawgNation recruiting archive will get you up to speed just as fast as former Georgia All-America linebacker Roquan Smith found the ball after the snap.
Next
Fan-favorite UGA target Otis Reese will take official visit this …